Home is Where the Hacker Is: Shyamalan's Return to Entertaining Cinema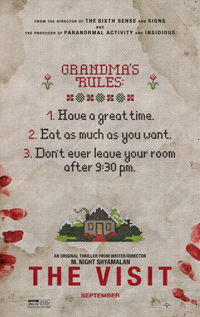 In many ways, The Visit, the latest film from once celebrated M. Night Shyamalan, is praiseworthy considering this follows on the heels of two back-to-back cinematic abominations, The Last Airbender (2010) and After Earth (2013). In a similar vein to his earlier thrillers, the director revisits tight-knit family dynamics marred by domestic dramas and supernatural/sci-fi shadings, resulting in another of his famous 'twists' audiences seem to hold out for. Surprisingly, it's a found footage film, and as many films in the subgenre, falls victim to the obvious artificial editing and a legion of conveniences that tend to distract rather than compel.
Though not quite a return to form, and never quite seizing the mounting dread its narrative tends to suggest, it certainly is Shyamalan's most entertaining film in well over a decade, and he utilizes a simple scenario to pleasurable effect, owing much of its likability to an energetic young lead and its weirdo turns from the bizarre grandparents.
Teenager Becca (Olivia DeJonge) is an aspiring documentary filmmaker, and with the assistance of her younger brother Tyler (Ed Oxenbould), a burgeoning rapper, she decides to film her first meeting with her estranged grandparents Nana (Deanna Dunagan) and Pop Pop (Pete McRobbie) as a means to reunite them with her mother (Kathryn Hahn), their child they haven't seen since she ran away with an older lover at the age of 19. The cozy couple rediscovered their daughter on the internet, requesting to see their grandkids, and it seems they've become quite the respected denizens in their little community, volunteering once a week at a local counseling center when not involved with farm life. At the outset of their week together, the kids and grandparents seem to get along swimmingly…until the onset of nightfall when grandma engages in very bizarre, very unnerving activity while everyone's supposed to be sleeping.
It would be unfortunate to spoil Shyamalan's devious little twist, the sort that usually negates the necessity of seeing the film more than once, but it's a pleasurable one—the kind born out of tall tale horror anthologies from classic campfire lore (and something similar was actually used in a domestic drama in late 2014, though naming it would ruin the surprise).
Though its framework as a documentary film being made for the purposes of a family reunion works strategically, this doesn't make the usual found footage tics any more palatable. Likewise, lead protagonist Becca, though in a committed performance from Olivia DeJong, is obnoxiously precocious, a filmmaking prodigy causing eye rolls at every pretentious turn. This paves the way for Ed Oxenbould (star of Miguel Arteta's Alexander and the Terrible, Horrible, No Good, Very Bad Day) to niftily steal every scene as the jocular comic relief, an aspiring rapper who doesn't take his grating sister, or much of anything else, very seriously. The luminous Kathryn Hahn appears only briefly, usually via Skype, though she's believable as warm yet self-effacing mother.
Shyamalan, who often attempts at peppering his casts with vintage performers (Betsy Blair in The Happening, for instance) gets his delightfully weird flavoring in the form of character actor Peter McRobbie and an excellent performance from Tony award winner Deanna Dunagan.
But whether this strangely outfitted domestic drama will 'thrill' you is perhaps questionable, and it isn't without Shyamalan's customary familial motifs, character tics broadly and determinedly outlined which come into play and are resolved in patterns as easy to see as the cross-stitching in the poster's blood spackled embroidery. Something a little meatier, with a more believable dose of fright and violence could have worked wonders for this PG-13 young adult thriller, but considering what audiences have grown accustomed to, The Visit is better than average.
★★★/☆☆☆☆☆