Time to Time: Moverman's Austere Portrait of Homelessness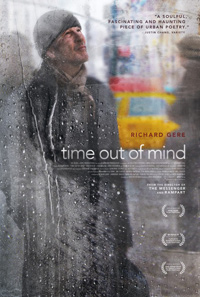 There's a deliberate soul-crushing methodology to Oren Moverman's third feature Time Out of Mind (taking its title from a Bob Dylan album) more in line with his loosely defined sophomore effort Rampart in its freewheeling psychological portrait of man on the state of decline. Or, perhaps this time around, it's more the apathetic inclination of the effort required to rejoin society's expectations after a significant period of stagnation, though this hardly seems Moverman displaying optimism.
Relayed with a visual arrangement akin to viewing the world if sifting through shards of shattered glass, it's a somber, painstaking effort centered intriguingly by Richard Gere in one of the least showy performances of his career. Strikingly neorealistic despite the familiar faces, Moverman proves, once again, to be a wholly idiosyncratic indie filmmaker who grows more and not less intriguing with each of his offerings.
George (Gere) is one of the many homeless denizens of New York City. Ousted from a bathtub in an empty apartment, he wanders aimlessly, rambling about finding his woman to fleeting passersby. Colder nights are easier to find shelter, as hospital members take pity on his kind and let him sleep in empty waiting rooms. But when the weather warms, pity wanes, and George eventually alights at Bellevue, the largest homeless shelter for men in Manhattan. He makes numbing attempts to make a plan of action, but is impeded by a lack of identification and his age. He's got a daughter (Jena Malone) nearby, but she doesn't seem ready to lend a helping hand anytime soon.
Whereas Moverman's 2009 debut The Messenger contained a generous helping of emotionally gratifying sequences, Time Out of Mind has none of that. Instead, we meander along with George, unmoored and without much context as to where or how he came to be living on the street. Initially, we hear mostly random snippets from peripheral strangers, people grumbling on the phone or bitching about their own problems, with George merely another piece of debris who happens to be lodged in that particular space and time, like an empty bag floating through the street. Never is this more eloquently realized than with Bobby Bukowski's continual roaming through reflections off multitudinous surfaces, or of frames cluttered and clouded with layers of grime.
About half way through this two hour running time, which passes by a lot faster than one would imagine, George makes futile attempts to bring some semblance of order to his days. Only, without proper identification (or even remembering one's social security number), relegates one to a state of hypothetical non-existence. Moverman collaborates with Jena Malone once again, here playing George's estranged daughter (Steve Buscemi also returns, briefly as a persnickety building manager), but the only real relationship documented is a brief one involving fellow vagabond Dixon, played by a more effective stage actor, Ben Vereen, thanks to his lesser known celebrity status. A motor mouth who gloms onto the quietly mannered George, they make an effective and fascinating odd couple. Also of note, a brief sequence featuring Kyra Sedgwick as an ex-prostitute turned can collector is the actresses' most effective turn in years.
Though it's hard to say if you'll ever forget you're watching Richard Gere in Moverman's otherwise wholly immersive experience, this is certainly one of the most commendable cinematic explorations of homeless experiences.
Though to describe it sounds tedious, Moverman manages to be worlds more empathetic than utterly false indie fare like Paul Weitz's 2012 Being Flynn, for instance, in which Robert De Niro gets to don all the hammy clichés. Much like the unfortunate dismissal of 2011's excellent Rampart despite some critical traction, Time Out of Mind seems poised to fall between the same cracks as its disparate central character—however, it's a beautifully crafted piece of cinema worthy of your consideration.
★★★½/☆☆☆☆☆