Reviews
Un plus Une | 2015 TIFF Review
Passage Over India: Lelouch's Romantic Dramedy an Overstuffed Pilgrimage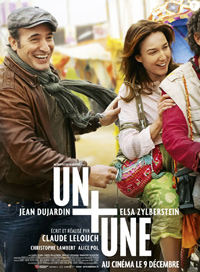 French auteur Claude Lelouch, now well into his seventies, maintains a prolific career, striding through a sixth decade of filmmaking. However, the director, who scored his greatest successes following the inception of the New Wave with 1966's A Man and a Woman, a simplistic love story which took home the Palme d'Or and the Foreign Language Oscar, continues a dismaying practice of busybodied narratives gone haywire with his latest effort, Un plus Une (the masculine and feminine form of 'a'). While his masterpiece is widely regarded as the 1981 musical epic Les uns et les autres (known in the US as Bolero), a decades spanning, multicultural wonder, it also represents a tidemark of ambitious narrative scope often repeated since but with little success (including an inhibited 1986 sequel to A Man and a Woman). Starring two notable French stars, both overall charming despite the flaccid silliness of this endeavor, the emotional complexities here seem painted with bright pastels, splashed over a saturated canvas of sticky tropes.
Antoine (Jean Dujardin) is an Oscar winning film composer, recently dispatched to India to work on a Bollywood remake of Romeo and Juliet. A likeable womanizer, his latest girlfriend Alice (Alice Pol) has just proposed marriage as he lands overseas, a commitment which stresses him out, perhaps explaining his continual headache. Introduced to the French Ambassador (Christophe Lambert) and his unfulfilled wife Anna (Elsa Zylbertsein) at a dinner engagement celebrating the French-Indian co-production, Antoine finds himself drawn to the married woman. Likewise, Anna is intrigued by the guileless composer. Certain health situations cause them to unite on Anna's fertility pilgrimage as she journeys to visit Amma, a healer in the south of India. On the journey, they explore their growing attraction, much to the chagrin of their counterparts left behind.
Though this is not nearly as ungainly as his last feature, the corpulent We Love You, You Bastard (aka Salaud, on t'aime, 2014), Lelouche continues with an alarming inability to edit, and Un plus Une seems like a Westerner cooking an exotic dish overcompensating with too many spices.
The affable and generally roguish Jean Dujardin manages to wield his old school ability to charm, and there are laughs to be had, even though the developing romance with Elsa Zylberstein plays out more like an arranged marriage. Zylberstein, a masterful actress of great emotional expression, is slogged down with ridiculous dialogue regarding mystical spirituality (she sums of The Secret quite well) her character doesn't quite seem to believe, which involves a bit of demeaning jibing at her expense (and a meltdown outside of an airport she dives into with all her might, but still feels ungainly). Still, the Cesar winner (I've Loved You So Long, 2008) enjoys small moments of spontaneous amusement with Dujardin, sandwiched as they are into Lelouch's current trend of awkward family reunions, entertainment industry folks in crises, and ungainly health scares instigating dramatic tension (here, a road trip to visit Amma, the 'hugging saint,' who miraculously cures a clot and helps beget a child).
The major supporting players (a surprisingly grizzled Christophe Lambert and a shrewish Alice Pol) are written in broad strokes, convenient catalysts for the central relationship of the other coupling.
Strangely, Lelouch's conservative depiction of love, passion, and the taming balm of monogamous love positions Un plus Une as more in the vein of a repressed period of British desire than the lofty tradition of progressive French portraits of sexuality. Lelouch begins with an allusion to Shakespeare's timeless portrait of adolescent angst, Romeo and Juliet, repurposed for a Bollywood production called Juliette and Romeo (however, actions speak louder than words when it comes to putting 'woman' first, and is not an ideal Un plus Une lives up to).
To continue to prize this portrait of teenage lovers as the world's ultimate love story is Lelouch's mistaken template as he attempts this new spin on old fashioned ideals. Both Pol and Zylberstein are reading a self-help manual sharing the same title as the film. "It's about humanity," one of them explains in an endless barrage of pointed dialogue intent on delivering belabored messages and motifs. But a little humanity would've been very welcome somewhere in this tale of entertainers and statesmen.
Reviewed on September 11th at the 2015 Toronto International Film Festival – Special Presentations. 115 Mins.
★/☆☆☆☆☆