Female Perversion: Glazer's Latest a Strange, Hypnotic Exploration of the Body Feminine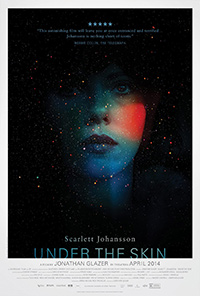 It's been over a decade now since Jonathan Glazer's exciting and strange sophomore film Birth (2004), an eerie and unsettling exploration of reincarnation tainted with the specter of pedophilia. While greeted with divisive reactions, his long awaited next feature, Under the Skin seems destined for an equally baffling reaction as he once again employs an A-list star in a nightmarish and disorienting universe of perplexing intention. Have no doubt, however, that Glazer has crafted a cinematic masterpiece that's surreal, scintillating, and unforgettably strange. While reminiscent of several classic sci-fi titles in its obfuscated execution, it's most notable ancestor would perhaps be Nicolas Roeg's The Man Who Fell to Earth, but only in a rudimentary comparison of narrative. Glazer's is a menacing look at the construction and consumption of female sexuality.
On the wet and lonely streets of Scotland, an alien posing as a beautiful and submissive young woman named Laura (Scarlett Johansson) hunts down lone men by offering them rides. Luring them with the promise of sex, she takes them back to her place, which seems to be a cavernous black hole. A predator with unclear designs, an encounter with a deformed man seems to cause a shift in her/its countenance, and thus begins an attempt to learn more about the female body she/its inhabiting.
A lack of explanation clearly enhances the level of discomfort as there's an element of disorientation in Under the Skin. From its opening moments inside an eyeball being slowly constructed to house an alien inside the visage of a sexy, young woman, we hear the voice of Scarlet Johansson, monotonously practicing pronunciations, which recalls the robotic terror of The Stepford Wives (1975). Glazer's casting of Johansson clearly operates on a level outside of the film as her name will compel audiences to consume the film for their viewing pleasure just as her character leads men into a virtual, black hole (a figurative representation for the vagina they will never escape).
Laura/Johansson is female sexuality as Venus fly trap or Siren, leading us astray, operating as if the alien race she hails from modeled their vague plans after watching Barbara Stanwyck apply her feminine wiles through a Nietzschean lens in Baby Face (and there's even a hint of Preminger's Laura, where a woman whose image leads men astray even after death). It's unclear why exactly Laura needs to trap these men, but after a dip into Lynchian territory with the appearance of the Nervous Man, who ultimately escapes her trap, Laura suddenly undergoes some kind of psychic change, suddenly aware of the skin she's in and what it may be capable of. She tries to eat—notably, a slice of a decadent dessert. She has understood that from her orifices, there is the capability to derive pleasure, and rather than trap her next victim, she experiences copulation, suspiciously examining her genitalia with a lamp to see what's happened down there after penetration. Her naiveté leads to a more ominous interaction, but one that examines the confusion and senselessness of violence against women and a male desire to control the female body. Under the Skin is not only an exploration of female sexuality from an alien or otherworldly point of view as Laura isn't just a female Pinocchio. Once the alien decides to examine her/its sexuality for uses beyond leading men to destruction, she immediately loses her agency. Woman is alien and alien is woman.
Frustratingly unclear on several points, we never quite learn who the male on the motorcycle is following her, other than the fact that he seems to be some sort of guardian sent to look after her. But while his presence remains unexplained, even another male figure is unable to save her from the ravages of misogyny. Under the Skin is populated with moments of quiet beauty and sinister appeal. It's hard to think of anything more hypnotic and eerily arresting than Johannson's repeated sequences where she leads naked, erect men (including Paul Brannigan of Ken Loach's The Angels' Share) into a black pool of death set to an unsettling score from Mica Levi.
Glazer has directed a provocative sort of film that's rarely made anymore, and while Johannson's name will attract an audience sure to recoil from its unconventional bite, this is a poisonous flower whose beauty is all too sweet to pass by. Glazer defies classification with a film that isn't easily boxed into logical coherence. And, in truth, it isn't merely an allegory for the power and weakness that defines a cultural spectrum of female sexuality. Under the Skin engages us in a dark universal truth that we all begin as aliens and outsiders to sexuality before we begin to learn an ability to use it as a weapon or mimic the behaviors of others in order to engage in prescribed cultural norms, either way often leading us to some sort of demise.
Reviewed on September 10 at the 2013 Toronto International Film Festival – Special Presentations Programme.
107 Mins.