Every Breath You Take [Video Review]
Don't Hold Your Breath: Stein Strains Plausibility in B Thriller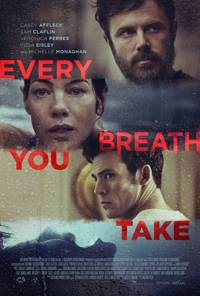 Unfolding with all the believability of a science fiction film set in a parallel universe, Vaughn Stein attempts a throwback to the contemporary adult thrillers of the late 80s and early 90s with Every Breath You Take. Vaughn's third feature, while moderately better attenuated than scrappy previous efforts such as Terminal (2018) and 2020's Inheritance (read/watch review), wastes a handsome cast (and evocative title) in an exercise which isn't risible enough to secure camp devotees nor ultimately interesting enough to suggest the inherent classist and racial subtexts underlining the specific catalogue which inspired it.
Scripted by David Murray (which at one point was rumored to have Harrison Ford and Zac Efron attached nearly a decade ago), some significant retooling of narrative events would be required to make this ethical dilemma thriller hold water. Fans of the cast members may find their interests piqued, but the lackluster storytelling and formidably milquetoast characterizations will likely steer one back to adult thrillers which weren't afraid of being messy, and, well, adult.
Dr. Philip Clark (Casey Affleck) and his wife Grace (Michelle Monaghan) suffer a significant loss when their preadolescent son dies in a car accident. Three years later, Philip suffers a breakthrough with troubled patient Daphne (Emily Alyn Lind) through questionable methods of sharing his own personal trauma, which revitalizes her lust for life. Using this success as a case study, despite his colleague Vanessa's (Veronica Ferres) reservations, everything seems to be back on track for the estranged Clark family, even as his teen daughter Lucy (India Eisley) from a previous marriage, was expelled from boarding school. But then Daphne calls in a panic when her best friend dies, and late the same evening, she presumably commits suicide. Her brother James (Sam Claflin) suddenly ingratiates himself to Philip's family, and both Grace and Lucy seem smitten by the handsome, grieving man. However, Philip quickly begins to suspect James of harboring insidious intentions.

There's nothing inherently wrong with anyone's performance, but the gravitas of the cast doesn't always match the inane discrepancies conjured in the script. Affleck is oh so serious as Dr. Philip Clark, but nearly immediately the script paints him into an impossible corner as a mental health professional who tries to spin transgression (a cardinal one) with a patient into evidence as a successful non-traditional technique. As such, it seems Every Breath You Take has the DNA of a moral or ethical drama portraying why it is therapists aren't supposed to share their own baggage with their clients (except in the most sparing of circumstances), but quickly segues into an inept mass of character choices which suggest the author didn't properly research how the story's central idea could potentially transpire.
A cheap twist, primed with unforgivable stiffness, only highlights how ridiculous everything about Every Breath You Take ultimately is. Something more perverse or insidious needed to transpire, some kind of connective tissue which would explain the curious relationship between Vanessa and Philip, for instance. As it stands, Philip's only crime is being a doltish husband who seems incapable of seeing glaring comparisons between his professional and personal life (and no, the blinding potential of grief is not explored well enough to justify anything).
Monaghan is unfortunately saddled with yet another suburban mom defined by her sexual repression (see The Craft: Legacy, et al.) and India Eisley is a mound of teen angst cliches. Ferres (who executive produced) outshines everyone with her otherworldliness, and one wishes she had been allowed a touch of the peripheral femme fatale. Only Sam Claflin, who easily embodies villainy (though nowhere near the heights of his horrific turn in The Nightingale, 2018), seems to be making the most of his screen time.
In essence, Murray's script is using the bones of The Hand That Rocks the Cradle (1992) as an outline. But even as it's possible to argue how rich, white suburbanites potentially haven't evolved in their privileged thought processes since 1992, logical storytelling and proper dramatic catalysts require a contemporary tale about these people and places to at least reflect how the world operates around and despite them.
★½/☆☆☆☆☆