When It Melts | 2023 Sundance Film Festival Review
Vengeance on a Wet Afternoon: Baetens Prepares a Fatal Reckoning in Grim Debut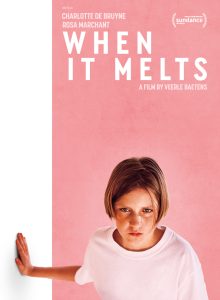 Home is most certainly not where the heart is in When It Melts, the directorial debut of Belgian actor Veerle Baetens, adapted from the celebrated novel by Lize Spit. Baetens has long been a recognizable force in Belgian cinema over the past two decades, appearing in slick genre fare, like Erick Van Looy's Loft (2008), Robin Pront's The Ardennes (read review) and Oliver Masset-Depasse's Mothers' Instinct (2018), while most renowned for Felix Van Groeningen's searing 2013 drama The Broken Circle Breakdown (read review). She's chosen a troubling, and perhaps somewhat familiar approach in this trauma induced thriller, which features a disturbed, complex characterization deftly performed by two actors portraying the central character. While the third act climax feels a bit contrived and ultimately feeble, Baetens nudges us past an inevitable showdown into disquieting territory expertly utilizing the film's diegetic riddle defining the narrative's dramatic catalyst.
Eva (Charlotte De Bruyne) is living a tenuous existence in Brussels, or so it seems when her younger sister Tess (Femke Van der Steen) moves out. In an emotional tailspin, she stumbles upon a FaceBook post for the memorial of a boy who died in the village she was raised in, unearthing traumatic memories she might have laid to rest but never quite recovered from. The boy was the older brother of a childhood friend, one of the two boys she caroused with one seminal sweltering summer, where the locals referred to them as 'The Three Musketeers.' As Eva packs a large chunk of ice in her car and heads to the celebration, she recalls the memories of one defining summer, where her friends used her to procure other teenage girls to play an insidious game, whereby the girls would strip off all their clothes while trying to solve an impossible riddle about a hanged man hanging over a pool of water. While the younger Eva (Rosa Marchant) finds life at home increasingly fraught thanks to the severe issues of her unhappily married parents, she quickly begins to realize the problematic function of her role in the game.
It's immediately apparent something is quite wrong with Eva as an adult, portrayed by Charlotte De Bruyne (who can also be seen in the Dardenne Bros.' Tori & Lokita, 2022), having attachment related issues to her younger sister, moving away for school and inviting a posse of young men to help her with the move. Baetens gives us further clues to the sexual implications of her condition by sharing a scene with Eva at a bar with a much older man, whom she propositions awkwardly for oral sex, even though neither of them seem quite invested in the prospect. Such clues provide a direct beeline to the sexual trauma she experienced as a child, so much so nothing much seems a surprise except for the morbid flagellation heralded by the deadly block of ice she transports to her hometown.
There are striking similarities to the flashback structure of Jennifer Fox's The Tale (2018) in these extended sequences, which take up the bulk of the running time, allowing for Rosa Marchant, as the younger version of Eva, to pull sympathetic focus. The adult sequences recall the Mila Kunis led Luckiest Girl Alive (2022), another film in which the 'payoff' is thwarted catharsis. Baetens doesn't allow for the purgative vengeance of something like Promising Young Woman (2020), and Eva's public performance at the scheduled memorial is perhaps the film's most unexpectedly despairing moment exactly because it's ultimately futile. Instead of storming into town and agitating her perpetrators like Ingrid Bergman in Bernhard Wicki's The Visit (1964), Eva's grand scheme hews close to the reality of small town patriarchal conditions.
The most interesting elements of When It Melts concern Eva as a gender traitor, utilized as a honey pot to lead other young women into the dastardly clutches of her two 'friends,' who also represent her only emotional support system thanks to a depressed, alcoholic mother and a detached father. Her attempts to befriend a haughty, confident blonde girl, whose horse becomes an inadvertent key player in Eva's demise, seals Eva's eternal state of victimhood. Ultimately not as harrowing or powerful as it could be despite leading with the kind of miserabilism which succeeds in generating distress, it is a narrative which maintains an ultimately troubling reality, predicated formidably on how women betraying other women ultimately secures cycles of trauma and abuse.
Reviewed on January 27th at the 2023 Sundance Film Festival – World Cinema Dramatic Competition. 111 Mins.
★★★/☆☆☆☆☆