Coming Home Again | Review
The Power of Goodbye: Wang Returns with Heartfelt Portrait of Grief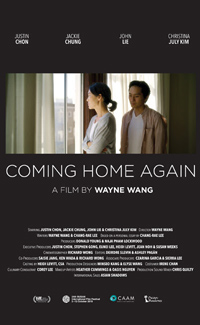 The famous 1940 novel by Thomas Wolfe gave us the poetic metaphor about the impossibility of going home again, which also doubles as a warning on the potential danger of wallowing in nostalgia. An expert in mining the subtleties of human bonds, Wayne Wang returns with a reflective indie effort, Coming Home Again, a small scale portrait of the emotional trauma experienced in a universally recognizable scenario of having to return to one's origins to care for an ailing loved one.
Based on an essay by novelist Chang-rae Lee, originally published in the New Yorker in 1995, it's an authentically primed odyssey which charts a young writer's struggle with denial as he deals with the impending death of his mother from stomach cancer. Bonded not only by their love of Korean cuisine but by their prickly personalities as well, it's a beautiful, albeit blunt homage to the transformative power of various lives interrupted by death.
Living as a writer in New York, Chang-rae (Justin Chon) takes it upon himself to put his career on hiatus and return to San Francisco to care for his mother (Jackie Chung), who is in the late stages of stomach cancer and has decided to forego further chemotherapy. Despite his father's (John Lie) claims he is on hand to care for her, it becomes clear the move is at least partially motivated over Chang-rae's guilt for having allowed himself to drift apart from his family. Memories of his initial acceptance to Exeter, and the only visit his parents made to him on campus, in which his body physically rejected the homecooked meal his mother had painstakingly prepared, ironically serves as the backdrop for a reverse situation. Having mastered the recipes his mother lovingly taught him as a child, her inability to hold down food, and therefore participate in the comforting memories of this bond, exacerbates his ability to confront the inevitable.
While Wang has long been the cinematic purveyor of the Asian American experience, perhaps never so momentously as his 1993 calling card, The Joy Luck Club, adapted from Amy Tan's bestselling novel, he's also curiously marrying loss with the social subtexts of cuisine.
From his 1985 hit Dim Sum: A Little Bit of Heart to the 2006 glossy extravagance Last Holiday, in which Queen Latifah, believing she's suffering from a chronic condition, feasts at a posh European hotel, food, and all the bonding and succor it provides the human experience, is a formidable key player in his latest venture as well. But even as it exists merely in the repeated preparation of a noted dish in which the meat must stay cleaved to the bone for nutrients and support, Coming Home Again is really a potent performance piece.
Justin Chon, in his most notable appearance since 2017's Gook, is the anguished focal point. Flashbacks to an earlier period, wherein he tells his healthy mother she's just 'being lazy' in asking him to assist with speaking to the bank, cuts like a jagged knife. Likewise, Wang formats one of the most depressing New Year's Eve montages ever as his parents and sister go through the motions to midnight while Chang-rae agonizes over how it will be the last new year his mother will see. But its Jackie Chung who walks away as the most despairing figure, a patient, loving mother whose small outbursts are brief as she soaks in the reality of her demise. A conversation about the dreams she gave up to follow her husband to the US only cement the strain of sacrifice which has defined her existence.
Attempting to choke down the meal her son has prepared, Wang closes in on her while her children bicker offscreen, pulling back to a table drenched in a son's self-pity and a mother's steely reserve. Chung and Chon are so overpowering, the few scenes with Christina July Kim and John Lie hardly register, paired as the easygoing opposites of mom and brother. Neither self-aggrandizing or sugar coating in its presentation of overwhelming grief, Coming Home Again is a painstaking reminder of Wang's supreme talents, a throwback to the power of Smoke (1995) and its ultimate celebration of human lives and our interconnectedness.
★★★½/☆☆☆☆☆