Synchronic [Video Review]
E.M.Time Machine: Benson & Moorhead Do the Time Warp Again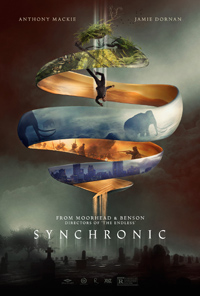 Designer drugs prove to be a mystical gateway to the past in Synchronic, the fourth feature from directing duo Justin Benson and Aaron Moorhead. In keeping with their blend of innovative scientific concepts and genre tropes, their latest also finds them employing higher profile stars and mastering a bigger budget.
Having amassed a significant following after their critically acclaimed indie efforts, including 2014 breakout Spring and 2017's The Endless (read review), there's certainly enough offbeat incorporation of stimulating suggestions to evoke conversation in their latest venture. Unfortunately, it also suffers from some of the same stilted shortcomings of their previous films, which includes a lack of characterization and an inability to concisely convey the execution of said concepts for a meaningful finale. Still, considering a lack of innovative and original properties in contemporary indie cinema, the continual attempts of Benson and Moorhead's increasingly complex narratives mark their output, including their latest, as worthwhile.
New Orleans EMTs Dennis (Jamie Dornan) and Steve (Anthony Mackie) are more than just work partners—they're best friends. Recently, they've encountered a series of horrific deaths and accidents amongst people who have been ingesting a new designer drug called Synchronic. Before the bath salt becomes an epidemic, however, it's miraculously discontinued, with Steve buying one establishment's final, dwindling supply. Steve also discovers a malignant tumor is in his brain just as Dennis' teen daughter Brianna (Ally Ioannides) ingests the drug at a party and disappears. When the man who created the drug, Dr. Kermani (Ramiz Monsef), tracks Steve down, the paramedic becomes privy to the secrets which can be unlocked through its use.

Not unlike some of Christopher Nolan's overwrought storytelling, Synchronic is a nicely packaged B-film which starts off on one note, as a buddy genre effort, and then morphs into a gonzo time travel narrative. The segue is suspiciously attenuated, however, and as ludicrous as many a 1950s sci-fi cheapie (the significance placed on the pineal gland, for instance, hasn't been so prominent since 1960's The Leech Woman), and the film attempts to be the cerebral version of similar genre ground covered in this year's Project Power.
Dornan's Dennis falls to the wayside, a character we're continually told is decidedly 'unhappy' thanks to his constant complaints (same for Katie Aselton, playing his wife), but we see little of it to justify the unnecessary repetition of these charges beyond the usual moans and groans exhibited by men in long-term relationships. Anthony Mackie, though almost by default, emerges as the more interesting character, his Steve apparently in post-lothario phase, who learns he has an especially supple pineal gland for his age, which of course becomes the driving catalyst of the second half of the film (younger people, whose pineal glands haven't hardened, are physically able to withstand what is essentially a drug induced time travel trip). As thus, he's conveniently able to test a hypothesis about how the titular drug operates and, presto, find his bestie's daughter, lost in some past age the drug allowed her to slip into.
What's most egregious about Synchronic is how it wastes its subtextual opportunities. Yes, on one trip, Steve does stumble into a KKK hovel, but this hardly showcases the fears and subsequent conversations which would be generated or are unique to Black characters, who, you know, would deign to revisit nearly any age in Louisiana's past. Other strands, such as the coffin nightmare haunting Steve, which we receive an expository explanation for from Dennis, suggests an underlying motif of constant displacement, Black bodies expelled from the earth to be pillaged by vagabonds. Strangely, this related episode is meant as expiation for Dennis, instilling a strange emotional displacement within the film since we never really have anyone communicating effectively, verbally, or otherwise, how they feel because they're too busy interpreting others (and arguably incorrectly).
Like the finales of Spring and The Endless, the conclusion of Synchronic feels as rushed as it is forced, demanding our satisfaction with the proceedings without properly calibrating the scenario for such a payoff. There's a poignancy we're meant to feel in these final frames, but it isn't there, sometimes hobbled by Benson's own script, especially in anything resembling a monologue, particularly when Mackie quotes a large swath of a letter from Albert Einstein just to conclude the sentiment on how the past, present and future are all part of a stubbornly insistent illusion. Mackie was much better served in a more memorable and effective "Striking Vipers," a 2019 episode of "Black Mirror."
★★½/☆☆☆☆☆