Every Dachshund Has His Day: Solondz Provides Droll Despair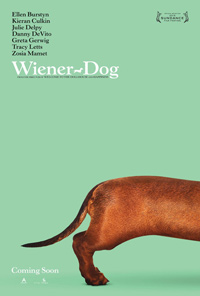 It's been five years since we were last graced with Todd Solondz's particular brand of muted anguish and he returns rejuvenated with Wiener-Dog, a quartet of sequences fixated on its titular canine. A kinda-sorta follow-up to the director's 1995 breakout Welcome to the Dollhouse since it refurbishes one of his most famous characters for a segment, we find the auteur simultaneously at his most pleasant and melancholy. The titular pooch ties together these loosely related moments meditating on life's predilection for cruelty and utter disappointment, some more exacting (and memorable) than others. Fans of his previous titles will most assuredly appreciate the infectious sense of misanthropy occluding tiny tendrils of hope, the potent stain of regret marking all the human characters observed through the eyes of an affable Dachshund.
As with many films formed by intersecting narratives, it's easy to allow weaker moments to disenchant the whole. Beginning delectably with an embittered married couple played to perfection by Julie Delpy and Tracy Letts, the self-absorbed parents buy their cancer survivor son (Keaton Nigel Cooke) a pet Weiner-dog, an animal which becomes an immediate metaphor for several of life's darker lessons. This culminates most hilariously with Depp rationalizing the need for sterilization by relating a story from her girlhood with grotesque allusions to rape ornamented with severe racial undertones. These are easily vilified suburbanites, and the segment is pleasantly judgmental, topped with an exaggerated tracking shot of explosive diarrhea from the small dog's aggravated intestinal tract after ingesting granola (a snack representative of the appropriately privileged).
Solondz veers into darker territory when we become re-introduced to Dawn Weiner a la Greta Gerwig, now a veterinary nurse who recuses the dog from extermination and takes off on a road trip after reuniting with a troubled man from her past (Kieran Culkin). We end up in the company of a very sweet couple with Down's Syndrome (Connor Long and Bridget Brown), where we wait for Solondz to drop another cruel shoe, but they remain uncastigated and overall pleasant, removed from the miserabilism of their ostensibly more cognizant counterparts.
Instead, Solondz saves his ruefulness for the film's weakest stretch involving Danny DeVito as a once notable screenwriter struggling to achieve relevance once more while working as an instructor at a film school. It's by far the most obviously pointed sequence and perhaps only works as an invitation to invite jokes about Solondz gently biting the hand that feeds him in this send-up of film school as a machine for endless formulaics. But even though the 'what if, then now' joke lags quickly, Solondz ends on a masterful note with a ferociously bitter Ellen Burstyn receiving a bizarre visit from her granddaughter and her new boyfriend. Initially a caricature of the kind of tired battle-axe we'd expect to see engendered by Bette Davis, quiet notes of desperation pierce the awkwardness of the visit, followed by a superb fantasy sequence where the old woman greets imaginary facets of herself she was never able to realize.
Reuniting with his Life During Wartime (2009) DP Edward Lachman, the sun soaked, simplified visuals also lead us down a road of false security, baited and sated by Solondz teasing us with uncustomary pleasantries in the first two scenarios. Considering the cartoonish intermission of Wiener-Dog, a folk song ballad from Marc Shaiman ("South Park") and a constant melancholy refrain apparently inspired by the little dog's excrement (mournfully realized by Nina Persson), the final, cruel frames initially seem unprecedented.
Until you remember a similar canine punchline at the end of Solondz's opus, Happiness (1998) and realize this new set of human characters all exhibit the Solondz hallmarks of unhappy lives, folks paralyzed with regret, obsessed with missed opportunities or simply disappointed upon realizing perhaps all was for naught.
Reviewed on January 22nd at the 2016 Sundance Film Festival – Premieres Programme. 90 Min.
★★★½/☆☆☆☆☆