Reviews
Right Now, Wrong Then | Review
Two in One: Sang-soo's Latest Delight Examines Outcomes and Possibilities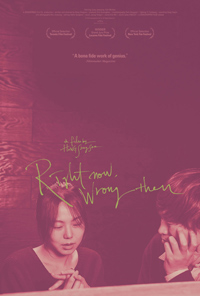 Prolific South Korean auteur Hong Sang-soo, who debuts annual films at various festivals every year, (and usually without much notable disclosure prior to a premiere), is known for using the same cast members in narratives that closely resemble one another. He returned to Locarno this year with Right Now, Wrong Then (where he took home the Best Director prize in 2013 for Our Sunhi) and nabbed the Golden Leopard, the festival's top honor.
Fans of his cinema will recognize his customary signature, but this time around, his latest is actually a macroscopic experiment of what Sang-soo's overall filmography tends to be comprised of, anxieties of artists on vacation from their craft, involved in unexpected scenarios involving lots of good food, conversation and often the overconsumption of soju. Another example of the filmmaker's delicate rendering of the difficulties in communication, Song-soo takes one scenario and charts a compelling ripple of cause and effect.
Ham Cheon-soo (Jung Jae-young) is a notable director, leaving Seoul to visit Suwon for a retrospective of his work. He arrives a day early and apparently has little to do, and in his boredom goes sight-seeing, visiting an old palace. At the entrance of a Blessing area, he spies a young woman, Yoon Hee-jeong (Kim Min-hee), and hangs about until he sees her slurping on a bottle of milk. They strike up a conversation and she recognizes his name but none of his films, agreeing to go on a coffee date even though she prefers not to drink the liquid. She's a local painter and invites the director to her studio where he praises her work. This leads to a flirtatious dinner and inebriation before Yoon realizes she promised to meet some friends at a gathering. Dragging the very drunk director along, the friends recognize him and happen to know all about his womanizing ways, including his failing marriage. Yoon becomes upset and eventually asks him to leave, and the event haunts him the next day at an unsuccessfully attended retrospective.
Then, the film ends and basically starts all over again the same place, but with a different set of response and reaction, particularly on the director's part. Rather than exaggerate her skills as a painter, he criticizes her before breaking down into tears and admitting he's married. Their dinner is less flirtatious (but no less drunken) and the awkward party is equally uncomfortable but for more innocently comical reasons.
More often than not, Sang-soo's films tend to fall off the radar following a healthy festival run, many without US distribution, something hampering his reputation here, (including his last title, 2014's excellent Hill of Freedom). He reunites with his Our Sunhi actor Jung Jae-young, here stepping in as Sang-soo's usual alter-ego, the lonely art-house film director. His Ham Cheon-soo is another rendition of the filmmaker as someone everyone seems to know in his native universe though many are seemingly unfamiliar with his output.
At a running time of nearly two hours, much longer than most of Sang-soo's films, Right Now, Wrong Then feels like two films in one, put together as yin-yang inverses. In the first, Cheon-soo is rather insincere, but knows how to say all the right things to woo the self-proclaimed 'sensitive' local painter, resulting in a night of drunken excess, hurt feelings, and an unappealing Q+A session at the next day's retrospective. The second sequence isn't quite the exact opposite, but finds Cheon-soo on more genuine footing, saying how he actually thinks and feels, even if it means critiquing his love interest's painting in ways she'd rather not here.
Filled with generous takes, allowing for the meaningful subtleties of the actor's juxtaposed actions to unspool, Sang-soo reteams with his usual DoP Park Hong-yeol, using a handful of zooms and pans to enhance the sometimes comic underlining usually evident in Sang-soo's scenarios. Jung Jae-young is an affable lead as the womanizing everyman, while up-and-coming actress Kim Min-hee is an effortless mix of lovelorn and lonely. Sang-soo also inserts regular Yoon Yeo-jong, the underrated character actress appearing as the acerbic mother for a brief sequence.
The added prestige of Locarno's top honor should help solidify Sang-soo as one of South Korea's most prominent auteurs as he continues to hone his particular universe with the graceful Right Now, Wrong Then.
Reviewed on September 16th at the 2015 Toronto International Film Festival – Masters Program. 121 Mins.
★★★½/☆☆☆☆☆