The Electrical Life of Louis Wain | Review
Wain's World: Sharpe Presents Loving Portrait of an Artist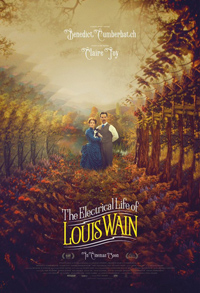 It's odd to reflect upon a time when felines weren't regarded as a stereotypical domesticated fur baby, and yet it wasn't until the 1880s, when English artist Louis Wain popularized their aesthetic, solidifying their move from devil's familiar (or mouse hunter, rather) to celebrated house pet. Such are the accomplishments of Wain, whose life is the subject of Will Sharpe's first solo directorial effort, The Electrical Life of Louis Wain.
Though a troubled artist, here his life and achievements are examined through a somewhat cheery lens, considering an omnipresent drabness characterizing the lives of those in Victorian England. An outsider who danced to the beat of his own drum, he's fleshed out by an awkward but graciously attenuated performance from Benedict Cumberbatch in a novel recuperation of a misunderstood and obscure artist whose mental health issues have been long debated. Interestingly, his prolific output of feline illustrations has been used to support and dissuade interpretations of the man and his experiences.
Forced to support his mother and five sisters, the eccentric Louis Wain (Cumberbatch) works as a freelance artist who also happens to dabble in a variety of other potential creative ventures (though many he proves to be unsuitable for). In late 19th century Victorian England, class restrictions were in full force, so when Louis begins to fall for Emily (Claire Foy), a live-in governess employed for his younger sisters by eldest, domineering sibling Caroline (Andrea Riseborough), it brings a cloud of social disease upon the family. Offered regular employment for his illustrations, Louis moves out on his own and marries Emily in an impassioned, whirlwind romance. When Emily learns she has terminal cancer shortly after their union, Wain does his best to cherish their remaining time together, and through this pain, stumbles upon the subject which would be his legacy – anthropomorphized cat drawings which would alight the public's imagination and keep him afloat despite considerable mental health issues.
In a sense, The Electrical Life of Louis Wain is a similar portrait of an artist as Tim Burton's examination of Margaret Keane in Big Eyes (2014), both figures penetrating the popular zeitgeist in particular periods and whose traumatic personal experiences intertwine with their art, with names eventually overshadowed by their output.
Olivia Colman provides droll narration from Simon Stephenson's script, which assists in sidestepping the bleak realities of Wain's life and tapping into the magical creativity which inspired him. Forced to support a gang of sisters and widowed mother, Wain valiantly pursues his own interests, much to the chagrin of eldest sister Caroline, played in the vein of a goofy, lovelorn spinster by Andrea Riseborough (though the perspective of her reality and her brother's behavior suggests a much darker interpretation of his decisions), and there's a delicious romanticism Sharpe leans heavily into with Wain's unprecedented marriage to Emily. Claire Foy is a wide-eyed breath of fresh air as a progressive free-thinker consumed by cancer.

Sharpe jumps from cancer melodrama to a somewhat oblique portrait of dysfunctional madness, with Wain's sisters also deteriorating, suggesting inherited mental health issues no one really wants to take a stance on. Stacy Martin pops up as the willowy Felicie in later years, while the talented Hayley Squires (I, Daniel Blake; In the Earth) has a bit more to do as the unhinged Marie.
Strangely, it resembles the sort of sibling dysfunction of The Macaluso Sisters (2020), siblings torn asunder from their upbringing and economical reality. However, Riseborough is the only one to get a semblance of a characterization, leaving bright spots like Martin and Squires to feel like high-profile casting for actors better than their roles.
The remaining cast members seem to be enjoying themselves, such as the venerable Toby Jones, who pops up as Wain's bemused employer. But as Wain descends into his chaotic obsession with cats, animals he believes will evolve into preternatural beings whose intelligence is destined to surpass their human counterparts, Sharpe's oddly charming energies begin to wane (pun intended), never achieving the same intoxicating heights after Foy's inevitable departure.
★★★½/☆☆☆☆☆