The French Dispatch | Review
Repetition Commission: Anderson Flatlines with Twee Aesthetic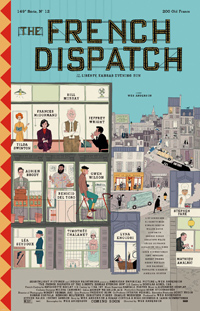 Since cinema requires a semblance of participation by the audience, a passive relationship of sorts, the latest curio from critical darling Wes Anderson, the long awaited The French Dispatch, recalls Woody Allen's quip from Annie Hall (1977): "A relationship…is like a shark…It has to constantly move forward or it dies." Anderson, at last, has run into a brick wall of formidably mannered stylization. In essence, his latest is a dead shark.
Sporting another high-profile ensemble, including many of his favored crew outnumbering a smattering of new recruits, all crumble beneath the weight of his signature aesthetic. Once a tool which allowed him to become one of the most revered contemporary American auteurs (all his films are preordained for eventual release on the Criterion Collection, suggesting Icarus level hubris), his flourishes now straitjacket his output in a Never Never Land sort of regression. We've been here before, seen these tricks engaged by the same faces uttering the same kind of precocious, loquacious passages—-and his latest, while as visually wondrous as anything he's previously done, fails to engage on any comprehensive level.
Arthur Howitzer Jr., the editor (Bill Murray) of The French Dispatch of the Liberty, Kansas Evening Sun, the French foreign bureau of a Kansas City newspaper in the late 1960s, has died. In his will, it's declared the paper will be dissolved, all assets sold. For the final edition of the newspaper, staffed by expats in Ennui-sur-Blase, France, the final three articles are presented along with the obituary of Howitzer. The first story, written by J.K.L. Berenson (Tilda Swinton), deals with a world famous artist, Moses Rosenthaler (Benicio Del Toro), a psychopath imprisoned for beheading two bartenders. His attraction to the prison guard Simone (Lea Seydoux) results in an expensive/accidental commission of frescoes in the prison gymnasium.
Next, Anderson riffs on the May 1968 student occupation protests with Zefferelli B. (Timothee Chalamet) organizing a protest about boys not being allowed access to the girls dorms. His cause is covered by Lucinda Krementz (Frances McDormand), who also becomes his lover. Lastly, Roebuck Wright (Jeffrey Wright), has been assigned to cover renowned Chef Nescafier (Steve Park), which instead leads to a criminal standoff whereby the police commissioner's (Mathieu Amalric) son is kidnapped, which Wright recalls in a television interview.
Somewhere along the way of the conception of The French Dispatch, Anderson's aesthetic has become so expected, even self-reflexive, it aborts the empathy and humanity which always clinched the gap of pretension. The Salinger-esque melancholy of The Royal Tenenbaums (2001) or The Grand Budapest Hotel (2014) has evaporated—-the bittersweet follies of adolescence in Moonrise Kingdom (2012) nowhere in sight. Instead, we find Anderson attempting foul language and sexuality in ways which feel like a cloistered teenager dipping their toes into adulthood. Perhaps there were too many cooks in the kitchen, seeing as Anderson co-wrote alongside Roman Coppola, Jason Schwartzman and Hugo Guinness. Production design, editing, regular DP Robert D. Yeoman and composer Alexander Desplat all assist in the visual fabric we've come to expect from Anderson, but The French Dispatch is dead behind the eyes.
Of the three tales offered up in this vignette style narrative, the first ends up the best, thanks mostly to the captivating Lea Seydoux and the usually innovative character work from Tilda Swinton (talking over a mouthful of teeth and styled in a way which looks a lot like Anita Bryant being played by Diane Ladd). Frances McDormand and Timothee Chalamet are odd bedfellows in the second segment, while Geoffrey Wright has the hard task of working his way through a muddled closing chapter. A coterie of notables pop up without much ado (too many to bother naming, in fact) and Anderson mixes in some animation (moments which tend to come alive in more interesting ways than the majority of the live action).

Controversy over cultural appropriation with his last feature, 2018's Isle of Dogs, allows for an interesting interpretation of what happens with Wright's character, saddled with being the only journalist who doesn't quite nail the assignment but also disagrees with editor Bill Murray. Clearly an homage to James Baldwin (who is one of the many writers to whom the film is dedicated in the closing credits), it highlights how suffocating Anderson's characterizations have become. All the characters (including Anjelica Huston's narration) are marked by the same grandiloquent prose, leaving only the potential idiosyncrasy of the performer for any distinguishing difference (hence Swinton's usual sidestepping).
With Wright, it points out Anderson's inability to write for anyone other than his own specific perspective, which explains, at least partially, why The French Dispatch feels DOA. Meant as a love letter to journalists, The French Dispatch unfortunately plays like a tired mishmash of various parodies while forgetting to highlight the magic of the universe it's attempting to showcase.
Reviewed on July 12th at the 2021 Cannes Film Festival – Main Competition. 103 Mins
★★/☆☆☆☆☆