Reviews
Winter in the Blood | Review
Blood Simple: The Smith's Sophomore Effort a Lyrical, Uneven Production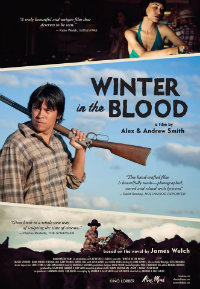 It's been well over a decade now since their first film, 2002's The Slaughter Rule, which starred both Ryan Gosling and Amy Adams in early film roles, but Alex and Andrew Smith, twin brothers, are back with their sophomore effort, Winter in the Blood. An adaptation of a 1974 novel by James Welch, the Smiths have created an evocative character study that often feels like a period piece, so specifically is it rendered inside the head of its troubled protagonist. Idiosyncratic and offbeat, it's reminiscent of early, understated Coen Bros. films, a beautiful, troubled nightmare like Barton Fink, for instance. Though the narrative meanders and often feels too elliptical for its own good, the film is a character piece delivered as a languid tone poem, life as a bramble weed drifting simultaneously to freedom and trouble.
Waking up in a ditch, Virgil First Raise (Chaske Spencer), seems to have acquired quite a drinking problem. But why not? His wife Agnes (Julia Jones) has just left him, taking off into town with his rifle and electric razor, his only belongings she can pawn to buy more booze. On top of that, living with his mother and grandmother on the family ranch, he's informed that once he drains that problematic bog on the property, he might as well drift on elsewhere to find work. In between bouts of drinking and observing his mother's dalliance with a new boyfriend, we escape into Virgil's fantasies (usually concerning his wife) and memories (growing up as an unwanted 'half-breed'). Connecting with a bizarre white man named Airplane Man (David Morse) one night after a bout of heavy drinking, Virgil aims to take off to Canada for an illegal scheme. But heritage and alcohol get in the way.
Much of Winter in the Blood is relayed through the untrustworthy perspective of Virgil, who can't seem to believe himself the things he gets into once inebriated, including a sexual liaison with a pretty bartender played by Dana Wheeler-Nicholson (remember, Wyatt Earp's opium addicted wife in Tombstone, 1993)? As Virgil, Chaske Spencer has considerable screen presence, nailing a role from an often neglected perspective—this is far removed from his most notable preceding resume items, appearing in the Twilight franchise which problematically aligns Native Americans with werewolves.
While the narrative can't quite match the ingenious feel of the film, beautifully shot by Paula Huidboro, the Smiths, with the help of screenwriter Ken White, create ambience with poetic plumes of dialogue. "Again I crossed over into the shadow world of white people," Virgil observes, waking drunk and bleary under a glass coffee table, banging his head on a pane of glass he's unable to see right in front of him.
It's too bad that Virgil's trajectory couldn't have felt a bit more relevant, oscillating between problematic behavioral tics and a final revelation about his background that doesn't seem quite as significant as it should be. But even if Virgil's journey to partial enlightenment is rather uninvolving (featuring a sometimes aggravating use of slow motion), Winter in the Blood feels unique and worthwhile, evidence that the Smith Bros. should perhaps take less time in-between projects.
★★★/☆☆☆☆☆