Rifkin's Festival | Review
Spain & Glory: Allen Apes His Darlings in Familiar Comedy of Marital Discord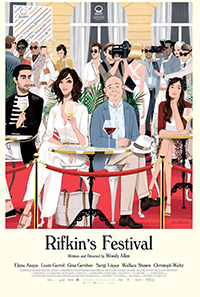 The first entry of Woody Allen's European banishment in the twilight years of his career happens to be a familiar formulation of his favored themes with Rifkin's Festival. A pseudo-vacation film which seems more an homage to Allen's reverence for San Sebastian and select auteurs, it's neither the best of times nor the worst of times in his considerable filmography.
His forty-ninth feature set entirely around the ten day program of the San Sebastián Film Festival (where it appropriately premiered in 2020) is a superficial examination of an imploding American marriage told through the eyes of another Allen doppelgänger, an indefatigably nebbish Wallace Shawn. Although one of Shawn's few leading turns, it's a role which hardly allows him the prowess of Jonathan Demme's 2013 Ibsen adaptation A Master Builder and a far cry from the exceptional My Dinner with Andre (1981) from Louis Malle. Still, Shawn and the alluring Gina Gershon make for strangely watchable bedfellows in an exercise far removed from the reality of Allen's own troubled universe.
Aspiring novelist Mort Rifkin (Shawn) finds his progress interrupted when he agrees to attend the San Sebastián Film Festival with his wife Sue (Gershon), working as a publicist for rising French director Philippe (Louis Garrel). Mourning the passage of his glory days as a film professor, Mort is intrigued at the prospect but distracted from the nagging suspicions his wife is infatuated with Philippe. Experiencing heart palpitations over his fidelity related stress, a friend (Douglas McGrath) recommends local Dr. Jo Rojas (Elena Anaya) to Mort, who becomes instantly smitten with the beautiful physician. As his own marriage seems to crumble before his eyes, Mort makes up excuses to be seen by Dr. Rojas, herself in a troubled marriage to a womanizing painter (Sergi Lopez). Eventually, Mort begins to question his own abilities as an artist, realizing he's perhaps more adept at purveying the works of others than creating his own.
The most entertaining moments of Rifkin's Festival are the frequent forays into cinematic homage, which play like Jungian psychoanalysis, sometimes drolly inspired and sometimes too obvious. A comedic shout out to Bergman's Persona, wherein Anaya and Gershon are voiced over in Swedish, suggests a more interesting rabbit hole Allen could have jumped into, likewise a passing nod to Bunuel's The Exterminating Angel.
Christoph Waltz appears as Death, who, in the much satirized tradition of playing on The Seventh Seal, shares mildly comic dialogue over a distracted handful of chess moves. These arthouse Easter eggs bleed into other elements, such as Louis Garrel's dapper director named Philippe, more than likely a purposeful nod to his own noted lineage as the son of director Philippe Garrel (Rifkin's Christian name Mort doubles down on the death themes the film doesn't feel serious enough to traverse).
Elena Anaya, while at least a bit more mature than most of the May love interests in an Allen feature, has little to do but serve as an obscure object of desire for Rifkin. Married to an adulterous painter played by Sergei Lopez, Allen's second depiction of fiery Spaniards (following the celebrated Vicky Cristina Barcelona, 2008) leans into lazy cliche this time around. A host of notable supporting players in ensemble mode, as is the Allen tradition, include Richard Kind, Steve Guttenberg and Tammy Blanchard. But only Shawn and an effervescent Gina Gershon seem to be having any sort of extended fun.

As far as paying homage to Bergman, Allen's latest pales magnificently to something like Mia Hansen-Love's excellent Bergman Island (2021), but it's a reminder of his specific sensibilities and inspirations. His late period DP Vittorio Storaro conjures the sun-dappled paradise of a tropical film festival, and drastically changes the aspect ratio to boxy 4:3 in the black and white dream sequences, honoring everyone from Godard, Welles, Fellini and Truffaut, seemingly caused by Philippe's film-within-a-film titled Apocalyptic Dreams. A jovial enough B-side endeavor about "a cranky little introvert," Rifkin's Festival plays like passing entertainment eventually destined to be a minor footnote in Allen land.
★★½/☆☆☆☆☆