Matthias and Maxime | Review
Peas & Carrots: Dolan Gets Caught in a Bad Romance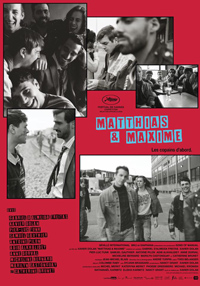 Xavier Dolan devotees will be happy to note his latest feature, the treacly melodrama Matthias and Maxime, is at least less abrasively formulated as his last two features, the impregnably shrill It's Only the End of the World (2016) and the abominable The Death and Life of John F. Donovan (2018).
As the comparably less verbose title indicates, this latest signals what some might call "a return to form," however, this is a rather rusted silver lining to champion in a gay panic drama which dwells as gracefully as a mud-slicked pig hunting truffles trapped in its own trough. Launched within the bowels of working-class Quebec, where English language and Denys Arcand quips represent the world of the highbrow, Dolan casts himself as the broken-winged non-starter of a dysfunctional family who plans to be leaving on a jet plane just as he's allowed to examine deep rooted romantic feelings he has had for his childhood best friend.
Shallow, schizophrenically calibrated and narratively fashioning the epistemology of the closet as subtly as one of Mariah Carey's gaping walk-ins, it's another portrait of a poorly fashioned cinematic community completely lacking in verisimilitude from a director determined to prove narratives work better when they have something to say in the first place.
As he gears up to leave for Australia in a matter of weeks to pursue other interests, Maxime (Dolan) begins to prepare his group of friends for the inevitable. A cabin gathering finds him and his best friend Matthias (Gabriel D'Almeida-Freitas) sharing a kiss in a student film project at the behest of the younger sister of another friend. Both men, who heretofore have identified as heterosexual, are confronted with feelings for each other they've never been forced to examine. With the clock ticking towards Maxime's inevitable departure, they have limited time to resolve their conflict or risk losing one another forever.
For an eighth feature film, Matthias and Maxime plays like something which might have been more forgivable as a follow-up to his 2009 (and most authentically sincere film) debut I Killed My Mother. The cinematic signature developed across the palette of the emptyheaded Heartbeats (2009), the trans drama Laurence Anyways (2012) and even the well-received but ridiculous Mommy (2014) indicated Dolan was moving towards a sense of relaying something to say as he developed as a filmmaker. Perhaps as an effort to divorce himself from the increasingly negative critical reception afforded his last two films, visual excesses are minimal this time around. However, basic tendencies are still there, including pronounced musical cues meant to define memories, places, or as markers for poorly written characters (like Harris Dickinson of Beach Rats stuck in a hyperbolized heterosexual straitjacket, who is supposed to be a young professional from Toronto who only speaks 'un peu' French but neither acts professional and then suddenly seems incredibly fluent). What this reveals though is a vulnerable narrative, unprotected by stylized flourishes for audiences to cling to as justification of its integrity. With no style, it's easier to discern a trenchant lack of substance.
Dolan's approximation of working-class denizens plays like a Ken Loach kitchen-sink drama on opioids—and, worse, one gets the sense he himself is repelled by their baseness. Anne Dorval, who was a buoyant force in I Killed My Mother, is featured in a continually degrading spectrum of Dolan's cinematic matriarchs. In Mommy, she chewed her way through scenery meant to reflect her ignorance, and here, well, she's a dumpy ex-addict who would be a sister to the pre-elixir Goldie Hawn in Death Becomes Her (1992). Their relationship is defined by screechy shouting matches, an emotionally abusive co-dependency which seems to be the reason Maxime is heading all the way across the world sans any sort of real plan. More time between mother and son and less time spent with his gaggle of garrulous group of friends might have helped his characterization—but Dolan seems to despise quiet moments (even during the film's most sexually provocative moment, thunder crashes down outside like the gods of Mt. Olympus have something to say about this transgression). Dolan also seems to lose track of details, both in a minor sense (a framed picture of himself alongside mother, brother and a hairdryer jumps from a frame to a fridge) to time-warping (the night of a detrimental party finds the weather ranging from autumnal howls and torrential downpours to gentle snowflakes, while its titular characters drunkenly roam the city to satisfy narrative clichés about their relationships to others).
The group chatter of these 'friends' is interminable, with dropped moments about Matthias putting words in Maxime's mouth to an obnoxious young film student presented as a caricature, played for cheap laughs. She is an indication of Dolan's intergenerational difficulties portraying women of any age or class—a group of older, white bourgeoisie women (of course, in a garish gathering) are as equally repugnant as Dorval, and young women are either on hand as sympathetic ciphers or objects of consumption, sometimes for ridicule or hetero character fodder. The lone non-white character, Shariff (Adib Alkahalidey) seems injected here as the POC token—and he's as equally undeveloped as the rest of Matthias and Maxime's squad.
And what of Matthias and Maxime? Dolan's characterization is defined on the surface by his Gorbachev styled birthmark leaking out of his eye like a never-ending tear. Gabriel D'Almeida- Freitas fares a bit better between them, but again, his progression from panicked closet case to indiscreet lover to a Cameron Crowe fantasy makes him merely a ludicrous fantasy.
Reviewed on May 22nd at the 2019 Cannes Film Festival – Main Competition, 119 Minutes
★/☆☆☆☆☆