Four | Review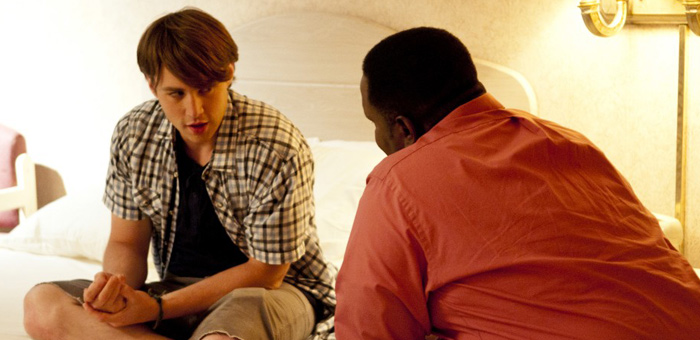 Looking for a Love That's Never Enough: Joshua Sanchez Directs a Broody Debut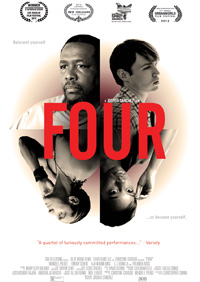 Director Joshua Sanchez has chosen excellent material to adapt for his film debut, Four, based on the play by Obie award winning (and Pulitzer short finalist) playwright, Christopher Shinn. At times, simplistic in its familiarity, the film manages to create a brooding atmosphere that slowly tightens its grip, sloughing off familiar tropes concerning race and sexuality and hitting enough subtle notes to become more intense the more quiet it becomes.
On one typical seeming 4th of July, a distressed and nervous white adolescent male named June (Emory Cohen) secretly meets a mysterious man in a desolate parking lot, a man that confirms the meeting via a payphone booth. As night begins to fall, a heavy set black male in his forties named Joe (Wendell Pierce) picks up June and we discover that they met online and arranged this rendezvous for sex. It quickly becomes clear that Joe is a married man with a family, discreet and closeted, while June is just beginning to come to grips with his sexuality, not out to anyone beyond online tricks.
As the two converse in conversations revolving around self loathing, each playing a secretive game and unwilling to admit what they're actually looking for, Joe and June are juxtaposed with a budding relationship between Abigayle (Aja Naomi King), an adolescent black girl, and Dexter (E.J. Bonilla), a racially mixed boy from her school. Dexter is pressuring Abigayle on the phone to watch fireworks together, but Abigayle reveals that she must wait at home for a phone call from her father, on a business trip in Boston. It's Abigayle's responsibility to care for her mysteriously ailing mother while he's away. Seizing a chance to get out of the house, Abigayle meets up with Dexter. As the night drifts on, our four characters engage in conversations and activities that may change each of them forever, or may become just one more desperate night of searching they're already accustomed to.
Sanchez manages to dispel staginess from the start of the narrative, often framing each character in close up, and frequently placing them outdoors or in cars, as they quietly move around a small but not insignificant city, presumably with nowhere new to go. Sanchez, who adapted the play for the screen, manages to retain the blunt dialogue, reflecting conversations about very realistic racial hang-ups that are either ignored altogether or blown out of melodramatic proportion in main stream American cinema.
While most of this is left as fodder for Abigayle and Dexter, race intersects differently in the dynamic with Joe and June, where self loathing permeates their existences. In one of the most finely wrought scenes, Joe, waiting for June to shower in the hotel room, shares a story about himself and his first time having sex with a man. Young in the early '80s, he postulates that AIDS is the best thing that ever happened to gay men. "AIDS made us human. It made us think about what may be inside the other person." He bitterly quips to June that the right of passage for young gay men is their first AIDS test, the equivalent of a straight boy losing his virginity.
While minor secrets are revealed about some of the characters, Four is really a finely wrought piece of work about a constant hunger for the love people want to find versus the love that culture deems appropriate for them. Each of the four main actors are quite good, but it's Wendell Pierce and Aja Naomi King that steal the show, dominating every frame they're in (and oddly, Pierce's role was also played by his "The Wire" co-star Isaiah Whitlock Jr. on stage).
Sanchez's film isn't heartbreaking, but then, it's not trying to be. It's a wonderfully compelling and observant film about human interactions that seems to be treading water, but really dives quite deep. The one character that seems to have the greatest chance at reinvention is June, a young man on the cusp of discovering what it is that he really wants. Born several weeks early in the month of April, he is named June (as in, be/four July?), a constant reminder of failed potential, never reaching the prophesied mark set for him before birth, a parallel to the disappointment young gay men and women experience when they don't turn out to be heterosexual. In an emotional turmoil at the film's start, his meeting with the closeted yet caring Joe has changed him in more ways than he can comprehend. Four people are looking for love one fourth of July. The lucky ones will learn to love themselves.
Reviewed on June 15 at the 2012 Los Angeles Film Festival – Narrative Competition.
76 Mins.