Features
Tracking Shot: Van Sant, Doremus, Guadagnino & Reed Morano Shooting This August
"Tracking Shot" is a monthly featurette here on IONCINEMA.com that looks at a dozen or so projects that are moments away from lensing (or in a couple of titles below have been shooting since July). This August we've got a good number of projects that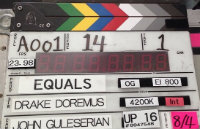 will start surfacing as early as next year's Sundance, Rotterdam and Berlin Film Fests. With Dakota Johnson having been just announced, we've got Luca Guadagnino's long awaited (remake) A Bigger Splash, getting ready for a poolside shoot. Gus Van Sant comes out of the woodworks to move into the woods for Sea of Trees. Sundance alumni Rick Alverson is wrapping up Entertainment, Reed Morano is set to make her directorial debut this mid-August with Meadowland, while Douchebag, Like Crazy, Breathe In's Drake Doremus is stationed in Japan for a weighty cast and futuristic tale in Equals. Here are some worthy projects to keep tabs on:
A Bigger Splash
Director: Luca Guadagnino
Writer: David Kajganich
Cast: Dakota Johnson, Ralph Fiennes, Tilda Swinton and Matthias Schoenaerts
Producers: Michael Costigan (Out of the Furnace) & Guadagnino
Filming in Italy
Entertainment
Director: Rick Alverson
Writers: Rick Alverson, Gregg Turkington and Tim Heidecker
Cast: Michael Cera, John C. Reilly, Tye Sheridan, Angeliki Papoulia, Dean Stockwell, Tim Heidecker, Kalia Prescott, Gregg Turkington
Crew: Cinematographer: Lorenzo Hagerman (Heli). Editor: Michael Taylor (Love is Strange)
Producers: Nomadic Independence Pictures' Brooke Bernard, Ryan Lough & Ryan Zacarias (Ping Pong Summer), Mpower Pictures' Patrick Hibler
Executive Producers: Jagjaguwar's Chris & Ben Swanson, Electric Dynamite's Jack Black
Co-Executive Producers: George Rush (Ping Pong Summer), Epic Pictures Group' Patrick Ewald and Shaked Berenson
Filming in California (Mojave Desert, Los Angeles)
Equals 
Director: Drake Doremus
Writer: Nathan Parker (Moon)
Cast: Kristen Stewart, Nicholas Hoult, Guy Pearce, Jacki Weaver, Kate Lyn Sheil
Crew: Cinematographer: John Guleserian (Song One) + Composer: Sascha Ring (Crazy, Stupid, Love.) + Editor: Jonathan Alberts
Producers: Indian Paintbrush's Steven M. Rales, Chip Diggins, Ann Ruark, Michael Schaefer, Ridley Scott, Jay Stern
Executive Producers: Pyung-ho Choi, Russell Levine, Michael A. Pruss, Lee Jae Woo
Filming in Japan and Singapore.
Just Jim
Director: Craig Roberts
Writers: Craig Roberts
Cast: Emile Hirsch, Craig Roberts, Aneirin Hughes, Nia Roberts, Richard Harrington, Matthew Aubrey, Ryan Owen, Charlotte Randall
Crew: Cinematographer: Richard Stoddard. Editor: Stephen Haren
Producers: Adrian Bate, Pip Broughton
Filming in Maesycwmmer, Wales
Lamb
Director: Ross Partridge
Writer: Ross Partridge
Cast: Ross Partridge, Lamb Oona, Jess Weixler
Producers: Mel Eslyn (Touchy Feely, The One I Love) and Tayor Williams (The Dish & the Spoon)
Exec Producers: Jennifer Lafleur and Mark Duplass
Filming in Wyoming & Chicago
Look Away
Directors: Monty Whitebloom and Andy Delaney
Writer: Jennifer Schuur
Cast: Nick Frost, Hope Davis, Adelaide Clemens
Producers: Locomotive's Lucy Barzun Donnelly and Alexandra Kerry (That's What She Said)
Executive Producers: Peter Friedlander (A Bag of Hammers)
Filming in Hudson Valley, New York
Meadowland
Director: Reed Morano
Writer: Chris Rossi
Cast: Olivia Wilde, Luke Wilson, Elisabeth Moss, Natasha Lyonne
Producers: Bron Studios' Aaron L. Gilbert & Margot Hand (Rudderless), Matt Tauber (Autumn Blood) and Olivia Wilde
Filming in New York
One & Two
Director: Andrew Droz Palermo
Writers: Palermo & Neima Shahdadi
Crew: Cinematographer: Autumn Durald (Palo Alto)
Producer: Kim Sherman (You're Next)
Filming in Missouri
Race
Director: Stephen Hopkins
Writers: Joe Shrapnel and Anna Waterhouse
Cast: Stephan James, Jason Sudeikis, Jeremy Irons
Crew: Cinematographer: Peter Levy
Producers: Forecast Pictures' Jean Charles Lévy, ID+'s Luc Dayan, Totally Commercial Films' Kate Garwood and Hopkins, Solofilms' Louis-Philippe Rochon and Dominique Séguin, Trinity Race GmbH's Karsten Brünig and Thierry Potok
Executive Producers: SquareOne's Al Munteanu
Filming in Montreal, Canada and Berlin, Germany
Sea of Trees
Director: Gus Van Sant
Writer: Chris Sparling
Cast: Matthew McConaughey, Ken Watanabe, Naomi Watts
Crew: Cinematographer: Kasper Tuxen (The Wait)
Producers: F. Gary Gray, Kevin Halloran, Ken Kao (Rampart), Netter Prod' Gil Netter (Life of Pi)
Filming in Massachusetts