IONCINEMA.com's IONCINEPHILE of the Month feature focuses on an emerging filmmaker from the world of cinema. Prior to the film's TriBeCa Film Festival world premiere debut, we've had the pleasure to profile Lance Edmands on a couple of occasions, namely, our In the Pipeline spotlight. Matching the frigid, desolate Maine backdrop with a communal sense of sorrow, Bluebird features an outstanding group performance with Amy Morton leading a cast comprised of Louisa Krause, Emily Meade, Margo Martindale, Adam Driver and John Slattery (the Karlovy Vary Film Festival honored the four women). Usually, we get more into the mechanics of the film, but we took the opportunity to discuss technology and distribution – both changed tremendously during the film's journey. Here's this month (February/March) profile on Lance, and as always, make sure to click on over to his Top Ten Films of All Time list (this month come a little "twist"). Factory 25 releases the film in NYC and Chicago today (February 27th), with further screenings planned.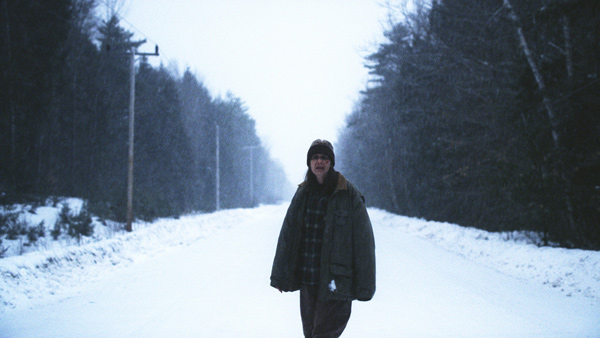 Eric Lavallee: During your childhood… what films were important to you?
Lance Edmands: Aside from the obvious choices that people born in the early 80's would be likely to cite (STAR WARS, GHOSTBUSTERS, BATMAN, etc) the films that really affected me the most were probably the ones that deeply disturbed me—THE SHINING, RETURN TO OZ, JACOB'S LADDER, etc. The first one I can remember fucking me up was OLD YELLER. As the story goes, once the infamous mercy killing became obvious and eminent, I started freaking out so much that my mother stopped the VHS player in an attempt to trick me that the film was over. But even as a five-year-old I knew better—where was the third act? I insisted that we resume the film, only to have Old Yeller's death haunt me for years. I suppose this slightly masochistic relationship with cinema has stayed with me ever since.
Lavallee: During your formative years, what films and filmmakers inspired you?
Edmands: I guess I would consider my "formative years" to be the last couple years of high school and maybe the first year or two at NYU. That's when I really cracked into all the stuff that is considered a part of the indie/art house canon. There was— and thankfully still is— a great video store in Portland, Maine called Videoport, with an amazing section called "Incredibly Strange Films." It's basically a mix of cult curios, mondo-type docs, exploitation films, and other extreme art house stuff. When I found this section I pretty much went nuts, renting 10-15 films at a time and locking myself in my parents basement. This was where I found STRANGER THAN PARADISE, SCARECROW, BADLANDS, STROSZEK, etc. I crawled deeper into the wormhole from there.
Lavallee: Prior to enrolling at NYU, did you make backyard films? What were your creative outlets?
Edmands: Oh yes, definitely—tons of backyard films. When I was about seven I was dumped at day camp just like every other kid during the summer. This camp happened to be one focused on "creative youth" and had exclusively art-related activities. I remember you had to sign up for three time blocks and my choices were "Video I" "Video II" and "Video III." After that they had to change the rules so that kids would pursue a little more artistic diversity. Anyway, that's where it all started. After that, I made as much stuff as I could on my parents VHS camera. The camera had to be tethered to the record-deck in the living room though, so the 50-foot cable really limited the locations. When Hi-8 came out I got ambitious.
Lavallee: Before '15 comes to a close, we can already state that Bluebird was one among a handful of films conceived and filmed in 35mm. From a production standpoint, I think there is a lot to admire in the conditions you shot in. Aside from the aesthetics/textured look of the celluloid, in your opinion, would you say that 35mm adds further challenges that don't exist with digital and what are the selling points for maintaining/keeping the format as an option.
Edmands: Well now that they closed the last lab in NYC it's going to be tough to get dailies developed in a reasonable amount of time. So that's a huge drawback. When we shot BLUEBIRD we were still able to process the film at Technicolor. It is definitely more expensive in certain ways. But still, the majority of the costs of making a film are related to the payroll, the transportation, the food, etc. The shooting format is only a fraction of your budget, as long as it's not a totally micro production. We also shot in a really methodical way where we knew we weren't going to do a lot of set-ups. So many of the scenes were designed to be one master shot. I just don't believe in rolling for hours and hours and figuring it out later. We also didn't do a million takes, because if you know your story and you trust your actors, you just don't need to hammer away at it over and over again. But some of these drawbacks end up becoming your philosophy or methodology. The monitoring system is shitty with 35mm— you never really see what the end product is going to look like and playback is a bitch. But again, this can actually be good because you learn to trust the DP more and you learn to put your attention on the moment as it's happening rather than on some perfectly calibrated HD monitor. But of course it's only right for certain types of filmmakers who enjoy working this way. But we should never allow film to die. Every tool should be available for any given story and some stories simply need to be shot on film to work.
Lavallee: Since the beginning of this decade (and also the time when you Bluebird was conceptually being created), it could be argued that the distribution model as undergone more change than the three decades preceding it. Your film benefitted from some crowdsourcing support, but could you describe some of the fears/challenges in choosing to listen to that inner voice and decide to "protect" your film, rather than giving it away.
Edmands: To be honest, it's a buyer's market, pure and simple. There are tons of films that are being made for a very tiny audience. 90% of Americans see one film a month or less. How many of those people do you think ever venture into independent fare? The distributors know they can offer you nothing in exchange for your film (and I mean that very literally— zero dollars), and then try and bleed out whatever they can from random VOD outlets, or else bury it in some sub-menu of your cable box and hope that someone's cat steps on the remote and orders it by accident. It's depressing. So you kind of have three choices—make a smash hit and sell it at Sundance so that you break even, give it away to some distributor for free so at least you can tell people they can find it online somewhere, or else forgo sleep to fight for some reasonable amount of exposure while maintaining control over your intellectual property. We made a quiet, melancholic film, so when the first option was out of the question, we decided upon the third. My guess is that things will continue this way for a while, but I hope that some of the successes that Amazon and Netflix have had might flood the market with a little bit more prospecting money. Despite all this, I still think we're in a golden age where true indie film has never been better. Maybe a totally break from capitalist market forces will be the best thing that ever happened to movies.
Lavallee: Can you discuss the collaborative process you had with Saunder Jurriaans and Danny Bensi?
Edmands: I first heard Saunder and Danny's music in TWO GATES OF SLEEP, which Jody had worked on. I remember seeing footage from that and hearing this haunting score and just being blown away. We weren't sure who was going to score BLUEBIRD until we were in the thick of editing. Kyle Martin (the producer) and I met with them and went to their studio to show some footage and talk about the music. They have this kind of chill zen vibe going on in there and those dudes just radiated good vibrations. We used a bunch of their score from an Amish documentary they had just worked on in the cut and it was amazing. I knew they would be perfect. The process was relatively seamless, a lot of it was conceptual, talking about using diegetic elements from the film, whether it was literally musical—like the clarinet that the daughter plays—or more conceptually musical, like the sound of the bird call or even the mechanized sounds of the paper mill. It all found it's way in there. They continue to knock it out of the park, managing to maintain a distinctive sound that is still adaptable to every film. It's only a matter of time before they're doing some epic JURASSIC PARK type shit.
Lavallee: Can you discuss the collaborative process you had with Inbal Weinberg?
Inbal has production designed some of the best indie films over the last five or six years. She's just the hardest working, nicest person in the world. I've also known her forever. We both interned on PALINDROMES, the Todd Solondz film, while we were still in college. The shooting location of BLUEBIRD was sort of frozen in time. It's this crumbling mill town and the last time it was really profitable was in the late 70's or early 80's. We discussed how much of the look would be inspired by this era, the last time people really had the money to renovate things. The house that the main family lives in was totally empty and falling apart when we picked it. Inbal designed that entire house from the ground up with next to no money—the furniture, the wallpaper—I actually don't think the appliances were even in there. I remember the first time I walked into the house after it had been designed I almost broke down into tears. It was perfect and it felt like a real, cozy home. We could shoot 360 degrees in there because every wall and nook was perfect. I couldn't have made the movie without her.
Lavallee: Can you discuss the collaborative process you had with Jody Lee Lipes?
Edmands: Jody Lee Lipes was the cinematographer of BLUEBIRD. He's a pretty well known secret weapon to many directors, but lesser known is that I actually discovered Jody. Just kidding—though we did sort of "grow up" together in certain ways. I met Jody my freshman year at NYU film school. He lived one floor below me in the dorms and we made all our student shorts together. After that, we were roommates for something like six years and we share many sensibilities when it comes to cinema. He's a great director himself (see Ballet 422 to see what I mean) and his imprint is on every frame of the movie—it goes way beyond just the way it looks. He's also credited as second unit director on the film because most of the exteriors and shots of the paper mill were images that he just went out and shot himself. I think they're amazing and I wish I could have included every single one in the film. I also went out and shot some second unit stuff with Joe Anderson, who was the first AC on BLUEBIRD but is also an amazing DP himself. I was so lucky to have the crew I did. It's kind of embarrassing.
Factory 25 releases Bluebird in theatres today. Visit the official site.