Disc Reviews
Criterion Collection: All that Heaven Allows | Blu-ray Review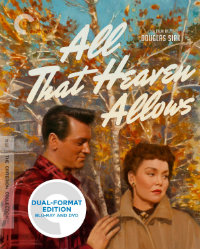 As Laura Mulvey's essay, "An Articulate Screen" contends, 1955's All That Heaven Allows was "just another critically unnoticed Hollywood genre product," the attempt for a studio to repeat the pairing of stars Rock Hudson and Jane Wyman after the box office success of their work on the earlier Sirk title, Magnificent Obsession. But, the film has come to be one of Sirk's signature pieces in an oeuvre astoundingly reconceived passionately by later generations of critics and international filmmakers, and rightly so. While his films can be classified as soapy melodramas, or that even more insidiously demeaning label, 'women's pictures,' Sirk was hardly churning out tearjerker fodder—rather, his were insightful, complex portraits and elegant critiques of 1950's social mores.
An upper class widow, Cary Scott (Jane Wyman) lives alone in her large home, her children Ned (William Reynolds) and Kay (Gloria Talbott) away at school and visiting on select holidays and weekends. She fritters away her time, reluctantly attending club functions with her socially aggressive best friend, Sara (Agnes Moorhead). But, she accidentally engages in conversation with the man pruning her trees, Ron Kirby (Rock Hudson). His father had originally been the man tending them, but he died some time ago and his son has since taken his place. Cary is surprised she never noticed, and seems politely dismayed to learn that Ron Kirby won't be returning next season as he will be pursuing growing his own trees for sale. There seems to be a mutual attraction between the younger man and the slightly older widow, and it's not long before they engage in a tentative romance. But the high class society which Cary belongs to will never accept her relationship with a much younger man from the working class. Ostracized by her community and pressured by her children, Cary isn't sure she can choose love over the acceptance of others.
Time has only leant All That Heaven Allows additional fascination, primarily the eventual discovery of Rock Hudson's sexuality, a closeted actor at the forefront of masculine representation in the American star system, whose unfortunate and highly publicized death from AIDS complications in the mid-1980s eventually would create a complete reexamination from his filmography with this additional context in mind. Of course, director Todd Haynes' would reconstitute the title for his 2001 masterpiece, Far From Heaven, which pits Julianne Moore as a 50's housewife contending with a gay husband and a black love interest, further enhancing the virulence of human hatred that Sirk could only scratch the surface of with his portrait of classist cruelty. Haynes collapses All That Heaven Allows and Imitation of Life with its hindsight examination of white, middle class America in the 1950s, but Sirk had the tougher task, his visual compositions and coded language a complicated series of patterns guiding us unconsciously into the mire of Jane Wyman's distress. By superficial standards, All That Heaven Allows is given a happy, or at least, hopeful finale (even the deer, standing in for the innocene of nature shows up outside the window to signal its approval). But too much damage has already been done to believe this is anything but happily ever after.
Disc Review
Criterion's re-vamp of this earlier title in their collection is chock full of goodies. Douglas Sirk abandoned Hollywood at the height of his success after 1959's Imitation of Life, but lived in Switzerland until his death at age 89 in 1987. Excerpts from a French television interview in 1982 and a more comprehensive 1979 BBC documentary are quite enlightening. Additionally, a 2007 interview with actor William Reynolds, who starred in three of Sirk's titles (here starring as Jane Wyman's son) is also of interest. A 1992 documentary essay from Mark Rappaport, titled Rock Hudson's Home Movies is an interesting idea that becomes quite grating, the constant narration of witty asides related with bored intonation may test your patience. But the hundreds of Hudson clips reconstituted for its purpose should definitely highlight the beautiful digital restoration at hand—clips from All That Heaven Allows used in the extra features look like they exist in a different world entirely. Essays from Laura Mulvey and Rainer Werner Fassbinder (Sirk was his idol) are not to miss.
Final Thoughts
Watching the title in 2014, there's such baggage attached to Hudson's persona that we can't help but already deem his relationship to Jane Wyman anything but doomed by the time they first speak onscreen. Banter concerning his imperviousness to marriage, even though he's met plenty of nice girls (and 'other' ones), seems prescient. As they first meet the cold slap of the public, high class disdain after a party, Hudson's Kirby coaches the achingly pedantic Wyman character, advising how a man has the innate ability to ignore such fuss. "So you want me to be like a man?" she inquires. "Only in that way," he responds. But the most telling reference for their doomed status comes inadvertently from Cary's best friend Sara, played magnificently as always by Agnes Moorhead, who introduces the couple as Romeo and Juliet. In the world as it exists, they just aren't going to be allowed to be together.
Peg Fenwick's screenplay is filled with brilliant metaphors and complicated layers of meaning. Wyman's daughter, as portrayed by Gloria Talbott, applies her newfound knowledge of psychology to everything. "At a certain age, sex becomes incongruous," she flippantly decrees, quoting Freud in a discussion concerning the much older gentleman, Harvey, the only appropriate bachelor available for her mother to marry. Criticism of social customs pertaining to widows, including damning widows to be walled up inside a tomb as per an ancient Egyptian custom is the rather obvious prophecy of what's going to happen to Cary, where a 'community' bands together to ensure traditions are adhered to.
Upon seeing Kirby's living situation, which is overridden by a greenhouse, Carrie comments that it's alright "if one likes to live in a glass house." And so, there we have it—the assumed transparency of the working class, where the upper crust, with their gossipy secrets, can see right through or into the lives of those inconsequential enough to be beneath them. These textual examples coincide brilliantly with Sirk's most repeated motif, on display here as in all his works—the mirror. One sublimely brilliant example here is when Carrie receives her final Christmas present, a television set, "the last refuge of the lonely woman," here standing in as the innocuous answer when you can't find the man you'd like. As the television salesman (played by instantly recognizable character actor Forrest Lewis of The Thing That Couldn't Die fame) comments while we close in on the reflection of Carrie in the television screen, it's "life's parody at your fingertips." The glorious gift of All That Heaven Allows is Sirk in top form, one of his shining examples of life's wicked parodies. As unbelievable as Wyman and Hudson may be in retrospect, it's a fascinating examination of human vulgarity.
Film: ★★★★/☆☆☆☆☆
Disc: ★★★★/☆☆☆☆☆