Criterion Collection: Beyond the Hills | Blu-ray Review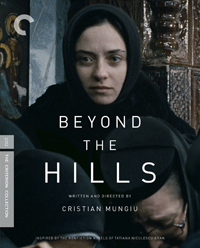 For his third film, and his follow-up to his 2007 Palme d'Or winner 4 Months, 3 Weeks and 2 Days, Cristian Mungiu, titan of the New Romanian Wave, delivered his most intensely unsettling offering to date with 2012's Beyond the Hills. Based on the real-life tragedy of a young Romanian woman who dies following a medieval exorcism at a monastery in 2005 Moldavia, Mungiu creates an intimately painstaking two-and-a-half-hour saga which is perhaps the first film about lesbian nuns which cannot be categorized as nunsploitation. Despite taking home a Best Screenplay award for Mungiu and a shared Best Actress prize for leads Cosmina Stratan and Cristina Flutur out of the 2012 Cannes Film Festival, the film, like the case its based upon, has wallowed in a similar nether region as the events its based upon (at least as compared to Mungiu's films before and after, including 2016's lauded Graduation). A testament to the dangerous extremes of both faith and love, it's a powerful testament on the dangerous combination of ignorance, blind faith, and poverty.
Alina (Cristina Flutur) arrives from Germany to reunite with Voichita (Cosmina Stratan), who is now a novitiate in a small Orthodox community. The two women grew up together (in what we come to suspect were deplorable conditions) in a Romanian monastery, and as we soon learn, were intimately involved. Alina professes to have found work for them both in Germany and professes her desire to take Voichita with her. Unfortunately, Voichita has renounced their previous relationship as sinful, refusing to share a bed with Alina and, therefore, unwilling to leave the monastery. In vain, Alina continues to convince Voichita to leave with her, trying to expose the hypocrisy of the Priest (Valeriu Andriuta), who vocally condemns the urban landscape from which Alina hails as a place where various iniquities transpire, including same sex relationships. Their stand-off eventually degrades into a dangerous situation and finds Alina as the victim in a brutal religious practice designed to remove the demons causing her emotional distress.
In keeping with the tone of the film, Beyond the Hills opens with a small burst of emotion, quickly quelled. It's the reunion of Voichita and Alina, the latter unable to contain herself upon embracing the woman we come to realize is (or was) more than a mere friend. "People are looking" the nun chides, one of many instances where she's mollified by Alina. It's a sequence reminiscent of the introduction of the Jacqueline Bissett and Sandrine Bonnaire characters of Chabrol's La Ceremonie (1995), one of which is positioned on the wrong side of the literal tracks. Similarly, Alina reappears from what might as well be another universe, arriving from Germany like a fated figure from a Greek tragedy. While they were each other's support while growing up together in a Romanian orphanage, it seems their paths have drastically diverged. Voichita drifted into another rigid institution demanding subjugation, and if Alina isn't quite a liberated woman, she has come back to claim the only love she's ever known.
Mungiu builds a slow tension here, thanks to the growing anxiety around the predicted showdown between Alina and Valeriu Andriuta's Priest (who the women call "Papa"), and often Beyond the Hills plays almost like a dark comedy thanks to Alina's boldness in challenging him ("I'm not one of these stupid crows," she exclaims). Her increasingly agitated behavior, which leads to hospitalization mid-way through the film, showcases how ill-equipped Romania's healthcare system was pertaining to assisting those with mental health issues or needs. And like a dark fable, it descends into the madness its been promising all along in surprisingly Salem-like fashion as the women assist in Alina's demise.
But Beyond the Hills is also a complex psychological portrait, especially as pertains to Alina. Several tangential scenes feed us subtle details about their life in the orphanage and the beliefs of the outside community at large. A warped but infinitely complex web of secrets and taboo subjects from a horrendous past and a dysfunctional present are coded within all these interactions. As Alina realizes Voichita has cut herself off from her former lover and her carefully laid plans quickly disintegrate, so does Alina's mental state as she unleashes her fury on Papa, who desires nothing more than for the troubled woman to go back where she came from.
Disc Review:
Criterion presents Beyond the Hills in 2.39:1 with 5.1 surround DTS-HD Master Audio. Picture and sound quality are superb in this transfer, which is one of DP Oleg Mutu's (one of the main 'eyes' of the New Romanian Wave who is also responsible for some phenomenal work with Ukraine's Sergei Loznitsa, such as the recent Donbass) most austere yet evocative achievements to date.
The Making of Beyond the Hills:
Cristian Mungiu produced this thirty-six-minute 2013 documentary about the making of Beyond the Hills, which consists of scouting locations and narration by Mungiu on the crafting of the film.
Cristian Mungiu:
Criterion recorded this thirty-five-minute 2018 interview with Cristian Mungiu in Bucharest wherein he speaks of his inspiration for the film and how he approached the film as an examination between the differences of being religious, being superstitious, and being a church goer.
Cannes Press Conference:
The fifty-two-minute press conference from the 2012 Cannes Film Festival, which was attended by Mungiu, Cosmina Stratan, Cristina Flutur, and Valeriu Andriuta, is available in its entirety.
Deleted Scenes:
Twelve deleted scenes, nearly twenty minutes of running time, are available as an extra feature.
Final Thoughts:
An ominous neorealist saga which captures the obsessive possibilities of what we define as faith and love, Beyond the Hills evokes the concept of that uncontrollable, vaguely defined space where rationality is abandoned, and inhibitions are revoked.
Fim Review: ★★★★/☆☆☆☆☆
Disc Review: ★★★★/☆☆☆☆☆