Criterion Collection: Eclipse #46 – Ingrid Bergman's Swedish Years | DVD Review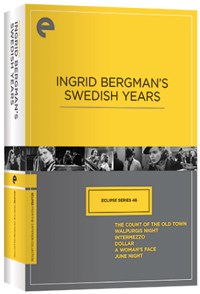 If her status as one of the most prominent fixtures of the Criterion Collection had been in contention before, Ingrid Bergman's presence is now unrivalled as a star constellation within the lucrative label's esteemed archives. Criterion has slowly amassed an impressive allotment of Bergman's filmography, beginning with its early releases of her famed Hitchcock titles (Notorious, Spellbound), an exiled stint with Jean Renoir (Elena and Her Men, 1956), her late-career collaboration with Ingmar Bergman (Autumn Sonata, 1978) and a marvelous box-set of a trilogy she infamously embarked upon with Roberto Rossellini following their highly publicized and scandalous affair (Stromboli; Europa 51; Journey to Italy). There's even a 2015 documentary portrait (Ingrid Bergman: In Her Own Words) which ascended into their collection. And now, the iconic three-time Academy Award winning star (her Oscar titles are yet to be absorbed by Criterion) gets her own six-disc Eclipse box-set of her rarely seen years as an up-and-coming actress in Sweden, which charts her 1935 film debut The Count of the Old Town to her 1940 June Night, a final title in her homeland before her famed Hollywood years.
****
The Count of the Old Town (1935)
Bergman's screen debut was as a supporting character in the 1935 production The Count of the Old Town, based on a play by Siegfried and Arthur Fischer (both who had more notable careers as actors) and adapted by Gosta Stevens (who would pen several other major Bergman titles in these early years). Directed by and starring Edvin Adolphson (also, more prominently regarded as an actor), not to mention un-credited co-director Sigurd Wallen (also appearing in a supporting role), this crime comedy concerns a jewel thief known as Diamond Lasse, whose burglaries have the community of Monk's Bridge, Stockholm in an uproar. The narrative is framed by two of the town's affable drunks, the titular Count (Valdemar Dalquist) and Gurkan (Wallen), who tend to gossip and spend most of their time avoiding the police due to prohibition (which required adults to have a liquor ration book in order to legally drink in this current time and place). When handsome stranger Ake (Adolphson) suddenly shows up at the local rooming house, he's an automatic suspect for the police. However, he strikes up a romance with chambermaid Elsa (Bergman), who works and lives where he takes refuge.
The Count of the Old Town has the intersecting communal and crime vibe of something like Julien Duvivier's Panic (1946), albeit a lot less vicious (and perhaps more similar in tone to something like another 1940s French crime caper, Clouzot's The Murderer Lives at Number 21, 1942). The title was clearly meant as way to showcase Adolphson's dashing capabilities and the comedic possibilities of Dalquist and Wallen, but Bergman steals all her scenes as a bubbly gamine.
****
Walpurgis Night (1935)
Also from 1935, Bergman played a supporting role in Walpurgis Night, which uses the April 30th holiday to bookend a melodramatic social issue drama from director Gustaf Edgren. With the country plagued by a supposedly dire declining birthrate, Johan (Lars Hanson) experiences pressure from his peers to have children with his wife Clary (Karin Kavli). However, Clary desires to be young and free rather than be tied down with children. When she becomes pregnant, she orchestrates a secret abortion (which was illegal in Sweden at the time) on Walpurgis Night, leaving Johan on his own and in need of succor after she brutally rejects him. Acting on his desire for his secretary Lena (Bergman), who also professes to have feelings for him, they are photographed in public by a snoopy journalist, who attempts to sell the picture to newspaper editor Frederik (played by one of Sweden's greatest auteurs, Victor Sjostrom). However, Frederik is Lena's father, who buys the picture and destroys it in order to protect her. Meanwhile, Clary attempts to rekindle the romance with Johan after the abortion, which is cut short after she becomes blackmailed by a man who has proof of her recent illegal procedure.
Although providing a portrait of social issues and ills of 1930s Stockholm, Walpurgis Night is a bit heavy-handed, and Bergman takes a back seat to the more controversial happenings between Johan and his emotionally estranged wife. The dramatic similarities and ominous tone recalls a similarly dire drama released within a similar timeline of contemporary Swedish actress Noomi Rapace and her migration from her native country to Hollywood, the obscure 2007 drama Daisy Diamond.
****
Intermezzo (1936)
Of the six titles in this collection, the most notable happens to be Intermezzo, not only because it was Bergman's first leading role and one of several collaborations with director Gustaf Molander (who competed in the Venice Film Festival four times from 1834-1942 for what was initially the Mussolini Cup, and once for the Golden Lion in 1948). More importantly, it would be the film Hollywood mogul David O. Selznick would use as the impetus to fashion Bergman into an American icon, remaking the film under the direction of Gregory Ratof only three years later in 1939, with the actress resuming her role opposite Leslie Howard (a title just released on Blu-ray courtesy of Kino Lorber).
A doomed love affair about a young pianist and an older, internationally renowned violin player desperate to escape his tranquil domesticity, Intermezzo is similar in tone to the David Lean classic Brief Encounter (though its content and Swedish roots, including a Jenny Lind scholarship utilized as a dramatic plot point, also bears resemblance to the marital dilemma in The Greatest Showman, 2017). While Molander's version would be remade almost precisely by Ratof, a few notable differences are apparent in the original. Whereas the American version was filled with extreme dread and self-loathing, particularly with Bergman's Anita, there's an innocent sweetness to Molander's treatment, conveying adults in need of romantic and creative fulfillment and yet trapped by the social customs they've allowed to define their lives. More self-consumed with their romantic entanglements than the notion of others (Molander allows their selfishness to run amok), a key sequence which appears in both versions involves Bergman pointing to their reflection in a mirror as they meet in public during the midst of their sordid extra-marital affair. In the remake, Bergman asks a rhetorical question, "How do we look to you?" which also doubles as a break of the fourth wall, drawing in the audience and/or society's gaze, the outsiders judging them. In the original, she only refers to herself, how she feels about her own reflection (which speaks to the major hurdle American films were forced to overcome, staying sincere to characters in their troubling situations while adhering to the strictly enforced moral code of the time). Likewise, despite resembling a young-ish Michael Caine or Max Von Sydow dressed as an extra for a Tim Burton production, the fatherly Gosta Ekman (who was the titular Faust in Murnau's famed 1926 adaptation) better complements this May-December romance than Leslie Howard.
****
Dollar (1938)
The most comedic item in this collection is 1938's Dollar, which sees Bergman reunite with her Intermezzo director Gustaf Molander as a contemptuous but ultimately kindhearted jilted wife in an ensemble drama about a group of affluent (and reluctant) swingers. Married to an ambitious industrialist Kurt (Georg Rydeberg), the couple embark on an intimate trip to a ski lodge with two other couples, whose intersecting flirtations and romances have a created an uncomfortable stew of romantic incest. Bergman's Julia, constantly regaling the other females, finds comfort in the arms of Louis (Kotti Chave), who has a gambling problem and a sizeable debt which accounts for the film's semi-dramatic catalyst (which actually boils down to class issues and economic posturing). However, Kurt's American cousin Mary Jonston (Elsa Burnett), a morally sound investor, arrives to assist with his failing business, only to rile the Swedish nest of lurid resentments into action. Mary, who immediately locks horns with Julia, is distracted by her infatuation with a handsome doctor (Edvin Adolphson, who directed Bergman in her debut, The Count of the Old Town). At the end of the day, all's well that ends well.
Molander, adapting a 1926 stage play by Hjalmar Bergman, was clearly looking to channel the Hollywood screwball comedy of the 1930s, mastered by the likes of Lubitsch and Cukor. In fact, the film's most comparable American cousin is Cukor's 1933 classic Dinner at Eight, which, like Dollar, has underlying tensions which are not comfortably resolved, lending a certain dark poignancy to somewhat frivolous material. Bergman stands out in a surprisingly complex characterization as a woman locked in a vicious cycle of marital derangement.
****
A Woman's Face (1938)
If Gustaf Molander was inspired by Cukor, then the feeling was mutual. The crown jewel of this Eclipse set is the 1938 title A Woman's Face, which finds Bergman throwing her devotees a curveball under the direction of Molander. The title has long languished under the shadow of George Cukor's romantically inclined noir of the same name from 1941, which famously starred Joan Crawford. As hard-edged and glamorous as Crawford was, Bergman's originating turn as Anna Holm, a woman whose face was viciously scarred in childhood and who turned to a life of crime to sustain herself, undergoes an emotional transformation all the more believable.
Bergman had signed a contract with Ufa in Germany (which explains the 1938 title The Four Companions on her resume) but wouldn't return due to the Nazi saturation of the industry. In order to pursue this coveted role, she agreed to star in Only One Night, also under the direction of Molander (which was released in 1939 and was not included in this collection).
Bergman's snarling, scar-faced Anna, is the vicious leader of a blackmail gang who operates by targeting wealthy denizens of Stockholm who have dirty secrets. When the faithless wife of a physician (Karin Kavli) becomes ensnared by Anna, who is enraged by the woman's privilege and beauty, she is caught in the middle of her extortion by the cuckolded husband (Anders Henrikson), who happens to be an exceptional plastic surgeon. Before you know it, Anna has been given a new face and adopts a new identity. Before she can extract herself from her blackmailing friends, she agrees to pose as the governess for a young boy who belongs to a wealthy family, the estate currently controlled by an aging grandfather. Anna succumbs to the young boy's situation (an orphan whose tragedy mirrors her own) and innocent charm. However, her task is to murder the child so the next in line can inherit the fortune.
A Woman's Face is Bergman's most complex and rewarding performance from her 1930s work, assisted at first by some creative make-up effects (which were also created, in part, by her then husband, the dentist Petter Lindstrom, whom Bergman would infamously leave a decade later after her affair with Roberto Rossellini).
****
June Night (1940)
With Eclipse skipping over Bergman's German title and the 1939 Molander romantic melodrama Only One Night, the last item is the actresses' final Swedish title before her Hollywood and international exploits (not returning until she appeared in the 1967 omnibus film Stimulantia). Directed by Per Lindberg (who competed twice in the Venice Film Festival, one of which was with his second 1940 title, Stal), Bergman is once again locked into a complex identity crisis in what serves as a complex romantic melodrama tinged with noir and social commentary.
Bergman is the unlucky-in-love Kerstin Norback, who is fatally shot by her lover, an aggressive sailor, when she attempts to leave him. Her reputation, however, is the one which comes under fire when she defends her ex-lover at his trial, claiming her callousness made her complicit in what ended up being attempted murder. Unable to face the media flurry in her small town, she takes off to Stockholm, changes her name, and takes a job in Swan Pharmacy (which ends up being a play on her media persona, termed 'the wounded swan'). It isn't long before someone discovers her identity and attempts to use this knowledge for a hot story (recalling a similar situation her character faces in the earlier title, Walpurgis Night), but is luckily saved by the graces of one of her flat mate's (whose overly amorous boyfriend attempts to reveal Kerstin's identity) and a surprisingly swift romance with a doctor, who she inadvertently steals away from the woman who had been kindest to her, Nurse Asa (Marianne Lofgren).
Touching in its way of navigating female friendships and the obstacles they face in a male-dominated, headline hungry world, Lindberg adapts from a novel by Tora Nordstrom-Bonnier, who was a former journalist. Double standards and demeaning delineations of Kerstin and her experience are brutally rendered from the hands of callous journalists as well as the frenemy tendencies of other women who are jealous of the attention she receives and her experiences.
Disc Review:
All six titles in this Eclipse series are presented in 1.37:1. While there are no extra features included in the set, the availability of these restored titles is itself the real gift. Sound and audio are impressive in these transfers, particularly with a pristine rendering of DP Ake Dahlqvist's delicious film noir frames in 1938's A Woman's Face.
The Count from the Old Town – ★★½/☆☆☆☆☆
Walpurgis Night – ★★½/☆☆☆☆☆
Intermezzo – ★★★/☆☆☆☆☆
Dollar – ★★★/☆☆☆☆☆
A Woman's Face – ★★★½/☆☆☆☆☆
June Night – ★★★/☆☆☆☆☆