Disc Reviews
Tuesday Blus: Intermezzo, Blade Runner: 2049 & Mark Felt: The Man Who Brought Down the White House
This week's edition of Tuesday Blus includes the following titles: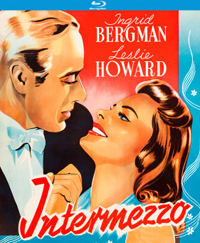 Intermezzo (1939)
Film Review: ★★★/☆☆☆☆☆
Disc Review: ★★★/☆☆☆☆☆
It's a tale as old as time, more vintage than the medium of cinema itself. The English language 1939 version of Intermezzo (which is also known as Intermezzo: A Love Story) is perhaps most notable as Swedish star Ingrid Bergman's introduction into Hollywood. Reprising her role from the 1936 Swedish language version at the behest of producer David O. Selznick, it would kick off a fifty-year filmography for the accomplished actress, who would go on to win three Academy Awards. While this was not the only notable item of Bergman's native tongue to get a Hollywood up-do (A Woman's Face was remade starring Joan Crawford directed by George Cukor in 1941), the romantic melodrama template it so gloriously realizes would eventually become a cliched trope. A married, sensitive artist with a wife and child at home suddenly finds his universe upended when he discovers a beautiful young woman to have the same interests and perhaps even greater musical talents than himself (see how Ralph Fiennes did something similar with his tale of Charles Dickens in 2013's The Invisible Woman, or the narrative thrust of A Star is Born, about to have its fourth cinematic rendering in 2018). Intermezzo was even later remade in 1980 by Jerry Schatzberg as Honeysuckle Rose starring Willie Nelson caught between Dyan Cannon and Amy Irving.
But if there's anything worth noting of this 1939 version directed by Gregory Ratoff (who, despite thirty credits as director, including a number of 1940s melodramas, is perhaps better remembered as an actor) it's the luminous energy of Bergman, who is impossibly fresh-faced and vibrant as an enthusiastic pianist who manipulates her way onto the horizon of the renowned violinist played by Leslie Howard, who is in his usual mode of serviceable passivity as the romantic male lead. What's more interesting to note in hindsight is the film's coincidental connections to the 2017 musical The Greatest Showman, which formulates a similar (and somehow less torrid affair) between P.T. Barnum and famed Swedish opera star Jenny Lind—in Intermezzo, the same whirlwind of a musically inspired tour takes placed between the two leads, and Bergman is eventually awarded a Jenny Lind grant…
Kino Lorber presents the vintage title as one of its Studio Classics in 1.33:1. The brief seventy-minute venture may not be an altogether inspired affair to remember, but it's a must see for any Bergman enthusiasts. The disc contains the original theatrical trailer and audio commentary from film historian Kat Ellinger.
***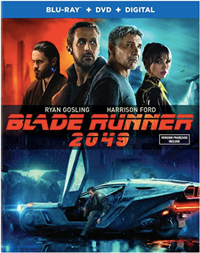 Blade Runner: 2049 (2017)
Film Review: ★★★½/☆☆☆☆☆
Disc Review: ★★★/☆☆☆☆☆
Following in the footsteps of its cult classic predecessor, Denis Villeneuve's hotly anticipated sequel Blade Runner: 2049 was one of the major flops of 2017 despite raking in ninety million at the domestic box office (and faring even better overseas with one-hundred-and-sixty-million plus). While time will surely lend a helping hand to the mythos of this follow-up, the elegant yet flawed attempt to recreate the dystopia of Ridley Scott's Los Angeles was hailed by a masterpiece by some and a major disappointment by others. Somewhere in between those extremes, Villeneuve creates a visually superb likeness by retaining some of the original's morose pathos. And yet, despite some delightful key sequences, fails resolutely to conjure the melancholic mastery of the original (thanks in part to an unfortunate turn from Jared Leto and a sometimes-inscrutable Ryan Gosling, who seems to be in Drive mode). From our theatrical review: "Echoing a bygone era of studio films daring to push boundaries and expectations rather than demurely adhering to them, Blade Runner 2049 is every bit a soliloquy of dread in response to Scott's ballet of violence."
Warner Bros. unleashes their attempted cult classic in high definition 2.4:1 with DTS-HD Master Audio. Clearly, this is a film better served on the big screen, but this first release of the title serves its purpose. Perhaps more interesting for the aficionados are several extra features WB stuffs into the package.
Designing the World of Blade Runner 2049:
This twenty-one-minute segment features the design team of Blade Runner 2049 and the creation of the film's look.
To Be Human – Casting Blade Runner 2049:
The characters of Blade Runner 2049 are discussed by the cast members in this seventeen-minute feature.
Prologues:
Three separate short prologues (from Shinichiro Watanabe and Luke Scott) are included (just under half an hour in total), each designed to complete a back story for the universe of the feature.
Blade Runner 101:
Six short segments, each detailing a separate facet of Blade Runner (about eleven minutes total) makes up this introduction to the universe.
***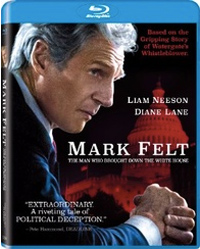 Mark Felt: The Man Who Brought Down the White House (2017)
Film Review: ★★½/☆☆☆☆☆
Disc Review: ★★★/☆☆☆☆☆
Writer-Director Peter Landesman continues to mine the plentiful sources of political themed scandals with his third directorial effort, Mark Felt: The Man Who Brought Down the White House. Moving from JFK's assassination with his 2013 debut Parkland, and 2015's Concussion, which dealt with the doctor who took on the NFL and its malicious denials on footballer players' propensity for incurring serious brain injuries, Landesman sets his sights on the Watergate scandal during one of the United States' most contentious presidencies (until now) through a snapshot of the man who was Deep Throat—Mark Felt, the FBI whistleblower (who was confirmed as such in 2005, only three years before his death). Premiering out of the Toronto International Film Festival shortly before a theatrical release, the Sony Pictures Classics title only managed to bring in a little over seven-hundred thousand at the specialty box office.
Liam Neeson, taking a break from a multitude of action films, is in somber form as Felt, second in line to ascend the throne. After the death of Hoover, however, the Attorney General bypasses Felt and all his noted integrity and promotes outsider L. Patrick Gray (Martin Csokas), greatly upsetting Felt's wife Audrey (Diane Lane), who sacrificed her comforts, including daughter Joan (Maika Monroe) for her husband's career. When some ex-CIA agents are caught planting wire taps at the DNC headquarters in the Watergate building, Felt concocts a massive undertaking in leaking information about the Nixon administration both the White House and the CIA were desperately trying to suppress.
Once again, Landesman assembles a first-rate cast for his reenactment, including Tony Goldwyn, Ike Barinholtz, Michael C. Hall, Tom Sizemore, Josh Lucas, Bruce Greenwood, Noah Wyle, and even Wendi McLendon-Covey as Felt's secretary. However, this is Neeson's hour in virtually every humor-less frame, which lends the material the requisite ambience it needs. At the same time, Felt himself now seems like a footnote of the era, which relegates the film to a certain peripheral undertaking (delving into the tangent of Felt's daughter, resulting in the film's most useless scene featuring the willowy but increasingly monotonous Maika Monroe, gives the film several moments of labored familial melodrama).
Sony Pictures Classics releases this fourth quarter title in high-definition 2.00:1 with 5.1 DTS HD master audio. DP Adam Kimmel, lensing his first feature since 2010's Never Let Me Go, turns Washington D.C. into a series of metallic, labyrinthine secret meetings filled with men tortured by their authority or lack thereof. Picture and sound quality are serviceable in this low-key political thriller and several bonus features are included in the package, including a commentary track with director Peter Landesman.
The Secrets of Making Mark Felt:
This ten-minute segment finds cast and crew reflecting on this period, Mark Felt, and what the film is about.
Deleted & Extended Scenes:
Six deleted and extended scenes (a little over sixteen-minutes of footage) are included.