2019 NEXT Section Sundance Trading Card Series: #2. Danielle Macdonald – Paradise Hills
Actress Danielle Macdonald from Paradise Hills is among the voices, faces and creative folks that are a part of the ten films selected for our favourite section at the Sundance Film Festival. Added to the fest at the beginning of the decade, over time, the NEXT section (formerly referred to as "<=>") has unearthed some of the best voices in micro American indie film projects with the likes of Sebastian Silva, Josh Mond, Rick Alverson, Anna Rose Holmer, Andrew Dosunmu, Craig Zobel, David Lowery and Janicza Bravo. We return with Sundance Trading Card Series focusing on the 2019 NEXT section selected films and personalities.
Eric Lavallee: Name me three of your favorite "2018 discoveries".
Danielle Macdonald:
1. Hamilton
2. Swell Water Bottles
3. Bodyguard (UK TV series)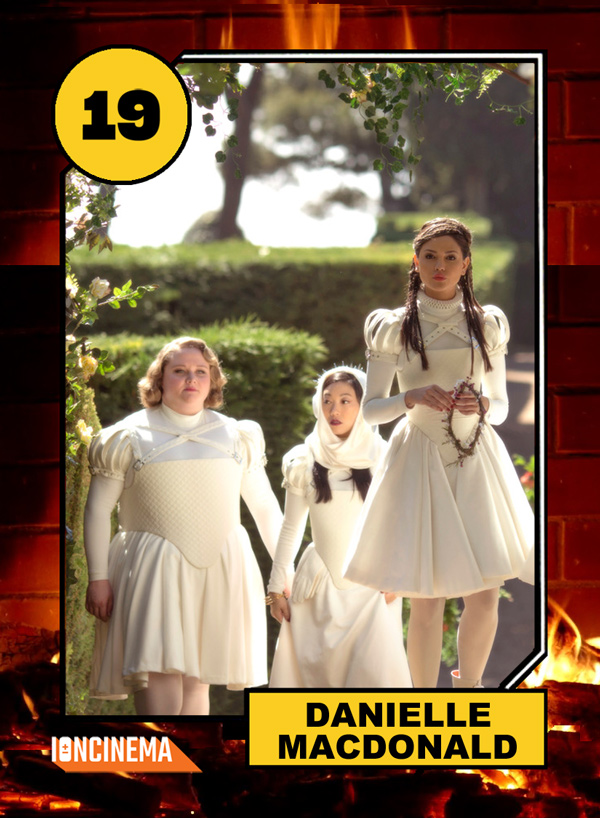 Lavallee: How did coiffe, costume design, speech, mannerisms, the character's place of origin/setting or even lighting/spacing, mise-en-scene inform you about your performance?
Macdonald: Hair, Make Up, Costume, and the set design really helped me find the character and understand the world where the characters live. It's slightly fantasy, futuristic, like a slightly parallel universe and when I walked onto the sets and got in costume everything just kind of fell into place and I understood this weird world we were creating and how Chloe fit into it. They were such stunning sets and elaborate costumes that it made it easier to understand the tone of the film and how the island is almost an altered reality from where the characters are from.
Lavallee: Could you describe the relationship between your character and the one of Uma..
Macdonald: Uma and Chloe bond instantly. Chloe is open and honest and confident and knows who she is. She's friendly and accepting and I think Uma felt that warmth and needed it in this crazy and unpredictable situation she finds herself in. They become roommates and friends and quickly form a supportive bond to help each other through this situation they find themselves in.
Click to expand!