Housing Complex: Bahrani Extends Capitalism Criticism to Housing Market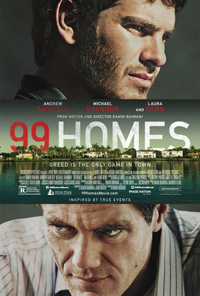 Though his 2012 farming melodrama At Any Price found director Ramin Bahrani gaining wider visibility with notable cast members, its Death of a Salesman treatment of modern capitalistic woes in America's heartland left much to be desired, even as it showcased a surprising couple of performances, notably from Zac Efron. The filmmaker returns to look at a similar situation in a different market, navigating through the topicality of foreclosure.
Folding us into a Floridian malaise, Bahrani elevates blood pressure to match the blazing summer heat in this upsetting and often persuasive rendering of greed in a world that seems to have lost all semblance of humanity. Assuredly complex in its examination, it's too bad that this emotional tornado culminates in a finale that would have been appropriate for the censorship era of villainous punishment, but one can sense that Bahrani wanted to relieve 99 Homes of the abject cynicism that seems to have a stranglehold.
A single father and construction worker in Orlando, Dennis Nash (Andrew Garfield) has to support his son (Noah Lomax) and mother (Laura Dern), but work has been scarce. Their family home is on the brink of foreclosure, and Nash is told he's got thirty days to leave the residence. However, the next morning, real estate broker Rick Carver (Michael Shannon) arrives with the police to inform them they must vacate immediately or face jail time, his family granted two minutes to grab the essentials. Their belongings thrown into the street, Nash takes his family to a nearby hotel, where other evicted residents have absconded on what seems a semi-permanent basis. Discovering that some of his tools have been stolen, Nash confronts Carver's crew, only to be given an opportunity to work for Carver. Reluctantly and in desperate need for money, Nash eventually becomes Carver's right hand man, enacting the same scenarios on other families that his own was just forced to go through. Circumstances must force Nash to determine whether or not he should do the right thing or do what it takes to support his family.
Bahrani establishes a marvelous sense of complexity in 99 Homes, so named for those outside of the elite 1% of Americans that own the nation's wealth. But without the towering performance of Michael Shannon, the film perhaps would have been another belabored point. Unpleasant but not without cause to be so, his Rick Carver is an entrepreneur, managing to make the dire circumstances of others work to his advantage. He's the type of person easy to demonize, and yet, he's not without a certain sense of humanity. "Don't get emotional over real estate," is his mantra, something that everyone could very well adopt into their daily rhetoric. Your own personal biases will indubitably reflect your attitude towards a man like Rick Carver, and the eviction process is certainly unpleasant and grotesque, yet Bahrani doesn't back away from showing that many of these families could certainly have done more to help themselves.
Garfield is engaging, showing a world of difference performing in well written material like this as compared to the absolute tripe of his Spiderman films. As always, Laura Dern is an interesting voice, here a working class hairstylist that's more of a hindrance than a help. Fans of Bahrani's earlier titles may not concur, but 99 Homes is his strongest work yet, another portrait of the economically constrained lives of working class citizens and the equalizing force that unites many of their stories. Its deadly opening sequence has all the makings of a film noir, and like those famed studio classics, is shackled into the straightjacket of a clichéd finale.
Reviewed on September 8th at the 2014 Toronto International Film Festival – Special Presentations Programme. 112 Minutes
★★★/☆☆☆☆☆