The Jungle Lewk: The Brothers Nee Conjure Expected Charm in Casual Comedy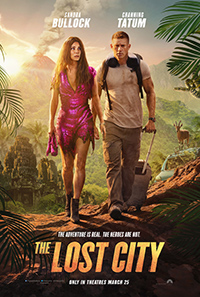 For their third feature, brothers Aaron and Adam Nee concoct something of studio anomaly with the action rom-com throwback The Lost City, featuring Sandra Bullock and Channing Tatum. Although not as exceptional as the sum of its parts, there's much to enjoy in this semi screwball comedy about a romantic fiction writer who gets to experience a bit of the romance she's come to regard as fantastical twaddle. Some standout gags (including the best use of leeches since maybe Stand By Me) and an exceptional supporting turn from Brad Pitt go a long way in smoothing over a banality never far from running amok, but for fans of its leads or a sentiment for a certain sense of zany charm, there's more than enough enjoyment to pass the time.
Loretta Sage (Bullock) a widowed erotic fiction writer who's lived a hermetic existence for the last five years, is thrown into a new book tour for her latest work, The Lost City of D, courtesy of her loving but pushy agent, Beth (Da'Vine Joy Randolph). It's clear Loretta's fan base is more enamored with her cover model, Alan (Channing Tatum), a contemporary Fabio styled stud who is along for the tour, then her writing. Alan, however, has authentic romantic inclinations for Loretta, so when she's abducted by a nefarious billionaire (Daniel Radcliffe) who believes she can translate hieroglyphics and unearth the tomb of an ancient queen buried with a headdress of jewels know as the Crown of Fire, he hires a guide named Jack Trainer (Brad Pitt) to find her. Hijinks aplenty ensue.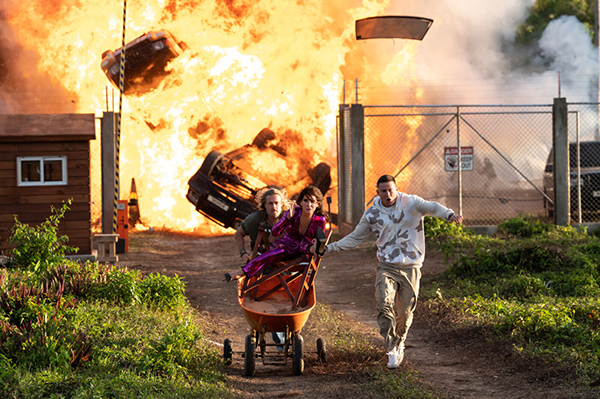 Strange how romance and erotic fiction novelists are often characterized as lonely, gawky recluses or unforgiving harpies (think Meryl Streep in She-Devil) in comedy, as if women who project pleasure for women aren't those who can have their cake and eat it too (an adage used as throwaway joke in this film, as well). Despite her reluctance to move on from her last relationship, Bullock's Loretta Sage has clearly not tossed vanity to the wind, and after trekking through jungle elements, has only a ripped onesie to show for it. If only someone had thrown in some jokes about how not even the jungle can transform Loretta's beauty.
A host of supporting players unfortunately feel a bit one note, including Daniel Radcliffe as a spoiled elitist, Da'Vine Joy Randolph as an ornery agent, Patti Harrison as a vapid social media stoolie, and Oscar Nunez as a bizarrely attenuated last minute love interest for Randolph. However, a brief appearance from Brad Pitt as an ex-mercenary turned meditation guru named Jack Trainer kicks The Lost City into high gear, and its these moments where The Lost City reaches a beautiful summit of contemporary slapstick appeal. Until they Steven Seagal/Executive Decision him.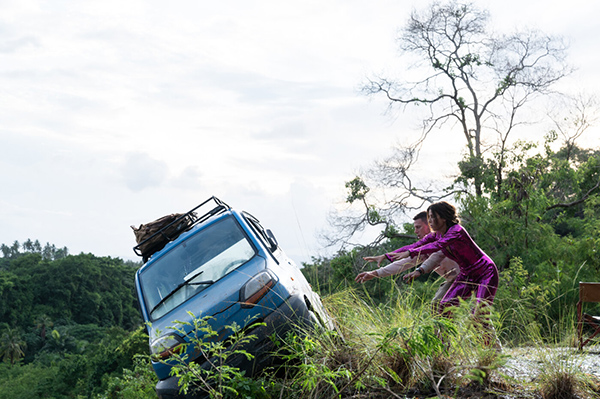 More in line with the mood of the Jumanji reboots than the rom-com 1980s adventures it channels, whether Spielberg's Indiana Jones films or the Michael Douglas/Kathleen Turner films Romancing the Stone (1984) and Jewel of the Nile (1985), there's enough oddness to creep in around predictable facets. Certainly, this is much better at cohesive schlock mixed with tropical maladies than something like Snatched (2017).
Perhaps its slight glitches and varying comedic vibes are due to the writing team, which includes Oren Uziel (Mortal Kombat, 2021) and Dana Fox (Cruella, 2021). But the main occlusion to any real organic charm might be the two leads themselves. There's much to relish in Bullock's superior prowess here, plus the refreshing juxtaposition of a confident, beautiful female lead who's older than her male co-star—if only she wasn't giving the exact same persona we've come to expect from her. Despite Bullock's obvious knack for physical comedy, Loretta's mannerisms sometimes feel wasted on the hulking but sweet Alan, also a familiar, reliable package from Tatum. While some glints of chemistry allow for this to scrape along to the convenient finale, a lack of anything substantial, whether it be characterization or comedic range, ultimately makes The Lost City feel like its longevity will be, well, lost.
★★½/☆☆☆☆☆