Pieces of a Woman: Leon's Latest Gets Lost in Own Identity Crisis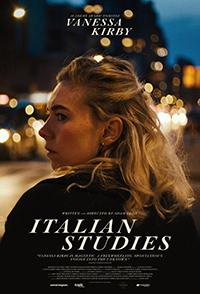 Somewhere along the various perambulations of its conflicted protagonist, Adam Leon's Italian Studies eventually mirrors her plight and spins its wheels on ideas and possibilities. The third feature from the NYC filmmaker, who arrived with his vibrant indie debut Gimme the Loot in 2012, plays like an experimental exercise on authorial intention as entropy assembled under the guise of haphazard poetic license in the editing room. Despite the commanding presence of lead Vanessa Kirby, it's an idiosyncratic effort which ultimately feels prosaic, often spelling out the most significant motifs via dialogue. Beautifully shot by DP Brett Jutkiewicz (Boogie, 2021), as a walking travelogue of nocturnal New York City, there's an inviting mood always hovering within the frame, but spliced testimonials on developing agency often interrupt these soft caresses.
Alina (Kirby) is a notable author with a lauded book of short stories under her belt. But she's inexplicably forgotten everything about herself, slipping into imagined memories, conversations, and snippets from her own stories as she wanders aimlessly in New York City. An encounter with teenager Simon (Simon Brickner) provides respite, as he takes her to his apartment, where he lives with his mother. Alina tags along to Simon's usual haunts and slowly tries to piece together the woman she was while simultaneously projecting an imagined future.
She's come undone, so it seems, from the first moment where Alina curbs a cigarette from a forgotten acquaintance to various casual interactions confirming she's a woman who's forgotten herself. Conveniently, she's a noted published author, whose titular book is a series of short stories, further cementing the fractured nature of her mind, an author who desires to elevate herself to longform narrative. The text eventually plays like a legend in which she searches for clues of her forgotten self. Kirby is striking, whether in reaction (questioned plaintively if she is Jewish, she shrugs in despair, "I don't know yet") to an eventual earnestly appealing friendship with Simon.
Fugue states are generally a difficult subject matter to convey, particularly if the narrative shackles us to the perspective of the sufferer. A more cohesive recent example of this is Agnieszka Smoczynska's literally titled Fugue (2018), which backs itself up into a similar corner – although Leon has plenty of opportunity to really delve into the potential despair this would cause. One wishes Alina's journey would have resulted in something like the creation of Anna Kavan, originally known as author Helen Ferguson, who after a nervous breakdown (and lifelong heroin addiction), dyed her platinum blonde and re-christened herself after a character in one of her previous novels. Seeing as Alina has no idea where she's going to, the film carries the same weight of an elusive expectation never reached. At one point, she demands of the myriad of Simon's friends who are aware of her situation, "Does memory even matter?"

Perhaps, no. More interesting is how the omniscience of a writer suggests their lack of identity in the creation of others, with Alina as a veritable tabula rasa riffing off her surroundings (i.e., Simon) as the idea for her supposed novel. When challenged by a random girl at a party on how her idea of a novel about a pothead teen sounds cliched, Alina works herself into a fervor, but it suggests how nearly every identity has reached a saturation point in storytelling, depending on an intended audience. Eventually, she creates what plays like an age-appropriate visual projection (embodied by Maya Hawkes) as her imagined witness to this scenario, and while we weigh in on what's real, what's imagined and what's potentially been lost irreparably for Alina, Italian Studies never elevates itself from the same sentiment she voices as an idea "just beyond my grasp." Although Leon's use of music (including the score from Nicholas Britell) represent another facet of inspiration or memory recall, like various snippets of Simon's friend group sounding off on their realities, the elements feel jarring all churned up into the mix. But even if it's the ultimate point of the film, in search of its own identity, it's not an ultimately interesting endeavor to behold.
Reviewed on June 12th at the 2021 Tribeca Film Festival. Feature Narrative. 81 Mins.
★★½/☆☆☆☆☆