Touch All This Skin: Pintilie's Hybrid Sexcapade Explores the Fleeting, Obscure Nature of Intimacy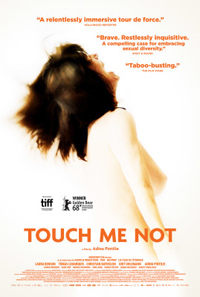 With her narrative debut Touch Me Not, Romanian director Adina Pintilie scooped up the Golden Bear at the 2018 Berlin International Film Festival. It's a frank, sometimes cathartic portrayal of intimacy and desire wherein the filmmaker and the actors play potential versions of themselves, struggling to vocalize, reenact and potentially intellectualize basic sexual needs despite being conditioned otherwise. A fictionalized documentary, but without the usual jocular, tongue-in-cheek vibe we're accustomed to a format most often referred to as a mockumentary, Pintilie has instead stumbled into a more soothing realm, with a cinematic experience more therapeutic than it is compelling or revelatory.
Like the sensory experiences its characters try to explore or discover, it expounds more thoughtfully on presentations of bodies in spaces, juxtaposing personal and private spheres, and utilizing human shapes and sizes rarely ever treated respectfully on film.
A film director (Pintilie) goads four individuals, Laura, Tomas, Christian, and Grit, to journey through their interior lives, examining their sexual desires in the presence of others. Laura (Laura Benson) is a woman who has been unable to allow herself physical pleasure, and so is used by the director to create video essays with various subjects, including trans woman Hanna (Hanna Hoffmann). Icelandic actor Tomas Lemarquis (of Blade Runner: 2049 and Snowpiercer) is perhaps the most recognizable cast member as a man suffering from alopecia who is part of a touch-yoga workshop paired with a man who suffers from spinal muscular atrophy (Christian Bayerlein) yet has a hyper-sexual relationship with wife Grit (Grit Uhlemann).
At its core, Touch Me Not plays like the sobering, levelheaded version of the same gravitas Lars Von Trier was reaching for in his provoking Nymphomaniac Vol. 1 & 2 (2014). Yet despite Pintilie's grounded approach, her treatment is still prone to an inherent silliness or visceral discomfort accompanying such blunt depictions of sexuality in several sequences. There's a sense of exposure and vulnerability, which Pintilie compassionately walks us through with wide-eyed clarity. It's Pintilie herself who asks of us and her lead Laura Benson (an actress who has the gravitas of a Nicole Garcia on screen) "What's this film about?" in the opening moments, suggesting a level of playful experimentalism which doesn't quite transpire but offers its audience some agency to interpret its quiet observations on desire and intimacy, most effectively through the lens of Benson, playing a woman who is curious yet not able to divorce herself from self-sanction, until the film's final moments of liberation.
Sterile, clinical settings melt into hints of orgies at sex-clubs (perhaps Pintilie's only real missteps), yet the most significant moments in Touch Me Not come from its characters testimonials, such as the trans character Hanna, whose website courts the interest of Laura. It's here where the film approaches its only minor touches of drollery thanks to Hoffmann, who breaks down the processes behind mutual attraction quite effectively while relating her backstory set to Brahms. But it's these exchanges between the characters which actually reveal the crux of the film, and our cultural fears of the body. "Needing someone makes me vulnerable," someone observes. Another notes "if you can't say no you can never really say yes."
Vocalizing desires and needs, as awkward, uncomfortable, or even grating as these words and phrases sometimes are, opens pathway to action, and perhaps fulfillment, allowing us to discern meaning behind not just sexual acts themselves but the emotional triggers motivating them. "All emotion is welcome here," is another line from the film which should have been the tagline, in a film that is curiously absent of any emotional extremes.
While Touch Me Not will most likely be a bit too blunt or a bit too clinical for audiences adverse to frankness in their depictions of sexuality, it's a subversive calling card for Pintilie, whose approach revisits the revolutionary approach to the subject last utilized in the late 1960s, a period which, in retrospect, was more sex positive and body positive than our current climate obsessed with slut shaming and impossible physical perfection as a necessity of visibility and consumption.
Reviewed on September 6th at the 2018 Toronto International Film Festival – Discovery Programme. 125 Mins.
★★★/☆☆☆☆☆