Heaven's Grate: Keshales Settles for Watered Down Tropes in English Debut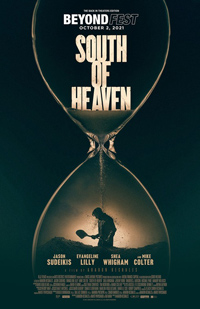 Nearly a decade ago, directors Aharon Keshales and Navot Papushado promised to usher in a new dawn of genre-flavored Israeli cinema with their first two offerings, Rabies (2010) and the somewhat controversial Big Bad Wolves (2013). Both have been wooed by English language filmmaking, pursing their own solo projects as director with Papushado unveiling Gunpowder Milkshake and Keshales offering up South of Heaven (which features Papushado as screenwriter alongside Kai Mark). Marrying a clutch of familiar narrative tropes, including the veritable Hitchcockian 'wrong man' syndrome and cancer melodrama, 'nice guys' may finish last, but they make it to the end credits—-unfortunately, there's not enough characterization to care by the time we get there.
Receiving an early parole after serving twelve years for an attempted bank robbery, the regretful Jimmy (Jason Sudeikis) is relieved to be reunited with his childhood sweetheart Annie (Evangeline Lilly), a beautician who's waited patiently for his return. Only, she has terminal lung cancer, with nine to twelve months left to live. Focusing on spending as much time together as possible during their last months, they plan on marriage and relaxation. Their idyll is quickly interrupted by Jimmy's sinister parole officer, Schmidt (Shea Wigham), who immediately blackmails the parolee into assisting him with his own underhanded shenanigans. While doing Schmidt's bidding, Jimmy is involved in a vehicular accident. Killing the other driver and covering it up, he soon discovers his victim was a runner for criminal heavyweight Price (Mike Colter), who promptly shows up at the location where his tracking device last emitted a signal. Chaos ensues when it appears Jimmy was ignorant of the money on the corpse, now long gone. Price kidnaps Annie and gives Jimmy a twenty-four-hour deadline, which instigates Jimmy to kidnap Price's preadolescent son from school. Just when it appears there's no way out of this sticky wicket, providence rears unexpectedly.
Sudeikis has a tendency to oscillate between affable and smarmy, usually riding a fine line between the two for more comedically inclined vehicles. If leaning into more sinister waters is sometimes more uncomfortably successful, such as Nacho Vigalondo's Colossal (2016), it's definitely a lacking element in the approximation of his Jimmy, a good guy who's supposedly a crackerjack at something but it most certainly isn't involving criminal activities.
While South of Heaven has the tendency to feel like a solid B-grade vibe akin to another recent Sudeikis venture, Driven (2018), the central romance between Jimmy and Lilly's terminal Annie (whose disease is solely defined by the sort of short haircut Vidal Sassoon made iconic) degrades this to soapy schmaltz. As an eternally angelic waif, the script gives Lilly little room to move simultaneously through the murky martyrdom of her romantic predicament and her impending end, especially as she's about as maudlin as Rosario Dawson in Seven Pounds (2008).
Once Shea Wigham's careless and inept catalyst throws the action into gear, Keshales spends nearly the majority of the third act following interactions between the kidnappers and their wards. What's meant to be poignant descends into a shitstorm of forced emotional plateaus, with Sudeikis trying to comically bounce off Thaddeus J. Mixson's aggressively precocious gestures while Lilly and Colter smoke weed, allowing her to convince her captor of her husband's good heart. For some reason, Michael Pare, of all people, plays an amorphously defined henchman for Price.

There's no way to describe exactly how cringeworthy the hand-off plays, but the denouement gets an embarrassingly phony commencement courtesy of Colter, saddled with one helluva contrived teary diatribe which solidifies the film's extremely schizophrenic tonality. Narratively unsatisfying, with its cast members leaning into their strengths (none of which fit the overarching intention of their characters), South of Heaven is neither good or bad enough for any definite distinction, doomed to a nebulous state of cinema purgatory.
★★/☆☆☆☆☆