Anatomia | 2021 Warsaw International Film Festival Review
Anatomy of a Memory: Jankowska Dissects the Poetics of Belonging Nowhere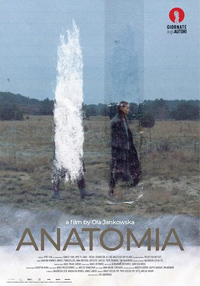 Part of the what could be coined as a niche genre of 'melancholic European woman sitting in a room in silence' (Preparations to be Together for an Unknown Period of Time is a recent example), Anatomia is a cerebral piece of slow-burn cinema. Aleksandra Jankowska's debut fiction feature is extremely poised, if not surprisingly mature for a first-time work, and exactly the type of cinema that often gets referred to as a "critics' film."
A return to native Poland to see her father in hospital sets Mika (Karolina Kominek) through a labyrinth of her own past. She is the only person her father seems to recognize, although his condition makes him think she is still a teenager, as if the years have not passed and they haven't drifted apart. Serene memories of idyllic times contrast with an anxious and unfriendly present, in a carefully crafted stylistic experiment that alternates a deeply subjective point of view with a stark realism.
Jankowska knows how to exploit the formal and aesthetic qualities of the different medias she utilizes throughout the film — and this while avoiding the risk of overdoing it. There is the alienating and abstract thermovision – which has so rarely been tastefully used on screen – paired with the factual yet nostalgic feeling of archival footage of an older Poland, or the impersonality of MRI footage. There's also this charming quality with the inserts of 35mm and VHS footage, the latter of which echoes the recent interest of a great number of filmmakers. It's the medium which seems to resonate most with a certain generation of which Mika is also part; young people in their 20s and 30s for whom, due to increased availability, video has been the single greatest depositary of personal history. Along with other scenes such as a tender moment of hands playing with shadows on the wall, Anatomia crafts a subtle yet clever interrogation of the nature of cinema and how image and memory interact with each other.
Anatomia's depiction of the present retains a latent anxiety that infiltrates through calibrated shots and a fixed camera – an opaque, curated image of restraint and of feelings that cannot be articulated. Not even when Mika is dancing does the camera move, such is the emotional numbness. Bizarre details such as cranes slowly and almost sickly moving over Warsaw's skyline make what once used to be home seem like a distant, unfamiliar place. Tied with small details of her new lover and life elsewhere, Mika is placed at the border between two worlds, while belonging nowhere.

By confronting an idealized 'then' with an unfulfilling 'now', Anatomia feels like an unlikely coming-of-age story, concerned with the late growing-up we do in our thirties. Jankowska's debut is strangely relatable, ultimately offering a sensitive approach to a very specific sentiment common to Eastern Europeans who emigrated elsewhere. The native land feels no more like home, yet neither does the adoptive country.
Reviewed on October 17th at the 2021 Warsaw International Film Festival – Competition 1-2 Section. 112 mins. Part of the The Fipresci Warsaw Critics Project.
★★★★/☆☆☆☆☆