Take Back the Fright: Garland Returns with Cryptic Fable on Trenchant Misogyny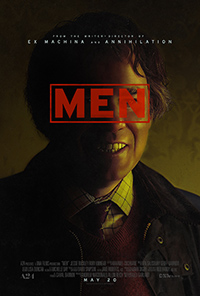 The tagline for George Cukor's 1939 classic The Women, which notably featured no members of the male species on screen, read "It's All About Men!" The same sentiment cannot be said for Alex Garland's third feature, suggesting a diametrically opposed gender zone with Men—-and it really is focused on the crushing, suffocating imposition exacted upon women as told through a metaphorical folk horror film. More a conversation piece than an effective genre film, it's an exercise ripe with triggering scenarios, provocative posturing, and disturbing imagery sure to make an impact upon those truly desiring to sift through its subtleties and suggestions.
Some may find it more a novel approach to arthouse shock value, but even with these sentiments, it's a wonderfully uncomfortable exercise in navigating the world through a woman's eyes, demeaned and overpowered by the omnipresent heteropatriarchy constantly gauged to punish those who step out of their gendered bounds.
Harper Marlowe (Jessie Buckley) has absconded to a remote estate in the isolated English countryside following the unexpected death of her husband, James (Paapa Essiedu of I May Destroy You, 2020). Geoffrey (Rory Kinnear), the owner of the estate, is affable, perhaps a bit fussy, in his thorough tour of the grounds (he's the type who believes women have to be reminded about those clog prone tampons whenever a septic tank is involved). Discussing the check-in experience via FaceTime with her best friend Riley (Gayle Rankin), it appears James' death was something of significant trauma. Red-tinted flashbacks of his death from falling out of their apartment building and then impaled by a metal guard rail explains her wish to run away to a remote locale. Add to this, just prior to his death, Harper had set in motion her plans to divorce him. While she mulls the recent past, Harper's initially oblivious about her surroundings. Something's not quite right with the townsfolk, all of whom appear to have the same face as Geoffrey. A stark naked man (also Kinnear) follows her out of the woods and attempts to make his way into the house. Besides Riley, the only other comforting human is the policewoman who takes Harper's statement. However, Harper is only further jarred by an encounter with the vicar (Kinnear again) and then a handful of men (and, more Kinnear) nursing their drinks at the local pub. Resolving to leave the estate, Riley convinces her to stay, announcing she'll embark on the four hour drive to stay with her friend. But then, it seems, the men decide to (literally) converge on Harper.
On the surface, Men is fairly straightforward with hardly any drastic fluctuation in energy or tone. It's immediately clear something is wrong with the isolated manor, and Garland keeps this pot simmering at about the same temperature throughout, ultimately lending the film a monotonous affect. Obviously, something much more complex and sinister is going on, spinning out of control like the Phyllis Chesler version of any woman-terrorized-in-a-house film, Garland's visual flourishes suggest hidden meaning in every frame. But this lends itself to feeling more like an esoteric episode of "Black Mirror," and Garland has a tendency to be a bit on the nose with his symbols and motifs, to an extent where the subtext wears through the threadbare text, exposed like jagged objects tearing through the worn tread on the well-grooved wheels of hysterical women tropes.
Like early references to Eve and the apple, to the idea of men only being able to literally reproduce predetermined images of themselves (in a third act sequence which requires experiencing visually first), sometimes Men seems to be hitting one over the head a bit too broadly. Other flourishes seem more insidious, such as the dandelion seeds used in several sequences, going back to the metaphor of sperm and egg, where woman as earth/mother nature is constantly being violated against her consent by the cycle of seeds burrowing into her. It's a very compelling suggestion, and leads Garland into Andrea Dworkin territory, who famously posited all penetrative heterosexual intercourse was rape for a woman. Likewise, the underlying nastiness regarding the notion of wasted fruit, the decomposition of which attracts scavengers to rend the flesh here paralleled with Harper, a childless woman ripening without using her body for its doomed biological capabilities.
Jessie Buckley gives an unflinching performance as Harper, and despite being set mostly in the sprawling expanse of a verdant, English countryside, we feel her suffocation from the moment she arrives. Of course, we learn disturbing exposition about what happened to her husband via flashback, the key to understanding what's happening in the finale regarding the insidious manipulation of guilt, but how Buckley is configured in these spaces is more disturbing.
At several key moments, Garland's visualization of Buckley paired with her visceral screams channels Francis Bacon's famed Three Studies for Figures at the Base of a Crucifixion portraits, like one of the agonized furies raging against man's propensity for violence. The formidable Rory Kinnear, as capable at playing sweet (Our Flag Means Death) as he is at being sour (Penny Dreadful), vacillates through a Rolodex of masculine tendencies used to thwart women, from logistical biological realities to faith based gaslighting, and eventually the threat of physical and sexual violence.
If Garland collapses everything together a bit too handily in the final frames, it's not exactly detrimental to the film's overall effect. Utilizing his favored DP Rob Hardy and production designer Mark Digby, Garland's Men follows the likes of his past two features 2014's Ex Machina (read review) and Annihilation (2018), where the female of the species finds herself closed in by an environment designed to or evolving towards destruction of her.
If his latest is a much more demure narrative, it's a testament to what Garland can do in expanding the breadth of a theme through strategically designed, potent bouts of discomfort. Marlon Brando starred in a Fred Zinnemann film about a paralyzed veteran (just prior to his exploding stardom as Stanley Kowalski), The Men (1950), opposite Teresa Wright. The tagline reads "a completely new experience between men and women!" Somehow, this seems a perfectly devious fit for Garland's titular scheme.
★★★½/☆☆☆☆☆