Marcel! | 2022 Cannes Film Festival Review
Dog Gone: Trinca Debuts Pleasant Semi-autobiographical Dramedy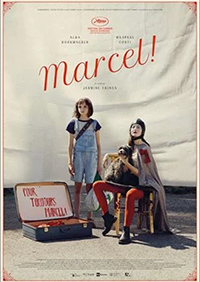 "I'm devoted to divination," sniffs a haughty Alba Rohrwacher as a self-centered mother in Jasmine Trinca's directorial debut, Marcel!. It's one of many such enjoyably overbearing and over-the-top moments from a supreme egotist in a film partially based on actor-turned-director Trinca's own relationship with her mother, previously visited in her 2020 short Being My Mom (also featuring Rohrwacher). Told from the perspective of a neglected young girl who is granted the opportunity to make herself interesting enough to receive her mother's love, there's much to like in this familiar vein, thanks in part to its lead actor's whirling dervish energy which avoids camp and caricature to showcase her tenacity to pursue her own interests—even if it's at the expense of her child's emotional well being. While the likeness stops short beyond mannerism, the story Trinca develops with Francesca Manieri is divided into themed chapters which gently ushers the film along.
Pining for her mother's (Rohrwacher) attention, a young girl (Maayane Conti) has spent most of her childhood dependent upon her grandparents' (Umberto Orsini, Giovanna Ralli) for support. Her mother, an intensely serious, self-involved street performer, only seems to care about her dog, Marcel, who receives what little love she can afford to give another living creature. When daughter ingratiates herself upon her mother, who is planning to perform in an upcoming talent contest at a festival, the sudden disappearance of Marcel assists in allowing the two of them to reconnect.
In cinema meant to invoke a sort of catharsis for the filmmaker, Trinca joins a long line of predecessors who have done the same. Though there are inevitably dark examples, such as Eva Ionesco's My Little Princess (2011), there are also tempered homages and eventual absolution, such as the recent I Love America (2022) from Lisa Azuelos. Trinca hits a strident Italian vein akin to Asia Argento's underrated 2014 film Misunderstood, where similarly a young girl must navigate an environment ignored by parents consumed with their own difficulties.
Maayane Conti, who also starred in Trinca's short, is more on the subtle side, observing her mother's ridiculousness until major outbursts are required (such as what happens to the titular Marcel). Rohrwacher, who in essence is kind of the nightmare side of her role in Matteo Garrone's Tale of Tales (2015), is exemplary, aided by the smirking screenplay with plenty of bon mots from the sidelines (such as a joke about her belief she's the resurrected progeny of Pina Bausch and Marcel Marceau).
Although Trinca reigns this kind of energy in, the mother's extreme narcissism is the fuel on which the narrative turns until both parent and child begin to cultivate a better understanding and respect for one another. One of the film's best sequences is a lofty fantasy moment where Rohrwacher's life-drama is metaphorically enacted on stage featuring Valeria Golino (who cast Trinca in her own directorial debut, 2013's Honey). Warmly humorous, with aided support by the notable Umberto Orsini and Giovanna Ralli as the child's grandparents, there's enough refreshing vitality to make these familiar tropes enjoyable.
Reviewed on May 21st at the 2022 Cannes Film Festival – Special Screenings. 93 Mins
★★★/☆☆☆☆☆