Portrait of a Lady: Pallaoro Quietly Searches for Grace in Profound Reconciliation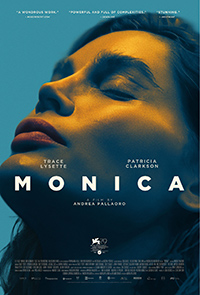 There's a relentless, nearly crushing sense of heartache girding Andrea Pallaoro's Monica, his second film in a thematic trilogy centered on a titular woman grappling with less than ideal circumstances. It follows 2017's Hannah, which featured a sublime Charlotte Rampling as a woman left to her own devices after her husband is imprisoned. Whereas that film was all about the essence of an absence, Pallaoro's followup is concerned with the opposite paradigm shift through an unexpected return.
Trace Lysette leads a quiet narrative of barely whispered remonstrances in a performance balanced on intricate interiority. Although it concerns a trans woman visiting her estranged mother's death bed, the implied agony of such a reunion is lodged deep beneath a placid surface, its muted catharsis slowly unfurling uncomfortably but also unobtrusively, like slivers of glass from a car accident slowly sloughing out of the skin. Rejecting any semblance of melodramatic outburst, it's both a film and a character profoundly lodged in a reticence almost harder to withstand than the violence or aggression which allows us more easily to judge and dismiss.
Monica (Lysette) has received a surprise phone call from her sister-in-law Laura (Emily Browning), who she's never met, informing her of her mother Genie's (Patricia Clarkson) terminal health condition. She's not spoken to her mother for several decades, having fallen out over her gender transition. Driving several days to her family home, she's greeted by the affable Laura, who is the mother of three children with Monica's brother, Paul (Joshua Close), who she's also not been in contact with. Laura introduces Monica as someone who's been tapped to assist in a rotation of care for Genie since the ailing woman refuses to be placed in a nursing home. Not surprisingly, Genie doesn't recognize her child, and over the course of several days, after bonding with her nieces and nephews and sharing stilted conversations with Paul, Monica goes out to meet a man at a bar who stands her up. An ensuing drunken interlude when she returns to Genie's allows her mother to realize who Monica really is.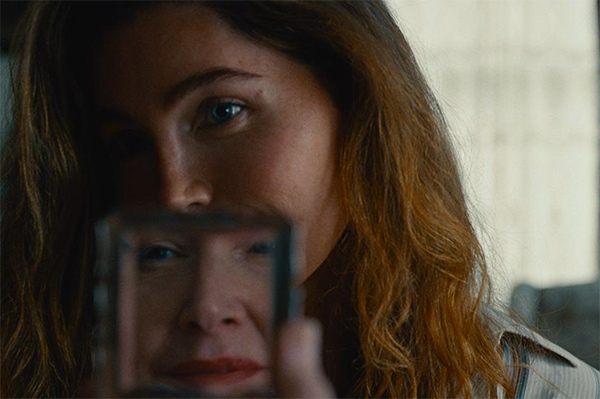 We glean scant details about Monica's past or present, with an unfussy script doling out bits of information realistically through dialogue or symbolically through visuals. A recent break-up with a man she's not quite gotten over seems to have been her only intimate outlet or support, and the absence of it allows for Monica's one scene of overwhelming despair.
Working as a masseuse and an online sex worker, like many trans women, her body is a form of currency. Initially, Katelin Arizmendi's (Swallow, 2019) lensing keeps Monica always a bit out of frame, until we come to realize the boxy 1:1 aspect ratio signifies the literal box of the world and how she never quite fits into it. Where she's most vibrant is when she's alone, listening to music, whether it be Italian pop, Pulp's "Common People," or other various selections, the film, and the audience are allowed some respite with Monica when she's in her car, albeit signifying an in-between state but implying hope, progressive, and freedom.
Lysette increasingly becomes more engrossing as she enters the frame more completely and we search her face almost plaintively, apprehensive about an impending confrontation with Genie. As her sister-in-law, Browning is the warmest presence, the conduit for the reunion despite her own marital problems, while Adriana Barraza as Genie's helpmate is also a comfort. But anytime Joshua Close or Patricia Clarkson are on screen, there's an overriding anxious energy, made all the more frustrating because neither of them really exhibit the wherewithal to ask Monica how she's doing. Eventually, these anxieties are quietly laid to rest following Monica drunkenly falling asleep in her mother's bed. While there's no grand exchange between these two women, Pallaoro stages two beautiful sequences, one involving Monica applying make-up to Genie, a mirror image of mom transposed upon the daughter she never knew. The other is one of the quietest but most poignant, as Monica bathes Genie, an understanding finally passing between them when she tearfully caresses her child's face.
We've so few cinematic examples of trans children reconnecting with their past, especially not from a trans character's perspective, or often accompanied by significant anguish, miserabilism, or even elements of exploitation. Some films have carved out space for powerful characters, like Karen Black in Come Back to the Five & Dime, Jimmy Dean, Jimmy Dean (1982), but most of these roles have been historically played by cis women. So the quiet but substantial achievement in Trace Lysette's presence and performance adds significant importance outside the frame. But the subtle precision of building Monica's characterization is apparent throughout, and notably Pallaoro and his regular scribe Orlando Tirado avoid using Monica's dead name.
Decades from now, where such talking points will hopefully be archaic, Monica will stand as an inconspicuous but profound slice of despondency from a bygone reality. But for now, it's an uncommonly graceful, bittersweet portrait of acknowledgement and reconciliation.
Reviewed on September 3rd at the 2022 Venice Film Festival – In Competition. 113 Mins.
★★★½/☆☆☆☆☆