The Secrets We Keep | Review
The Forgiveness of Blood: Rapace Shines in a Loose Regurgitation of Dorfman Play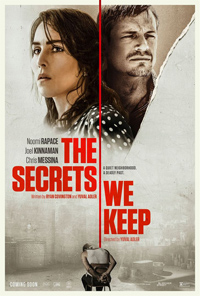 The strangest aspect of The Secrets We Keep, the third feature from Yuval Adler, is how it fails to credit the source material it is clearly borrowing from, Argentine-Chilean-American Ariel Dorfman's 1990 play Death and the Maiden, adapted for the screen in 1994 by Roman Polanski and starring Sigourney Weaver and Ben Kingsley.
Adler, who co-wrote this version with Ryan Covington, changes the setting of post-Pinochet Chile to 1959 United States, wherein a Holocaust survivor stumbles upon the Nazi who raped her and had a hand in murdering her sister. In keeping with the tradition of the source material, it's a meaty role for lead Noomi Rapace, whose performance outshines some of this version's inability to address more ambitious parameters.
Small town USA in the late 1950s. The brooding Romanian born Maja (Rapace) works in her husband Lewis' (Chris Messina) office, a jovial doctor. They met in the aftermath of WWII at a Greek hospital and somehow, he's always believed she was never involved in any traumatic war-time experiences despite suffering from periodic nightmares and other behavioral issues. One day, she spies someone (Joel Kinnaman) who she recognizes as the man who had assaulted her in the war, two events her husband knows nothing about. Following the man, she accosts him one day outside of his work, knocks him unconscious and eventually takes him home as a captive in her basement. He denies knowing her, claiming he'd never been in the war. It seems a strange coincidence seeing as he lives only two blocks away from her. But Maja is convinced this is the man who raped her and left her for dead, and she means to keep him in her home until he's confessed.

Rapace and Kinnaman, who are both Swedish, also co-starred in Daniel Espinosa's 2015 thriller Child 44 about a Russian serial killer of children, in which they are both English-speaking Russians. That was also a project of mixed merit bolstered by strong performances and a compelling narrative, and their latest collaboration has some of the same issues as Adler can't quite balance the required intensity of this kidnaping-revenge dichotomy with a broader set of characters and themes.
Whereas the underrated Polanski film benefitted from the intensity of its claustrophobic, limited timeline, and a performance from Weaver which was a fierce, nervy bellow of animalistic rage, Adler feeds more into the neat catharsis of a vengeance which cannot possibly silence the trauma it seeks to heal. Taking place over a matter of days, we're left to believe Kinnaman's "Carl" sits quietly in the basement while Maja and Lewis are somehow able to sleep at night, their young child oblivious to the captive man in the basement. But the prolonged experience does allow for other areas of interest, such as Maja's manipulation of her tormentor's wife, an unassuming and effective Amy Seimetz.
Touching upon Romania's problematic WWII history and the country's Nazi collusion is mentioned ever so briefly, though such a disgrace could have been better served with a bit more directness than what is mentioned. Messina, as equally oblivious as the Stuart Wilson character in Death and the Maiden, is effectively frustrating in his questionable allegiance to Maja's actions.
References to North By Northwest and Sleeping Beauty peg the year as 1959, and both titles suggest interesting subtexts, such as the potential Hitchcockian nature of the narrative (the doubling of victims, the WWII espionage/identity potential) while the Disney cartoon creates an interesting reference with which to view Maja, a woman who has been locked alone in the memory of her trauma, at last unleashed, awakened.
Despite having a rather large budget, the flashback sequences tend to distract (the horrors of what she experienced are worse, after all, in her recall), and Kinnaman doesn't get enough screen time for us to question whether he's telling the truth of his innocence. Strangely, The Secrets We Keep is reminiscent in tone and origin to another Rapace vehicle, Angel of Mine (2019) also a film in which she plays a woman whose sanity is questioned due to her insistence of a stranger's identity and also a remake to a superior source film (The Embrace of the Angel, 2008).
Still, there's enough to enjoy here, especially if one is unfamiliar with Death and the Maiden, and Rapace's performance in the climax cancels most of the criticism. Compared to Yuval's last film, 2019's Diane Kruger thriller The Operative, it's a welcome change of pace.
★★★/☆☆☆☆☆