Venom: Let There Be Carnage | Review
How to Lose Friends & Alien Ate People: Serkis Navigates Odd Bedfellows in Routine Sequel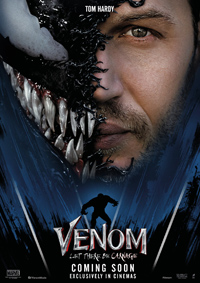 Though perhaps a novel choice for helming Marvel sequel Venom: Let There Be Carnage, Andy Serkis fares about as well as anyone likely could in continuing a franchise with the comic monopolizer (and with a character credited as one of their "greatest and most complex characters" while chained to PG-13 parameters).
To his credit, Serkis definitely knows the value of correctly embodying physicality in animated form, with elevated attributes such as Gollum in Peter Jackson's Lord of the Rings trilogy or the irate primate Caesar in the rehashed Planet of the Apes franchise to his name—and this is exactly where the film, like its predecessor, succeeds. Straddling the subversive energies of The Odd Couple and Dr. Jekyll & Mr. Hyde, it's the classic straight man juxtaposed with the comic foil routine, perhaps with an arguable dash of queerness to pique the interests in communities scavenging for representation through the ruins of mainstream studio filmmaking.
While it's a poorly kept secret, the otherworldly alien presence Venom continues to live within disgraced journalist Eddie Brock (Tom Hardy), though they seem to be complementary to one another. Brock keeps Venom's murderous tendencies at bay, while his cohort has the ability to empower his human's particular brand of vigilantism. When infamous serial killer Cletus Kasady (Woody Harrelson) grants a rare interview to Brock, considering him a like minded soul, it's to use the writer to send a message to his imprisoned girlfriend Frances (Naomie Harris), who has such extreme sonic powers she is kept imprisoned in a secret facility ever since they were separated at the St. Estes Reform School in 1996. The visit proves to be detrimental to Kasady, because Venom spies a clue in the madman's cell which allows Eddie to regain his stature by cracking the case against him, leading to California's reinstatement of the death penalty. In response, Kasady's next interaction with Brock leads to a struggle wherein the serial killer becomes infected with his own symbiotic, known as Carnage, whose ultimate goal is to kill his father, Venom. When Brock's ex-fiance Anna (Michelle Williams) is kidnapped, the quartet must face off to establish dominance through violence.
Like a preadolescent's version of Lilo & Stitch, Serkis brings Eddie and Venom to the oddly magical codependence of human and creature, where the latter walks away with all the best moments (and all the worthwhile lines of dialogue). There's something infectiously charming about Venom as the id, curbed for just the right formula of 'symbiosis.' We pick up their unholy union not long after the 2018 film left off (hence the "Making of a Murderer" reference), where Venom has been reduced to chocolate and chickens as a substitute for the sustenance he requires from the human brain (in true cutesy fashion, he's grown attached to the pair of chickens living in their apartment, Sonny & Cher, their only "friends").
One wishes Serkis and scribe Kelly Marcel had the agency to really lean into this weirdness, of a man's body serving as host for a demanding entity, with similar voice work to something more outrageously strange like the 1990 French cult classic Baby Blood. But before we can spend too much time with this song and dance, the plot mechanics kick into boisterous gear, despite neglecting to fully flesh out the pair of lovebird maniacs driving it.
The opening of the film suggests a backstory for Frances (aka Shriek) and Cletus Kasady, but theirs is a love serving as a pale echo of Natural Born Killers, kids reared and abused by an ambivalent system tethered by their shared trauma. Strangely, this sequel introduces and then utterly demeans what promises to be an omnipotent figure in Frances, with Naomie Harris battered and demeaned at the hands of both Venom and Carnage, even though she has the power to decimate them both.
With a neon blue eye (which mirrors the strange mar of whiteness transposed upon a Black woman's face as in the Zazie Beetz character in Deadpool 2) the constant reminder of the vengeance she seeks against the cop who maimed her (conveniently served up in Stephen Graham's Detective Mulligan), she's got the fuzzy end of the stick no matter where you look in the narrative, bustled about like the Thandiwe Newton character in Beloved (1998) but without any real aim or purpose. Arguably, the same can be said for Harrelson, enjoyable chewing up the scenery as Kasady, but again, without the requisite energy allowed his character to make this feel satisfying in any real way. Michelle Williams returns, with the same intriguingly unfashionable haircut, to mainly pose in the film's mimicry of King Kong.
Shot by Tarantino's prized DP Robert Richardson, the attempt to make San Francisco into a backdrop feels like the only real accomplishment considering the film mostly exists in the gravitational pull of Venom's wheezing snarl. Hardy, who gets story credit, may not have much to do as investigative journalist Eddie Brock, but one gets the sense his real service is in undermining Marvel's status quo by generating the universe's infrequent bits of subversive and bizarre energies.

★★½/☆☆☆☆☆