Car Crash Set: Ducournau Crafts a Cult Classic with Grotesque Odyssey of Dysfunction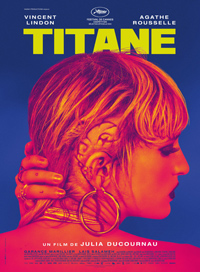 In J.G. Ballard's seminal 1973 cult novel Crash, infamously adapted in 1996 by David Cronenberg, the author rationalizes the morbid predilections of a character collecting grisly curios as items which "formed the key to a new sexuality, born from perverse technology." French director Julia Ducournau arguably attempts such a key with a masterful resurgence of similarly meaningful arthouse trash in her sophomore film Titane, a film which generates the vibe from Warm Leatherette's "Quick, let's make love before you die." If Ballard and Cronenberg are entry points to this world of chrome and metal, Ducournau quickly absconds into her own idiosyncratic world of femme identities, where worlds turn upside down in varying degrees. For the trauma which shapes us, after all, can be rehabilitative. And sometimes, this allows for an evolutionary (suggestively necessary) melding of man and machine.
As a child, Alexia is emotionally neglected by her parents. A tragic car accident finds a metal plate implanted in her skull, forever branded by a prominent scar. As a young woman (Agathe Rousselle), she finds success performing provocative dances at car shows, which segues to, well, a certain transgressive intimacy with the vehicles and a substantial fan base. Accosted one evening after a performance, Alexis embarks on a killing spree, forcing her to flee. Adopting the identity of a child named Adrien who went missing ten years prior, she finds more than she potentially bargained for with Adrien's father, Vincent (Vincent Lindon).
"Love is a drug from hell," reads the tattoo on Alexia's sternum, an emotionally neglected child at the hands of her aggravated father (a sublimely onerous Bertrand Bonello) the impetus for her development into a willowy nymphette who looks like the heroine of a Peaches music video. She's lethal with a hair stick, murdering an amorous fan, and then having a Christine style sexual encounter with her automobile dancing partner. This interaction leaves her pregnant (enter another queasy scene of body horror with an attempted self-inflicted abortion and said hair stick), and presumably all rules are off.
Without further ado, Alexia assumes the identity of a young boy who was abducted a decade ago, chopping off her locks, binding her breasts and increasingly distended abdomen. Miraculously, the child's father, a fire captain named Vincent (Vincent Lindon), confirms she's his long lost son, and the film segues into a surprisingly touching undertone of unconditional love, with Alexia and Vincent both fulfilling a need they've both been denied. Alexis' appearance as the missing boy Adrien is cause for mild amusement, since absolutely no one in Vincent's proximity believes she's who she claims to be (including Adrien's mother). Ironically, Alexis leaves behind her birth parents in an inferno only to find herself anointed as a firefighter, a human whose neglect caused her to take life, and with love and affection, allows her to save instead.
While Ducournau spends a majority of the second and third act navigating how Alexis avoids detection, a bizarre departure involves a sequence with Dominique Frot as a mother who collapses at her adult son's drug overdose. Another is a woozy, neon-lit dance sequence with the homosocial atmosphere of Vincent's crew. Fans of the director's 2016 debut Raw should rejoice in this distillation of a genre master, clearly inspired by a legion of auteurs but with her own original visions.
Except for the anticipation of whatever Alexia is about birth, much of Titane feels unexpected and predictable, and there's a refreshing display of reconstituted themes and genre elements. While Crash is a starting point, Ducournau's fresh take on body horror leads into Under the Skin (2013) territory, and frames the growing divinity of Rousselle as a face reminiscent of Falconetti's anguish in Dreyer's 1928 landmark The Passion of Joan of Arc (significantly in her final sequences with Lindon).
Rousselle is tantalizing as Alexia, transforming from monstrous femme into surprisingly vulnerable human, mimicking her initial opening dance number in a formidable castigation of gender interpretation later on in the film. As her counterpart, Vincent Lindon has perhaps never been more touching and bizarre as the lonely steroid dependent fire chief desperate to find meaning through fatherhood. Bizarre, to say the least, sometimes off-putting and strangely enchanting, Titane is cold as chrome, hot as fire, securely nestling in the nexus of metal and flesh.
Reviewed on July 13th at the 2021 Cannes Film Festival – Main Competition. 108 Mins
★★★★/☆☆☆☆☆