A Time to Love & a Time to Spy: Fukunaga Lays Craig to Rest in Bond Bacchanalian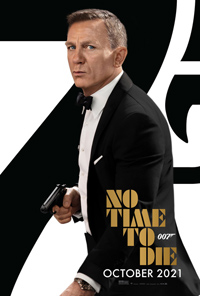 It all comes full circle, or at least attempts to, in Daniel Craig's fifth and final portrayal of the eternal British superspy, James Bond, in Cary Joji Fukunaga's long-awaited No Time to Die. In the pantheon of Ian Fleming's cinematic legacy, it's neither the best nor the worst of times for Agent 007, who'll be resurrected to die another day by Craig's eventual successor, though this chapter joins Craig's previous highpoint, Skyfall (2012) in the meaty ambition of its narrative energies.
Although the various balancing of Bond's peripheral mainstays alongside his most emotionally vulnerable romantic liaison to date tends to overwhelm in a running time which stretches to two-hours-and-forty-three minutes, it's an oft-formidable spectacle filled with audacious chase sequences and prescient global traumas.
Bond (Craig) has officially retired as Agent 007, and while on a romantic Italian getaway with Madeleine Swann (Lea Seydoux), he is ambushed by a gang of Specter criminals at the grave site of his previous love interest, Vesper Lynd (Eva Green from Casino Royale, 2006). Led by the vicious Cyclops (Dali Benssalah), so named for a handy dandy bionic eye (which becomes significant later on), Bond barely escapes, and the suggestion of Swann's involvement in the escapade dissolves their brief union. Five years pass, and a secret biochemical lab is blown to smithereens in London, with Russian scientist Valdo Obruchev (David Dencik) abducted by Cyclops and co. The CIA sends Bond's old pal Felix Letter (Jeffrey Wright) and State Dept. political appointee Logan Ash (Billy Magnusson) to assist them, and Bond's reluctance is quelled by the appearance of his replacement, Nomi (Lashana Lynch), who has assumed his MI6 designation.
It appears M (Ralph Fiennes) has something to do with the secret lab, and upon attempting to snatch Valdo in Cuba, with the help of the capable novice agent Paloma (Ana de Armas), it's revealed the biochemical weaponry manufactured by Valdo can kill specific targets based on their DNA via nanobyte technology (of note, these manmade viruses never die, and, if you can't guess it, unfortunately wipe out anyone with similar genetic codes, spelling a recipe for mass genocide). But Valdo is playing more than one side, and while the Cuban showdown was meant as a trap for Bond orchestrated from afar by the previous film's incarcerated villain, Blofeld (Christoph Waltz), nefarious intentions from the Americans find Valdo spirited away to be united with the main culprit, Lyutsifer Safin (Rami Malek), who has a considerable bone to pick as concerns SPECTRE and Madeleine Swann, leading to a grand showdown in which not only Bond, but the entire globe is imperiled.
If you watch the Super Bowl for the commercials and the half time musical performance, then you're likely hardwired to gravitate towards the cavalcade of femme fatales and original theme song accompanying every Bond souffle, and on the former end, No Time to Die (despite it's Lifetime-y movie title) doesn't disappoint. This is perhaps where Fleabag's Phoebe Waller-Bridge flexes the most muscle alongside scribes Neal Purvis and Robert Wade—-at long last, Bond isn't walking kryptonite to every female counterpart, and, moreover, finds him nursing a broken heart for a woman who's made a lasting impression beyond her initial appearance as his cohort. The woman in question is Lea Seydoux's Madeleine Swann, returning from 2015's Spectre, and this time given a much more prominent position in his orbit. The film's opening sequence details her traumatic childhood, wherein her father, working for the covert criminal organization known as SPECTRE, generates a vengeful assassin who spares her life. It's a persuasively compelling opener, and at least starts the film out on its motif of needing to let go of the past in order to evolve.
Add to Seydoux Bond's MI6 replacement, Nomi, played with arch aplomb by Lashana Lynch, who has also inherited his iconoclastic number, much to his chagrin. Eventually, this shtick begins to feel a bit silly, especially concerning who concedes and why, but at least Lynch, like Naomie Harris' Moneypenny, is at least allowed to operate outside definition of Bond's virility (and is perhaps a more effective statement – rather than giving Bond a Black love interest, making his predecessor an intelligent, infinitely capable Black woman is as powerful a moment as ever mounted in a Bond flick). And then there's the sweet and sultry Ana de Armas, who pops up in the Cuba set piece for one of the film's many diverting and violent showdowns.

There are a host of other bright spots, some making returns, like Christoph Waltz now aping Hopkins' Hannibal Lecter, Jeffrey Wright, Ralph Fiennes, Ben Whishaw, etc (who, it turns out, like Sphynx cats). Newcomers like Billy Magnusson and David Dencik are Baxter villains, the latter a Dane playing one of those sociopathic Russian scientists we've come to accept as a given. Perhaps the major stumbling block, however, is the new threat to humanity, Lyutsifer Safin seeing as Rami Malek isn't given much room to do anything with the role, and is too distractingly young considering his relationship to another major character—-gray strands and mottled skin do little to quell these potential discrepancies. But these sorts of squabbles are on the light side, for No Time to Die is ultimately a Swann Song designed to say au revoir to Craig's tenure. A rousing score from Hans Zimmer, excellent editing and a jaunty narrative (which only hits a dry patch during an inevitable, extensive denouement) mark this as a highpoint for contemporary Bond offerings and a sterling cinematic return for Fukunaga (whose last theatrical feature was 2015's Beasts of No Nation).
★★★½/☆☆☆☆☆