Wish It Were Sunday: Papadimitropoulos Peddles Bad Romance in Ex-Pat Whirligig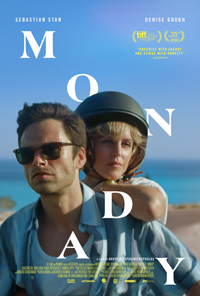 Toxic relationships and fair-weather romances are abundantly attenuated in the cinematic realm, the various combinations of which tie into a tale as old as time—two lonely people who forge a relationship doomed to fail. Greek director Argyris Papadimitropoulos provides a sun dappled melodrama of prolonged frustration in his fourth feature, Monday, wherein two American ex-pats embark on a foolish, rosy-tinted, drug infused, sex fueled venture, and all for naught.
Curiously eliding dark comedy potential as well as avoiding the psychological infrastructure necessary to sustain any interest or understanding of this hetero romance, as pockmarked as an ancient Athenian ruin, only fans of its lead performers might argue its merits. Equal parts heavy handed and oblique, Papadimitropoulos cobbles together a series of episodic moments which, edited together, struggle to exhibit any real purpose. And yet, what could have hearkened to a meandering beat attitude struggles to find a thread of subversion which would justify the extreme banality of two irresponsible adults who have well surpassed the appropriate age to excuse such levels of irresponsibility.
Chloe (Denise Gough), an American lawyer who has been living in Athens for the last eighteen months and is on the eve of returning to Chicago for a new gig, is drunkenly introduced to Mickey (Sebastian Stan), the DJ at what's meant to be her last party in the city. Absconding to the beach and bombed out of their minds, they wake up naked, prodded by police as families frolic around them in the morning sun. Released by an affable police captain, they spend the day together because Chloe's purse is at the house where they met, and the owner, Argyris (Yorgos Pirpassopoulos, of Tsangari's Chevalier) isn't home to let them in. Another drunken night passes, and when they part ways the next day, a morose Mickey decides he is smitten. Nabbing Chloe right before she boards her flight, the two set off on a whirlwind romance. Moving into his apartment (also owned by Argyris), constant sexual attention seems to keep reality at bay. Eventually, as they decide to introduce each other to mutual friends, their faults and vulnerabilities shine through. Just as Mickey is about to enjoy restored visitation rights with his six-year-old son, a rash decision on both their parts threatens to compromise what little progress they've made.
As Mickey, Sebastian Stan leans into the cliché of the ne'er-do-well man child, a composite we've seen on several occasions, from "Political Animals" (2012) to I, Tonya (2017), and even as one member of a milquetoast love triangle in Endings, Beginnings (2019). Because this archetype is so familiar (and not just specifically to Stan), focus pulls to Denise Gough, whose actions become more inexplicable as Monday wears on.
A striking screen presence (who steals all her scenes in Wash Westmoreland's Colette, 2018), Gough feels refreshingly resistant to the usual gender cliches, to such a degree when the film demands her to don traditionally feminine garb it underlines the reality of how femininity is a gender construction—and leads one into Pandora's Box territory by wishing Monday, in all its messiness, would have explored this woman's sexual desires beyond Mickey, if at least to confirm what she's attracted to in the first place. But her backstory is almost nil sans the route trauma of a failed relationship with smarmy businessman Christos (Andreas Konstantinou), whose sole sequence plays like a daytime soap.
Too many extensive sequences reveal basic repetitions about Mickey and Chloe but lack a necessary missing link by establishing what is so intoxicating beyond their romance as a distraction from dealing with reality. Their journey is the neutered version of what formulates many a film noir, like Gun Crazy, or the toxic violence shared by Bonnie Parker and Clyde Barrow.
Compared to Papadimitropoulos' last film, the wanly perverse Suntan (which felt like an adjacent exercise to the output of the Greek Weird Wave), this scenario (co-written by Rob Hayes (Gretel & Hansel, "Chewing Gum") feels like an odd assortment of improvised themes often attenuated by clunky dialogue and awkward segues. While the idea of sailing us through a series of Fridays before a rock bottom moment lands us on the titular day, the epitome of adult responsibility, the pay off is nil beyond this basic set-up.
Some beautifully shot nightclub sequences from Hristos Karamanis often make up for what feels like a neglected opportunity to showcase the splendors of Athens (and no, not because we don't hit any tourist sites). Humans, by default thanks to a complex variety of reasons, are contradictory by nature. And likeable characters are not a necessity in conveying an idea or in telling a story. But somehow, somewhere, something needs to be interesting to make this scenario work on any level. Monday ends up feeling as much a chore to experience as the dreaded start of the work week, that Sisyphean start button to a universal reality we (stereotypically) all want to fast forward through.
★/☆☆☆☆☆