Devil Between the Legs | 2019 Toronto Intl. Film Festival Review
If Bleak Street Could Talk: Ripstein's Not Afraid of Virginia Woolf in Sordid Marital Melodrama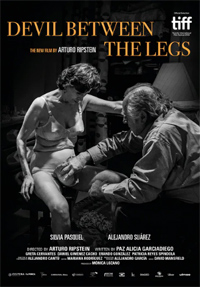 Arturo Ripstein, one of Mexico's most enduring and influential auteurs, continues to repulse and disturb with his latest feature, the aptly titled Devil Between the Legs. Once an assistant to Buñuel and now in his fifth decade of filmmaking, Ripstein is as uncompromising as ever with his latest, a lurid marital melodrama about a crumbling long-term marriage between man and wife, whose passions and proclivities are at odds with what their decrepit bodies are currently capable of. Morose, macabre and even maudlin, it's a portrait of people in a particular stage of life behaving in ways too off-putting for most to casually consume. But Ripstein has always presented the oft unexplored base realities of human behaviors – and as is the case here, not without respect and empathy for his subjects, who are often on the verge of irreparable breakdowns into the uncivilized.
Having been together for too many years to count, Beatriz (Sylvia Pasquel) and her husband (Alejandro Suarez) seem to have reached a point of no return. The presence of Dinorah (Greta Cervantes), a young woman who looks after the old man when Beatriz is not at home, seems to fuel their flames of resentment. While Beatriz takes secret Tango lessons, her husband, a failed physician who became a successful homeopathic pharmacist, is sure she's cheating on him, smelling her bras and underwear for signs of infidelity whilst verbally abusing and demeaning her, citing her promiscuous past before their marriage as evidence. Meanwhile, the old man is intent on seeing his long-time mistress (Patricia Reyes Spindola), though his increasingly frequent impotency would seem to suggest their ongoing affair might be petering out. Harried by her husband's increasingly frequent bouts of lashing out, Beatriz reaches her tipping point.
To borrow the words of Harlan Ellison, Ripstein's film would seem to profess "love ain't nothin' but sex misspelled" judging from the root of marital discord plaguing Beatriz and her unnamed husband. Like a Mexican, geriatric version of Edward Albee, which includes an absent/phantom child who abandoned her parents, their situation is complicated by the presence of an invited guest, a live-in maid who seems to side with the husband thanks to the constant berating of the overbearing Beatriz. Ripstein employs Sylvia Pasquel, daughter of Silvia Pinal (Bunuel's Viridiana, 1961) for her most prominent role in decades.
With the visage of a haggard Rue McClanahan, Pasquel gets a Lars Von Trier level treatment. Once a woman of easy virtue whose past preys on the mind of her sex-obsessed husband, a man who spends most of the film screaming crass words about her vagina (in one agonizing moment she splashes her genitals with bleach to stave her own sexual urges), she has resorted to writing her 'memories' down in a notepad. In an effort to process her current situation, she tries to share these notes with her dance partner (Daniel Gimenez Cacho), a conservative gentleman who misinterprets her intentions. As her husband, Alejandro Suarez, a hulking, ornery creature, makes his film debut, while Ripstein regular Patricia Reyes Spindola (one of the memorable hookers in his last outing, Bleak Street, 2015) steals a handful of scenes as an equally sexually frustrated salon owner.
It's perhaps important to highlight how imperative and revealing Devil Between the Legs is, dealing with a population whose contemporary peers hail from a conservative worldview, while younger audience members aren't likely to find the sexual escapades of the geriatric set immediately appealing. And yet, it's in breaking this taboo, which Ripstein unleashes with such blunt vulgarity, that allows this couple's struggles to be so affecting. The idea of unconditional love automatically afforded to one's offspring, refreshingly, is also presented with profane clarity. "Children are biological traps," barks the old man, confirming "no one likes their children" as a rather roundabout way of comforting Beatriz, who mourns the absence of their daughter.
Penned by Ripstein's long-time scribe Paz Alicia Garciadiego, Devil Between the Legs is a more intense and intimate portrait than the dark social commentary of their last film, the underrated Bleak Street, while this couple in crisis is not too far removed from a coterie of Ripstein's troubled unions, from The Castle of Purity (1973) to Deep Crimson (1996) and beyond.
Also employing Bleak Street DP Alejandro Cantu, who has an eye for particularly detailed black and white squalor, this thematically similar vein could very well carve out a late-period trilogy of sorts should Ripstein continue in this direction. Opening with the timeless Marlene Dietrich cover of Friedrich Hollaender's "Falling in Love Again," which plays like a cruel, hollow refrain throughout the film, Ripstein seems to suggest words of cruelty can become ones of love, and vice versa—while as our bodies fail and fall apart, it's only the words which will continue to endure.
Reviewed on September 7th at the 2019 Toronto International Film Festival – Masters Program. 147 Mins.
★★★★/☆☆☆☆☆