Remember to Blink | 2022 Warsaw Intl. Film Festival Review
Dangerous nature: Urbaité high on symbolism as she revives Gorgon myth in a French forest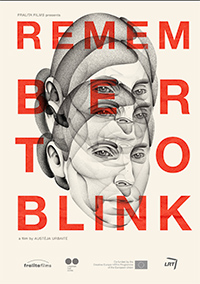 Director Austéja Urbaité makes her feature debut with an adoption drama supplemented by themes of mysticism, jealousy and power dynamics. Perhaps due to the fact that Remember to Blink is the director's debut, the work is in some ways quite ambitious and it establishes several themes of interest, which are seldom fully developed throughout the story.
French couple Jacqueline and Leon (Anne Azoulay and Arthur Igual) decide to adopt a pair of siblings from Lithuania. Since the children do not understand French, the couple hire a young girl, Gabriele (Dovile Kundrotaite), to initially help as a translator. Gabi, as the children call her, is supposed to be just a mediator for the family, but her role starts to change and the girl finds a new, strange power in her growing influence over the kids.
The clear contrast between Gabriele and Jacqueline comes across in their powerful impact on the children: Jacqueline acts as a formal authority, keen on instilling a sense of respect and strict adherence to the rules. Gabriele, on the other hand, through her knowledge of language and relaxed nature acts as a friend whose words carry more weight with the little ones. Jacqueline is aware of this, and her reaction illustrates just how far a fight for attention (albeit nominally for the sake of the children) can really go.
The contrast between the two is supported by the camera movement, which puts us firmly in Gabi's point of view and often frames Jacqueline in sharp and tense close-ups. Such a power struggle is wrapped in the myth of the Gorgon, presented to us through Gabriele's telling of the myth to the children, as well as a mosaic of the Gorgon created by Leon. The use of this story is very imaginative, and it is a pity the director didn't give it more space within the film.
Despite the Gorgon imagery being referenced in some scenes – such as the motif of the snakes or a close-up of hair passing between fingers – these suggestions end up feeling disconnected from the main narrative. For all its symbolism, Remember to Blink hints at something to come that is not ultimately developed, leaving the audience wondering about snakes and nature with little concern for the main events.
Reviewed on October 19th at the 2022 Warsaw International Film Festival – Competition 1-2. 109 mins. Part of the The Fipresci Warsaw Critics Project.
★★/☆☆☆☆☆