Origin | 2023 Venice Film Festival Review
Caste of the Unjust: DuVernay's Scholarly Drama Traces the Universal Social Ills of Hierarchy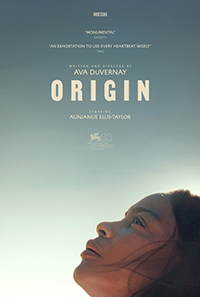 For her fifth narrative feature, Origin, Ava DuVernay takes an inventive approach to adapting Pulitzer Prize Winner Isabel Wilkerson's 2020 nonfiction publication Caste: The Origins of Our Discontents by exploring its subject through the personal life of its author. In other words, DuVernay has crafted an adaptation which serves as the genesis of its own source material, the audience experiencing Wilkerson's creative process in arguing her hypothesis on caste as being the pernicious social structure which is responsible for humankind's endless social divisiveness.
Wilkerson's thesis presents race as merely one aspect which falls into the stratification system of caste, exploring how Black people in America are codified into the lower caste similar to the Dalits in India and the Jews under Hitler's Nazi Germany during WWII. What's most striking about both the novel and DuVernay's film is the initial dismissiveness towards Wilkerson's examination of these connective tissues, credited to several factors, such as our unwillingness to confront a seemingly unconquerable reality, as well as the misguided approach to vying for which groups of people or which unspeakable chapters of history deserve greater global acknowledgment. Steering us through this material is a quiet, empathetic performance from the fantastic Aunjanue Ellis-Taylor.
Celebrated journalist Isabel Wilkerson (Ellis-Taylor) is approached to cover the murder of Trayvon Martin by her colleague Amari (Blair Underwood), but she's reluctant, having recently transitioned to writing books with the 2010 publication The Warmth of Other Suns: The Epic Story of America's Great Migration. Having just moved her mother into a nursing home facility, Isabel announces she's on hiatus, a status lengthened indefinitel when her husband Brett (Jon Bernthal) suddenly dies, her elderly mother shortly following suit. Leaning on her cousin, Marion (Niecy Nash-Betts) for emotional support as she weathers the resulting fall out, Isabel returns to ponder certain statements and facts about Trayvon Martin, leading her to approach her publisher (Vera Farmiga) about an idea she has connecting the history of Black people in American with Nazi Germany as parallels with the caste system in India.
As Isabel begins her research, which includes visiting these countries, assisted by the 1941 publication Deep South: A Social Anthropological Study of Caste and Class by anthropologists Allison Davis and Burleigh Gardner, she's met with opposition about how her thesis connects these cultures and experiences (including a heated exchange with Connie Neilsen's supercilious academic in Berlin). However, she discovers Nazi party meeting notes from 1934 detailing how the American legal system's treatment of the Black population was used as the foundation for how they mounted the Holocaust. In India, Isabel would further her research through exploring the legacy of Dr. Ambedkar, the voice of the Dalit population, referred to as 'the untouchables,' where she also learned of a visit Dr. Martin Luther King Jr. documented in a 1959 publication of Ebony magazine. Pulling these loose threads together, Isabel crafts her draft for Caste.
The establishment of caste hierarchies, of course, isn't something which happens overnight. Generations of conditioned, ingrained beliefs are birthed and maintained by those at the top of the social hierarchy, which create systemic imbalances infecting an entire culture's social structure. To American ears, the word caste is often presented as something specific to India in high school, usually under the relieved guise to Westerners as something the country legally banned in 1948, notably a year after India and Pakistan were granted independence from two centuries of British rule. Wilkerson's comparison to India's treatment of the 'untouchable' Dalit population is imperative as this is the template for which she establishes how she can express connections 'in a way that does not centralize race.' The Dalits in India, as well as the Jews in Germany, are disenfranchised by members of their own race, and yet the resulting dehumanization parallels the experiences of Black people in America.
To some, Origin might seem like one of the starting points in an entry level course in Sociology, but it serves the critical purpose of confronting a trauma which has never been properly dealt with while also efficiently outlining and arguing its thesis statement. More importantly, DuVernay utilizes cinema for one of its most important purposes, which is humanizing its subjects beyond discourse or statistics.
There's a grim, no-nonsense energy to both the narrative and DP Matthew J. Lloyd's visual approach (who worked with DuVernay on the series DMZ and Colin in Black & White), which includes a variety of period reenactments from Germany, India, and the US. Instead, the film depends on focusing through the lens of Ellis-Taylor as Wilkerson, an emotionally bruised, empathetic center to her own creation, which weaves personal experiences into the historical research. Her scenes with Jon Bernthal and Niecy Nash (who was also part of DuVernay's Selma ensemble) are grace notes which add significant dimension to Wilkerson's text (which includes more anecdotes than the film). Aunjanue Ellis-Taylor has built a steadfast career of noted supporting roles over the past two decades, with her recent Academy Award nomination for King Richard (2021) at last putting her front and center (she'll soon be seen in the musical remake of The Color Purple and The Supremes at Earl's All-You-Can-Eat, as well). She's provided vibrant characterizations for Bill Duke, Barry Jenkins, and Kasi Lemmons, among countless others, and DuVernay gives her the spotlight she deserves.
DuVernay chooses these anecdotes wisely, spacing them out effectively, such as Wilkerson's initially frustrating moment with a MAGA plumber (Nick Offerman), an interview with a Black woman whose father named her Miss Hale (Audra McDonald) to force the respect of racist whites when addressing her, and the devastating experience of a nine-year-old Black child named Al Bright in 1951, Ohio, and his experiences with his Little League team celebrating their victory at a pool.
Although the finale of Origin strays into a sentimentality it doesn't need to as Isabel leaves her house, the phantom trail of historical figures lining her sidewalk on the way to her car (though ending with a final homage to Trayvon Martin feels fitting), the overall message we're left with is one of hope. Wilkerson's book struck a chord, arriving two months after the murder of George Floyd in 2020. In the wake of a new wave of book banning and various states prohibiting discourse on Critical Race Theory in academia, the increasingly aggressive sanctions demanded by the caste system operating in the US belie the inherent anxiety in how education allows for the necessary confrontation in eroding erroneous distinctions of hierarchy. Ultimately, the only way out is in.
Reviewed on September 6th at the 2023 Venice Film Festival – In Competition. 135 Mins.
★★★½/☆☆☆☆☆