Here We Go Again: Evans' Nondescript Venture a Familiar Recipe of Whirlwind Romance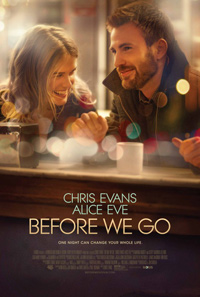 Love is not a many splendored thing in actor Chris Evans' directorial debut, Before We Go, a mediocre two-hander requiring a certain finesse not in evidence either before or in front of the camera, at least enough to believably carry us off into the sunset of illogical romantic inclinations. That's not to say the film is terrible or even evidence that Evans should quit his day job, but mostly how it unfortunately elicits an overall and achingly constant 'meh.' Saddled with one of those vaguely poetic titles reminiscent of a slew of emotionally malleable indie films like Before I Disappear or Away We Go, even though it probably wants to be comparable to Richard Linklater's Before Sunrise/Sunset/Midnight trilogy, perhaps we shouldn't be disappointed since the comfortably predictable narrative can't be accused of falling short of its goals since it never really promises anything at all.
Jazz trumpeter Nick (Evans) morosely plays his instrument while waiting for a train he seems to be avoiding in Grand Central Station. A phone call clues us in to an event he has no intentions of attending since his ex-girlfriend (Emma Fitzpatrick) is there with her new beau. A frazzled woman (Alice Eve) suddenly bursts onto the platform, just missing the final train and upset because she's desperate to catch the New Haven train due to an urgent personal matter. We know all about Brooke's predicament because Nick takes an immediate interest in helping her, something the young woman is initially unnerved by. Eventually, they get chummy as the night wears on and they discover things about one another, always thwarted in their schemes to get her onto some mode of transportation because her purse was stolen, while his credit cards are maxed out. Both pining after relationships that recently ended or simply aren't functioning like they need to be, their exchanges eventually verge on more obvious flirtation.
Since we're submerged completely into their every interaction and experience on this lonely New York City evening, it would've been nice to at least journey with a pair of compelling characters. However, there's really nothing remotely interesting about either of them, try as they might to make these utterly banal interactions seems energetic or spontaneous.
Evans simply doesn't have the charisma to pull of the charming aspects of Nick's character, or even his slowly fading melancholy over his ex. This brooding intensity, something lacking in several performances that desperately needed it (like The Loss of a Teardrop Diamond, for instance) in turn makes the more lively Brooke seem rather pathetic, especially because their initial pairing feels unrealistic, an illogical moment we can't seem to get over. Had there been any kind of chemistry, this would've been more easily overlooked. But it's not quite clear why exactly they continue to waste the night away together beyond having an opportunity to constantly talk about other people they'd rather be with.
Eventually, we learn why Brooke is so desperate to get home before her husband, an interesting scenario that would have been better served if the film has just been about her. Nick spills the beans on an emotionally compelling moment about his break-up with Emma. But these added moments of dramatically urgent spurts in the dialogue don't do much to enliven the scenario, and it's hard to recall a less magical film set amidst the endless nighttime possibilities of New York City.
Ronald Bass (responsible for Rain Man but also What Dreams May Come) is one of the four screenwriters credited here, while DoP John Gulesarian gets a crack at another frustrated love story following work on Drake Doremus' Breath In and Like Crazy or that ill-conceived time-travel nonsense About Time, so Evans has a more than seasoned team behind the scenes to help this all look quite polished. It would have been more interesting to see what he could have done had he not made this a complete vanity project and hired a more charismatic male lead.
Curiously, this hits theaters the same weekend as another two-hander indie film starring Alice Eve, Neil Labute's Dirty Weekend, creating an oddly invigorating double feature should you have the opportunity to compare her impressive range and how she's more or less wasted here.
★★/☆☆☆☆☆