Soul Windows: Burton Returns to the Biopic with Flagging Interest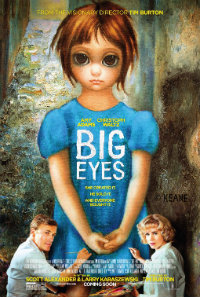 Long judged as a director clearly intent on recycling the same motif, themes, and styles, generally with the same few cast members, Tim Burton throws an interesting curveball with his latest film, Big Eyes, a reenactment of the art world Keane scandal of the 1960s. Scripted by Burton's Ed Wood (1994) scribes, the title that remains the sole point of comparison with which his latest will be compared, many will be disappointed to find a rather basic film, devoid of Burton's customary flourish or that earlier, celebrated title's ingenuity. And though the film's greatest challenge will be to breathe under the weight of its creators' own reputations, it's a likeable recapitulation of 1950s era America and the strange mutations that occur involving those humans attempting to buck the wrongly conditioned trappings of gender based social mores.
As narrated by reporter Dick Nolan (Danny Huston), the tale of 1950's art sensation Walter Keane (Christoph Waltz), known for painting waifish children with large, eerie eyes, was scandalously revealed to have been stealing recognition for work painted by his wife, Margaret (Amy Adams). Beginning in the 50's, when Margaret walks out on her first marriage, young daughter in tow, she meets intrepid fellow-artist Walter while selling her work in the park. In order to keep her ex-husband at bay as concerns custody rights (since single mothers of the era weren't treated kindly in the court system), she decides to marry Walter, despite the unease of her close friend DeeAnn (Krysten Ritter). A mistake leads to Walter taking credit for Margaret's work, and before long, it's a lie they are both complicit in feeding.
Rather than a Burton film, Big Eyes feels more aligned with Jane Anderson's 2005 film The Prizewinner of Defiance, Ohio which starred Julianne Moore as a house wife with a knack for winning jingle-writing contests for commercials. Shot in digital, it's perhaps the most subdued visual palette ever to be seen in a Burton film, collaborating once more with his Dark Shadows DoP Bruno Delbonnel. Scenes filmed in Hawaii stand out with resplendent, orgiastic color, and in many ways this is an odd twist for Burton, which isn't necessarily a minus since his later works have been reduced to the cutesy critical nursery rhyme, "rinse, wash, Re-Goth."
Danny Elfman's score seems standard fare, breaking out most notably in the film's bizarre grand finale in a courtroom debacle that seems like something out of a Howard Hawks' comedy, but was apparently played down according to Burton.
Adams, in a frustratingly realized performance as a woman and artist struggling to find her voice under the weight of patriarchy, is often quietly profound, a master of the subtle lip quiver and teary eye, often reminiscent of a Precious Moments figurine, the logical modern equivalent of her big-eyed waifs. It's unfortunate that it took the foothold of religion (simply one mind-control trap replacing another), here with Jehovah's Witnesses, for Margaret to finally take ownership of her life. It recalls Mary Harron's portrait of Bettie Page, another woman who found religion as a way to retreat into her own agency.
Waltz gets the more gregarious task in an often bombastic, yet entertaining performance, equal parts smarm and charm. Big Eyes, which strays from any real critique of how the mass distribution of Keane's artistry simultaneously reduced it to 'kitsch' status (an ornery Terence Stamp momentarily standing in for a legion of judgmental, bourgeoisie keepers at the culture gate), and is, at its most prolific moments, a first-wave feminist sort of film. Burton could have easily closed the film with a track from Cher that contends, with booming refrain, "It's a woman's world—tell the truth."
Reviewed on November 13, 2014 via a Film Independent World Premiere Screening w/Elvis Mitchell moderating a Q+A with Tim Burton and stars Christoph Waltz and Amy Adams.
★★★/☆☆☆☆☆