Kens and Dolls: Wyatt Revamps Toback Prose for the Plastic Age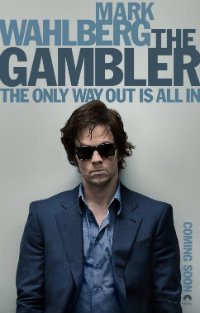 Working steadfastly against the success of Rupert Wyatt's up-do of The Gambler, which was originally a 1974 film starring James Caan, directed by Karl Reisz, and written by James Toback (based on semi-autobiographical elements), are two distinctive flaws. Firstly, Wyatt and screenwriter William Monahan fail momentously to live up to the gritty, unpleasantly self-sabotaging believability astutely evidenced in the original. Second, Mark Wahlberg's overly determined performance careens ungraciously into flaunting bourgeoisie privilege in a role that doesn't quite sit right on the shoulders of a celebrity still shadowed by his ridiculous early 90s persona. While Monahan wrote the role for which Wahlberg scored an Oscar nod eight years ago (2006's The Departed), his hyper-intelligent, well-bred, successful novelist turned consummate gambler is more often than not unbelievable with Wahlberg in breathy, demure mode, rambling through a series of nicely written bits of misanthropy.
The death of his grandfather (George Kennedy) seems to send college Lit Professor Jim Bennett (Wahlberg) past a point of no return. A man with considerable gambling debt, he recklessly borrows money from a dangerous loan shark (Michael Kenneth Williams), which he has no way of paying back. His mother (Jessica Lange) lends him the sum, vowing it will be the last time she bails him out or he will be out of her life completely. Bonding with an astute young writer (Brie Larson) from his class, it takes the threatening of both her and another promising student in his class (Anthony Kelly) for Jim to concoct a daring gamble of his own, which will involve borrowing another sum from another dangerous man (John Goodman).
One of the major hurdles Karl Reisz's 1974 film version had was its presentation of a nearly wholly unlikeable protagonist. We're forced to watch a generally affluent young man traverse beyond a point of no return, his addiction a disease from which he is unable to escape. His opportunities at redemption are the very aspects of his existence that are enabling his continual predicament, namely his wealthy mother's ability to bail him out.
The original film featured an understated tennis-playing Jacqueline Brooks, here replaced by Jessica Lange as a chic tigress who is granted a tiny bit more screen presence than Brooks. Whereas Caan had been paired with (rather unbelievably) a young Lauren Hutton, Wahlberg's only romantic interest is in the form of a charismatic pupil played by Brie Larson. They generate a moderate amount of flirtatious presence together, but her representation as his redemption (following a laughable marathon sprint after his daring resolution) feels both underwhelmingly situated as well as convenient (not to mention an age difference that's perhaps typical to the cynical but still worthy of pointing out as uncomfortable, at the very least).
Assuming that this is not the type of vehicle that Wahlberg would consider as flying over the radar of film criticism's necessity, The Gambler is certainly worlds better than the franchise films being churned out mercilessly in H-town, but its reluctance to properly deal with addiction and violent repercussions makes it seem a finely groomed yet tame endeavor.
No matter how finely feathered the hair or slim and trim the figure, Wahlberg is simply one of the glossy mistakes Wyatt's film trips over. The stakes are never high enough for the smoothly packaged Jim Bennett, a character that ended with his face viciously slashed by a prostitute in the first film. The baddies are comically, even flaccidly portrayed, with John Goodman and Michael Kenneth Williams both declawed. As a portrait of addiction, Toback's original treatment, as plainly rudimentary as it was back in 1974, at least gave us a pathetically convincing portrayal.
Reviewed on November 10 at the 2014 AFI Film Festival – Gala Presentations. 110 Min.
★★½/☆☆☆☆☆