Summer White | 2020 Sundance Film Festival Review
Sons & Lovers: Patterson Explores the Trouble with Sharing the Love in Subdued Debut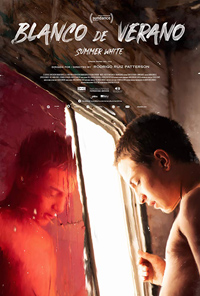 The subject of the single mother is a scenario rife for melodramatic exploration, especially when teenage children are thrown into the mix during transitional, touchy periods involving new parental relationships and such is the catalyst for Mexican director Rodrigo Ruiz Patterson's debut, Summer White. Undercurrents of discomfort and the dysfunctional pattern of codependency are mined astutely in an authentic coming-of-age portrait of a loner teen who begins acting out when his mother seriously begins to date a new beau.
Rather than explore the oft-assumed vulnerability of children introduced to new potential lovers of their guardians (who may or may not segue to step-parent), the aggressor here is Patterson's protagonist, a young man with a penchant for secrecy, isolation and arson. Keeping the audience on edge, as we're primed to expect the worst possible outcome when a variety of red flags suggest the impending, inevitable cascade of violence, Patterson keeps the narrative from straying past the irreparable—though it slides precariously close to the point of no return.
When thirteen-year-old Rodrigo (Adrian Ross) isn't hanging out in the local junkyard by himself, he spends all his free-time with his single mother, Valerie (Sophie Alexander-Katz), with whom he shares a close, intimate relationship. But his world is suddenly upended when Valerie suddenly allows Fernando (Fabian Corres) to stay the night. It's not long before Fernando is accompanying them on lunches and encroaching on all of Rodrigo's time with mother. Initially, it's an agreeable acclimation, with Fernando making it his responsibility to teach the teenager how to drive. However, when Fernando moves in, Rodrigo channels his brooding into aggressive acts of rebellion and eventually violence.
Those who can appreciate low-key minimalism should find much to love in this independent feature covering territory most often delivered with a high dose of tragic exaggeration, especially those from the viewpoint of the child. Sophie Alexander-Katz (who audiences may recognize from Alonso Ruizpalacios' 2014 title Gueros) is initially baffled by her son's behavior, who begins to act out in typical teenage ways, allowing her to realize how little control she has over him. Before Fernando, all his mother's attention was bestowed upon her only son, and the re-calibration during this period of adjustment speaks to her naiveté, including her yearning to give Rodrigo the benefit of the doubt when Fernando's work suits are suspiciously ruined by paint saturation. Her growing anguish allows for a compelling performance from Alexander-Katz, matched in sincere subtlety from newcomer Adrian Ross as Rodrigo, whose actions, like many teenagers, are often compulsive, reckless and sometimes inscrutable.
Corres, an alum of Mexican television, completes the contained triptych as a warm, eager-to-please new presence in their lives who is eventually pushed to lash out at Rodrigo, which reaches a fiery zenith. Rodrigo's loner tendencies, wherein he spends time in a junk-yard, playing house, wreaking havoc or acting out aggression, heightens the loss he feels as his mother gravitates towards Fernando—it's a narrative easy to predict, but fashioned elegantly to convey the ease with which miscommunication and obliviousness lead to angst and sometimes violence. Unassuming but forthright, Summer White provides a reconciliation of a kind of forgiveness not forged by spoken word.
Reviewed on January 26th at the 2020 Sundance Film Festival – World Cinema Dramatic Competition – 87 Mins.
★★★/☆☆☆☆☆