The Dualists: Cronenberg Doubles Down on Class Cliches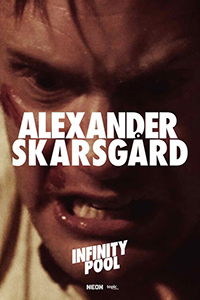 "Sorrow is concealed in gilded places, and there's no escaping it," wrote Fyodor Dostoevsky in his 1846 novella The Double, a classic template of doppelgänger literature where the confrontation of one's mirror self conjures an eternal agony often obfuscated through our self-imposed facades. Such is one of the meager subtexts simmering beneath the morbid surface of Brandon Cronenberg's third film, Infinity Pool, an odyssey into the troubling possibility of murder tourism lodged in Twilight Zone parameters regarding globalization and international flavored elitism.
More interested in identity politics than the significant predilection of body horror which defined his father David Cronenberg's early works, there are profoundly absorbing ideas eventually reduced by a meandering repetitiveness by the time the narrative descends into a tepid resolution close to the two hour mark. That's not to say there's nothing to admire in this sleek foray into Cronenberg Jr.'s aesthetically striking visual pleasures, collaborating once more with his Possessor (read review) DP Karim Hussain. But these are victims and tormentors cemented in a lethargic dance of destruction. They may not be able to escape their sorrow, but we sure as hell want to escape them.
In the fictional underdeveloped nation of La Tolqa, unhappily married couple James (Alexander Skarsgård) and Em (Cleopatra Coleman) distract themselves on a paradisiacal exclusive resort, where the guests aren't allowed to leave due to the dangerousness of the local population. James is desperate for inspiration, having written a first novel several years prior, mostly thanks to his marrying the daughter of his publisher. Surprisingly, he runs into Gabi (Mia Goth), who is also staying at the resort and professes to be a huge fan of his first book. Inviting them to dinner along with her husband Alban (Jalis Lespert), the couples take a day trip outside of the resort, secretly renting a car from a local. But when James accidentally kills a young farmer boy and flees the scene, they are confronted with the insidious underbelly of the region. James' crime legally requires him to pay for his crime with his life. But there's a loophole for wealthy tourists. If a perpetrator can pay an exorbitant fee, as Detective Thresh (Thomas Kretschmann) explains, they will clone his body into a double having the exact same mental and physical proportions, and this being will be executed to satisfy the legal consequences of the crime. While the experience horrifies Em and she demands they leave the resort, James has somehow lost his passport following the ordeal, stranding them until further notice. But Gabi and Alban seem to know a lot more about La Tolqa than they originally shared, leading James into a clandestine society of wealthy tourists who seem drawn to the region for extremely violent inclinations.
Goth proves once again what a willowy, transfixing energy she can be, following on her dual roles from Ti West's X and Pearl, upholding, at least the first hour of the film, with all the psychosexual energy one could hope for. There's a hint of something like The Comfort of Strangers (1991) at first, but subtlety quickly dissipates into gonzo weirdness. Alas, it's essentially for the sake of its own weirdness at the expense of substance.
A somewhat distressing handjob worthy of an early Polanski thriller represents a point of no return for her increasingly feckless plaything, Skarsgard's henpecked barnacle of a husband who looks like a faded collegiate athlete gone perilously to seed. Like the scion of 70s grindhouse femme fatales, Goth's increasingly overblown sexuality plays like Yvette Mimieux in something like Jackson County Jail (1976) before she nosedives into a shrill harridan like several characterizations made memorable by Shelley Winters in the same decade. And it's in the third act where all the competing narrative strands, including elements of The Island of Dr. Moreau, A Clockwork Orange and John Frankenheimer's classic Seconds, finally coalesce into the somewhat disappointing essence of a narrative supposedly concerned with being about man vs. himself. The problem is, Cronenberg hangs this on a man who is the least interesting component of his annihilation, a hibernating alpha led to confronting his beta self through a halfhearted exploration of emasculation.
Tantalizing us with aspects which are more rudimentary than ambiguous, Cronenberg's funny games suggest a level of chaotic misanthropy which should inspire repulsion rather than apathy. The sinister build of the first hour suggests an exotic, troubling crisis for the oblivious, pompous snobs who believe they're above the law, whether in their own territory or conquering plebeians abroad. It's not so much Cronenberg robs his audience of the catharsis of comeuppance, but rather a general indifference which settles the film into a low-fever malaise.
What doesn't help are the clunky exchanges shared by the group of upscale, undead consorts who cackle like a group of illiterate hyenas in their somewhat mild forms of marauding in a slowly developing country their actions will eventually decimate. Standing out as the most obnoxious of these clunky actors is Amanda Brugel, who seems to be playing a version of herself, if her persona on Canada's Drag Race is any indication. But beyond Goth, the whole cast seems somewhat adrift in these preposterous exchanges which feel primed for black comedy where the method of satirization is as solidified in cliche as the subjects themselves.
Reviewed on January 22nd at the 2023 Sundance Film Festival – Midnight section. 118 Mins.
★★½/☆☆☆☆☆