Petite Maman | 2021 Berlin International Film Festival Review
Going Home Again: Sciamma Delivers a Slight, Eloquent Slice of Novel Sci-fi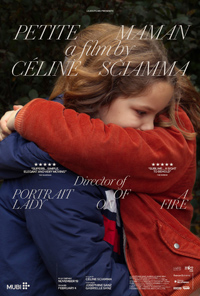 Céline Sciamma has built a formidable filmography on tenuous stages of women's developmental stages, with dizzying intersections on race, sexual orientation, and gender identity. Lust, love, guilt, and grief are often facets interwoven in complex patterns of repression and subjugation. Her latest title, Petite Maman, is arguably on the slight side, returning to the perspective of childhood not terribly unlike her central protagonist in 2011's Tomboy. But it's also divorced from her previous efforts in its melancholic, playful experimentation with genre and themes, an eloquent sci-fi tinged drama about mothers and daughters, death and nostalgia. Stuffed with fragile observations and featuring a pair of child performers who are surprisingly articulate without ever seeming precocious, Sciamma tells a tale so gently transformative it drifts into complexity as effortlessly as a shifting season.
Nelly (Joséphine Sanz) is only eight years old, but she knows a thing or two. The death of her grandmother, who had been living in a nursing home, unsettles her mother, Marion (Nina Meurisse), who must now contend with cleaning out her isolated childhood home. Marion disappears, leaving Nelly alone with her father (Stephane Varupenne), and a wide expanse of forest as riddled with familial memories as her grandmother's home.
Sciamma paints an autumnal, tranquil portrait of life's inevitability. A nursing home visit heralds the passing of Nelly's grandmother and gone are the visits defined by crossword puzzles and quiet intergenerational intimations. This is the child's first confrontation with death, though she's hardly as phased as her mother, who must contend with a myriad of memories haunting the childhood home she's now required to excavate. Mother Marian and Nelly share tender moments, those quiet intimacies familiar to a parent and child, though despair creeps quietly into their reality, at least enough for Nelly to describe their temporary situation at grandma's empty house as toxic. Bedtime in Marion's old room revisits nightmares about imaginary panthers, though Nelly remains unphased, more excited to revisit her mother's famed fort outside.
When her mother suddenly disappears, without a clear reason or plan of return, Nelly's is suddenly alone with her affable, steadfast dad. Left to her own devices in the woods, it's here where Claire Mathon's cinematography really seeps into the subconscious as a beautiful piece of artistry, conveying a seasonal shift which looks so pristine one can smell the decaying leaves and the early bite of chilly autumn air. Nelly runs into a prodigious girl who appears to be her doppelganger, named Marion (Gabrielle Sanz) and it's here where Sciamma shifts into the quietly fantastical, a mournful sort of narrative which could be termed The Grandparent Trap. Eventually, it's revealed these two young women have a rather magical connection, and one which consequently redistributes our interpretations of all preceding moments with adults in fascinating ways.
Clearly, children can see more clearly than their guardians, at least in the unique scenario suggested in Petite Maman, but Sciamma unexpectedly and with beautiful finesse veers directly into a vein so emotionally ripe it evokes unexpected emotional ripple effects. Not unlike the more obvious mechanism utilized in Coppola's Peggy Sue Got Married (1986), Sciamma evokes a spectacular 'what if' vibe which is more potent thanks to its solemnity. Ultimately, it's a child's fantasy world as powerful as Victor Erice's seminal 1973 title The Spirit of the Beehive, but tantalizingly ambiguous. "The last goodbye wasn't good," Nelly tells her mother about her final moments with grandma, and she acts out how the event should have played had she known it would be their last. In essence, this is the thrust of Petite Maman, a journey into one's past to grapple with the present.
Reviewed on March 3rd at the 2021 (virtual edition) Berlin International Film Festival – Main Competition. 70 Mins.
★★★★/☆☆☆☆☆