Till Human Voices Wake Us: Petzold Gets Mythologically Romantic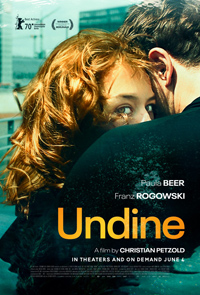 A classical figure of mythology and beyond, the Undine (or Siren), a water nymph creature who's usually depicted as female and intent on luring men to their death has experienced a myriad of iterations, from Ovid's Metamorphoses to the classic tale "The Little Mermaid" from Hans Christian Anderson and so on and so forth. Berlin School auteur Christian Petzold uses this figure as a literal reference point for his latest, Undine, which pivots on a contemporary young woman in Berlin whose troubled romantic inclinations are a prelude to tragedy and death. More eerie than sinister, more charismatically heartfelt than a clinical drama or a pulpy genre effort, Petzold, a cinematic alchemist, once again mines familiar influences to present an original take with familiar narratives, employing the leads of his last film, 2018's Transit in a simple but haunting romance fated (like all Greek tragedies) to despair.
Undine (Paula Beer) works is a historian who works as a tour guide in Berlin. Just as her boyfriend Johannes (Jacob Mantschenz) is leaving her for another woman, she meets Christoph (Franz Rogowski), an industrial diver who happened to see one of her tours. Their whirlwind romance serves to immediately rejuvenate Undine…until it seems he believes she hasn't told the truth about her past love. Unexpected tragedy ensues and the once spurned Undine must embrace her fate.
Betwixt the troubled relationships issues experienced by Undine, Petzold spends a good chunk of time showcasing her professional attributes as a historian working with the Department of Urban Development, wherein she presents fascinating synopses of Berlin's historical infrastructure (with some purposeful humor on the designs of East Berlin's GDR plans and their cute, colorful plastic models). In her whispery lovemaking to Christoph, she explains, "form follows function," which may as well describe her relationship strategy or even Petzold's own filmography. Many of his previous features are loose interpretations of previous material, divorced as they are from some distinctive elements of their inspirations, such as Yella (2007), taking from Carnival of Souls or Jerichow (2008) from The Postman Always Rings Twice. His formidable masterpiece Phoenix (2014) streamlines the obscure classic Return from the Ashes.
Both Rogowski and Beer shine in ways the material wasn't able to allow in Transit, a film which prizes form over content. Here it's the other way around, and if you remove the specter of death, announced in the film's opening sequence in a tone which is too uncomfortable to be jocular, Undine plays like a fantastic romance, starting with the lush seal of fate between Christoph and Undine when her tears and his klutziness topple them onto the floor with a monsoon of water from a broken aquarium. Sure, this is obviously a re-working of some Undine mythology, but the mysterious, romantic tone feels similar to something like Curtis Harrington's 1961 underrated classic Night Tide in which Dennis Hopper falls for a woman who, guess what, might actually be a mermaid. Petzold plays fast and loose with his themes, which allows Undine to feel like the beautiful enigma a fairy tale should be, something not easy to deliver in times demanding direct answers and explanations (one only need revisit Neil Jordan's tepid 2009 title Ondine to see how easy it is to churn this sort of material into something mawkish).
Beer, who was more of a ghost haunting the narrative in Transit, is a luscious entity here, and one only need observe how much more enthusiastically cinematographer Hans Fromm focuses on her this time around. And Franz Rogowski, often sullen and sinister, is sweet and charming as the industrial diver who seems to have been marked by the aquatic world, as also evidenced by his sighting of a mammoth cat fish nicknamed Big Gunther (and as a man who is, literally, the "dry place in the swamp," which is what the name Berlin means). Cryptically gratifying, Undine finds Petzold returning to the genre-oriented material as evidenced in his previous filmography and remains as beguiling as ever.
Reviewed on February 23rd at the Berlin International Film Festival – In Competition. 90 Mins.
★★★½/☆☆☆☆☆