Nancy | 2018 Warsaw International Film Festival Review
Out of the Void: Chloe Embarks on Nuanced, Complex Search for Human Warmth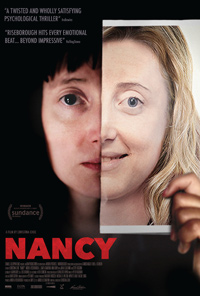 In Christina Choe's first feature, Andrea Riseborough gives a subtle performance as a woman who has never known unconditional love. Gifted with the chance to escape from the uncomfortable reality of her home and family life, Nancy goes with the flow, with only a cat and her desperate wish for a happy life.
Nancy Freeman is a woman in her 30s who lives with her authoritative, unloving mother Betty in a grim house. Trying to survive in such harsh conditions, Nancy resorts to scamming the people around her – not for money, but for sympathy, attention and love. When she surprises her co-workers with a made-up story about a holiday in North Korea, she alienates them in the name of a harmless hoax. Pursuing a man who's mourning the loss of his infant daughter by pretending to be pregnant doesn't work wonders, either.
Her chance comes in the form of a family couple on the news, still searching for a daughter who disappeared 30 years previously and now offering a scholarship in her name. Nancy looks exactly like the sketch of the missing girl on TV, and Ellen and Leo look exactly like the caring parents she never had. Can happiness be a phone call away?
In Nancy, Riseborough shines as one of the most talented actresses of her generation, making a deeply traumatized person come alive in a non-aggressive and non-stigmatizing way. Her heroine seeks love and appreciation but at the same time runs from these in fear that it won't last forever and bring her pain. The ensemble cast tactfully and harmoniously supports the main character: Steve Buscemi plays a father who can't bring himself to believe that Nancy is his daughter in fear of his wife's disappointment. J. Smith-Cameron is a caring mother who over the years has stored so much love within herself that she is now ready to give it away no matter what and no matter whom. Ann Dowd is her exact opposite – a cynical, sick and selfish mother who oppresses her child and cannot find the right way to express her feelings.
The way Choe depicts the emotional shifting point in Nancy's life looks obvious in retrospect: Nancy leaves her mother's house to meet Brooks' parents (and, we hope, her own parents) and the aspect ratio changes from a suffocating 4:3 to a wider frame – as if to give her more air. The color palette morphs from cold to warm tones, suggesting the cosy atmosphere of Ellen's house despite the tragedy of a lost daughter. The change in aspect ratio especially feels gimmicky when the acting is so effective at conveying the required pathos.
Nancy doesn't strike with gruesome details and gut-wrenching emotions but in a way it goes even beyond that, by putting the viewer in the shoes of someone who needs to lie in order to receive love. After all, isn't that all we need?
Reviewed on October 20th at the 2018 Warsaw International Film Festival – Competition 1-2. 87 Mins. Part of the The Fipresci Warsaw Critics Project.
★★★★/☆☆☆☆☆