White Material: Denis Heats Up with Sinister, Nervy Romance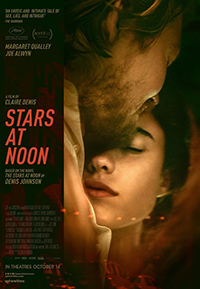 Claire Denis leaves behind the Sandinistas of 1984 Nicaragua for Stars at Noon, based on the 1986 novel from Denis Johnson about a desperate romance between two trapped souls slowly losing themselves against the backdrop of violent political turmoil. Crafting something more sinister in its ambiguity and utilizing the COVID 19 pandemic as a way to both contemporize the novel and stay true to Johnson's spirit of a specific topsy turvy world, Denis delivers one of her most striking escapades in this moody, sweaty, endlessly indeterminate milieu.
A sumptuous nod to the mysterious conspiracy thrillers following imperiled strangers in strange lands of the 1980s (think Peter Weir) married with 1970s arthouse aesthetics (think Antonioni), it's a serpentine slow burn of increasingly unsettling elements, quite frenziedly led by a crackerjack performance from Margaret Qualley.
In a pandemic hobbled Managua, where Coca Cola's become scarce and meat products aren't necessarily guaranteed, Trish Johnson (Qualley), an American journalist, is stranded for mysterious reasons. With her passport confiscated and carrying a bag full of the local currency, she's desperate to exchange her cash into US dollars so she can buy a plane ticket to Costa Rica and then sort her identity documentation there. While she tries to get it together, she wanders the city, swilling rum and belittling the culture until she walks into the Intercontinental hotel bar and meets Daniel DeHaven (Joe Alwyn), a British emissary for an oil company, one of the few industries looking to engage with the local economy in a country currently unstable thanks to an impending, likely corrupted, election. She offers herself to him for money, seeing a way to get American dollars a different way. Upon their next meeting, she notes he's meeting with a Costa Rican cop (Danny Ramirez), though Daniel is oblivious to this, not believing Trish. However, it's apparent he's being followed, and while David uneasily laughs off this possibility, distracting himself with sex and beer, events quite suddenly turn violent.
One of Denis' many specialities is focusing on characters who are actually interlopers in their environments, from her semi-autobiographical debut Chocolat (1988), the Isabelle Huppert led White Material (2009) or the human guinea pigs in space with 2018's High Life (read review). It's immediately clear that the tenacious Trish Johnson is in some kind of murky trouble she can't tear herself away from—a woman like her would already have done so if she could. Instead, she's become a feral creature, using sex to keep her only viable lifelines available, her passport confiscated for a damning article she'd written about kidnappings, weapons, and growing unrest leading up to a continuously delayed election in the country.
Denis' initially mainlines the comedic undertones of her character, guzzling liquor and mockingly spouting Spanish reflecting her haughty, imperialist attitudes toward the country. Andrew Litvak and Lea Mysius' script does a tremendous job of maintaining this tone from Johnson's novel, considered a minor entry in an author perhaps most revered for Jesus' Son. Denis channels all of these troubling themes from the novel, including the inherent ethnocentrism and misogyny in which it seems to regard Trish.
A customarily intriguing score from Denis regulars Tindersticks gives Trish her own jangly theme as she toggles through the city, a self-aware cynic who finally starts to allow reality to affect her when all the rum starts to wear off. Qualley, who initially might seem a questionable choice, is constantly refreshing, aided by crackerjack bits of dialogue as her performance shifts from an elitist brat towards increasing derangement. She's aided by Joe Alwyn's suspicious British oil representative, and they share a heated attraction which segues into the sort of love created through necessity and survival. Dressed consistently in all white, he's the glaring symbol of colonialism's overpowering aims, a white out suggesting the title, when stars gaze down upon the earth but are invisible to the human eye.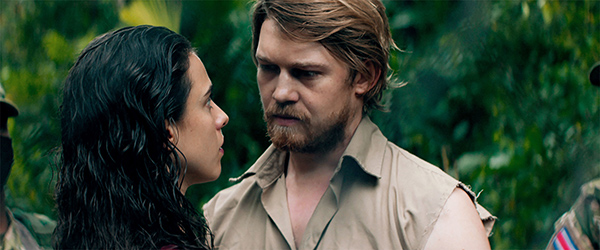 Denis crafts Stars at Noon into what Antonioni might have done with Joan Didion's The Last Thing He Wanted, for it's strikingly reminiscent of his 1975 title The Passenger (although shades of his Trilogy on Decadence warrant comparison). Two humans forced to devour one another or die, Denis brilliantly returns us to Nicaragua in a new era of vulnerability as it sinks into a dictatorship.
Although a minor detraction arguably arrives in the form of Benny Safdie as CIA agent (made all the more alarming thanks to his affability) given some curious line deliveries, a hilarious John C. Reilly pops up as the editor of a travel magazine eager to rid himself from Trish's neediness. At times crass, titillating, and disquieting, it's also a lush, sticky film on needs, ideals, and the corruptible elements buried in everyone.
Reviewed on May 25th at the 2022 Cannes Film Festival – Main Competition. 137 Mins
★★★★/☆☆☆☆☆