Floating Weeds: Kogonada Looks at the Shape of Things in Masterful Debut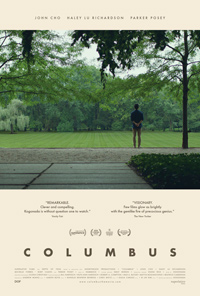 Kogonada, who may be familiar to most cineastes thanks to his video essays concerned with auteur theory (several of which are included as bonus features on Criterion Collection releases), makes a logical jump to feature filmmaking with the formalistic, masterful debut Columbus. Reminiscent of the quietly depicted emotional turbulence lurking beneath the serene surface of Yasujiro Ozu's characterizations, a studied examination of architecture recalls the cityscape of the titular Indiana city as intensely as something like Hiroshi Teshigahara's ode to Antonio Gaudi (1984). Strangers commiserating on their individual but relatable familial dilemmas provide the backbone for this quiet study on apathy vs. overprotectiveness while all get swallowed and overwhelmed by landscapes they've each chosen to embrace or ignore.
Arriving in Columbus, Indiana after his famed architect father falls into a coma, book translator Jin (Jon Cho) is reunited with his father's colleague (an old flame played by Parker Posey) as they await news. Eventually, Jin will have to take his father back to Korea, but the hopes of a recovery are slim. Meanwhile, Casey (Haley Lu Richardson), a young woman who works at the local library and had planned on attending the architect's lecture, has a chance meeting with Jin, and the two share their melancholic tendencies. As estranged as Jin is from his father, Casey has the opposite problem, having given up plans to pursue a college degree to attend to her mother, a recovering addict with lonely-hearts syndrome. As the two interact and Casey gives Jin a tour of her favorite infrastructures in Columbus, they eventually began to influence and challenge one another to grow beyond the stagnant worldview they've allowed themselves to fade into.
If there's a real star to Kogonada's quiet, mournful study it's his eponymous Mid-western cityscape, hailed for its Modern infrastructures. DP Elisha Christian unveils a series of mannered frames meant to highlight its architectural integrity. Jin and Casey are often in the foreground, swallowed by the buildings looming above or around them.
Professing to have little interest or knowledge concerning his father's area of expertise, Jin hits the nail on the head when he muses on how folks "grow up around something and it feels like nothing." Columbus is much like the recent formalistic Kekszakallu from Argentina in its ability to highlight how surroundings inform and define. But if the latter film concerns the dreaded sterility of privileged tombs, Kogonada leans towards the impressive beauty of design and accomplishment, especially as opposed to the empty chasm associated with the cynical academia of Casey's peers (like the co-worker played by Rory Culkin) and ex-classmates. "Are we losing interest in things that matter?" someone asks, which seems to be the film's underlying theme.
A first rate cast, which includes Parker Posey in an all-too-brief serious supporting turn, is led by a surprisingly poker faced John Cho and what should be a calling card performance for Haley Lu Richardson. Previously seen in thanklessly manic over-drive in The Bronze (2015), as well as one of the resourceful kidnap victims in M. Night Shyamalan's Split (2016), Richardson nails a handful of quietly powerful exchanges with Cho, who shakes her up from the defeatist aura defining her sequences with the other fixtures in her life.
A rarity in its ability to remain as intelligent as it is approachable, even as it defies the usual indie conventions about a sad man meeting a sad young girl, Columbus is a handsomely crafted achievement.
★★★½/☆☆☆☆☆